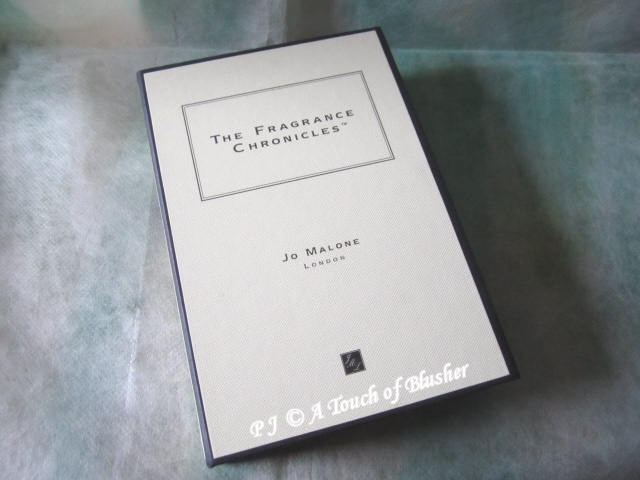 One of the ideas that Jo Malone advocates is Fragrance Combining, which helps create a bespoke scent. The Fragrance Chronicles from the brand embody this concept beautifully, and today I am featuring the limited-edition English Pear & Freesia Fragrance Chronicle (£72) for holiday 2011.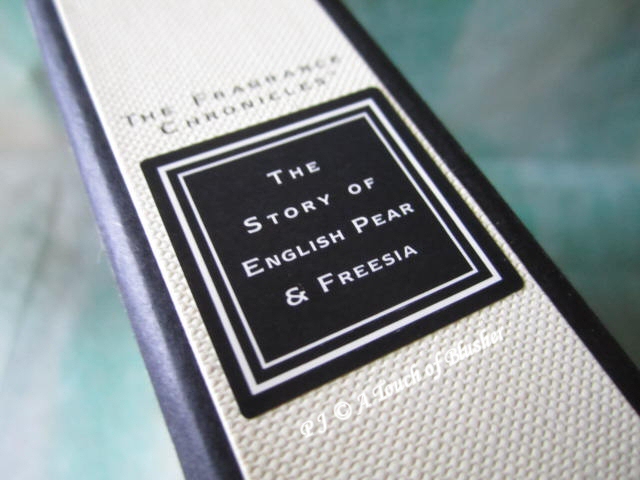 The box for the fragrance collection resembles a book, which opens to reveal four scents that create The Story of English Pear & Freesia. The four scents are English Pear & Freesia (30ml), King William Pear (9ml), Freesia (9ml), and Patchouli (9ml). The three 9ml scents are exclusive to this chronicle.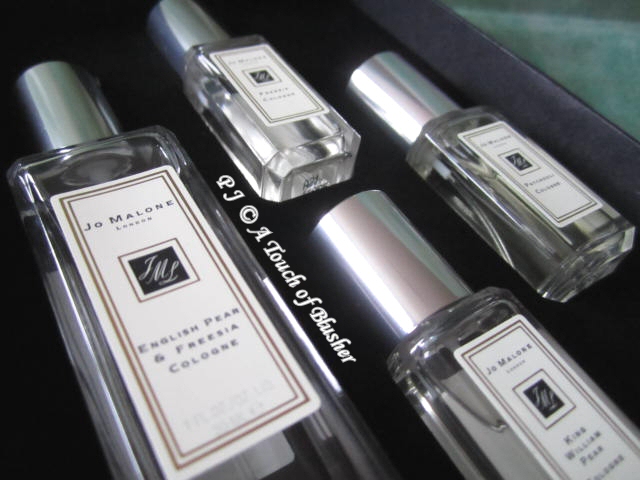 English Pear & Freesia Cologne (also available individually, in 30ml and 100ml):
Top note: King William Pear
Middle notes: white freesia, wild rose
Base notes: amber, patchouli, woody notes
Jo Malone classifies this fragrance as a fruity (not as a light floral or a floral), which I think is appropriate. The scent is fresh and fruity, with pear as the most predominant note. It carries an uncompromising raw juiciness, which sets this fragrance apart from most of the other fruity scents. It gently sweetens overtime, but it is certainly not a syrupy-sweet fruity fragrance.
The other predominant notes are rose (which brings a touch of elegance and femininity to the scent) and patchouli (which adds depth and dimension to the composition).
Jo Malone positions English Pear & Freesia as an autumn fragrance, but, for me, this is a great scent for spring and summer.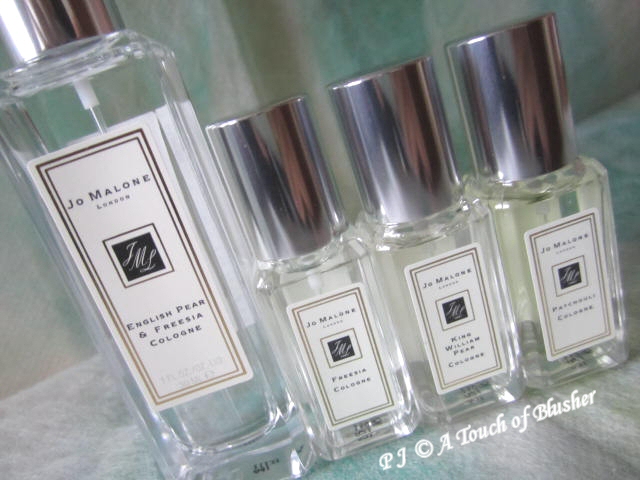 Each of the three 9ml scents is designed to be layered with English Pear & Freesia to enhance and amplify one of its top, middle, or base notes. Note that they are not single-note scents and that they contain notes not featured in English Pear & Freesia.
King William Pear: pear, bergamot, apple
Freesia: freesia, jasmine, violet
Patchouli: patchouli, leather, vanilla, musk
King William Pear is sparkling and effervescent, Freesia is, not surprisingly, intensely floral, and Patchouli is deep and sensual. What I have found common across all these three supporting scents is that they are sharp and direct. It is obvious that they are not designed to be fully-rounded fragrances, but you can of course wear them individually.
Each of these three can be layered underneath or over English Pear & Freesia. The combination of scents, the order of layering, and the amount of a particular scent you apply will all help create a unique blend.
I like the fact that English Pear & Freesia Fragrance Chronicle is able to make English Pear & Freesia Cologne personal as well as seasonal. (I mentioned earlier that I think it is more of a spring and summer scent, but layering it with Patchouli makes it warmer and more autumnal.) I also think playing with all these scents helps me appreciate fragrance craftsmanship even more.
(Jo Malone The Fragrance Chronicles also feature Lime Basil & Mandarin Fragrance Chronicle (with Lime Basil & Mandarin Cologne (30ml), Mandarin Cologne (9ml), Sweet Basil Cologne (9ml), and Amberwood Cologne (9ml)) and Pomegranate Noir Fragrance Chronicle (with Pomegranate Noir Cologne (30ml), Raspberry Cologne (9ml), Casablanca Lily Cologne (9ml) and Guaiacwood Cologne (9ml)).)
Here are highlights of the rest of Jo Malone's holiday 2011 collection: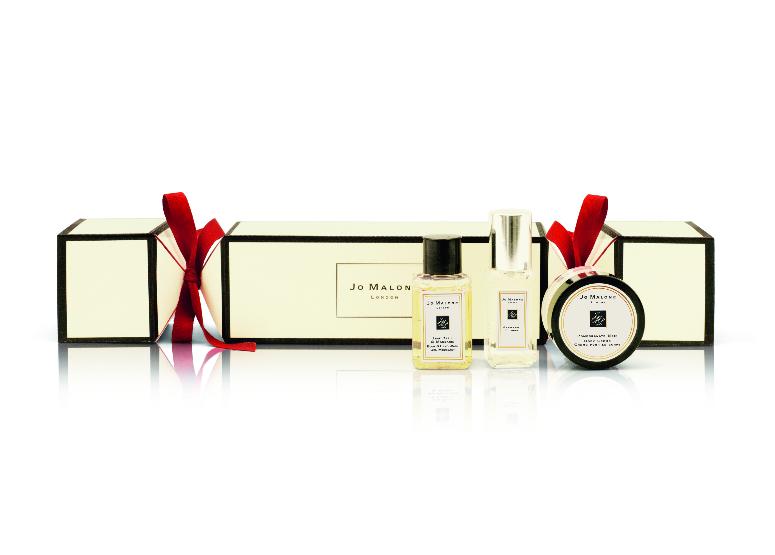 Christmas Cracker (£28):
– Grapefruit Cologne (9ml)
– Lime Basil & Mandarin Body & Hand Wash (15ml)
– Pomegranate Noir Body Crème (15ml)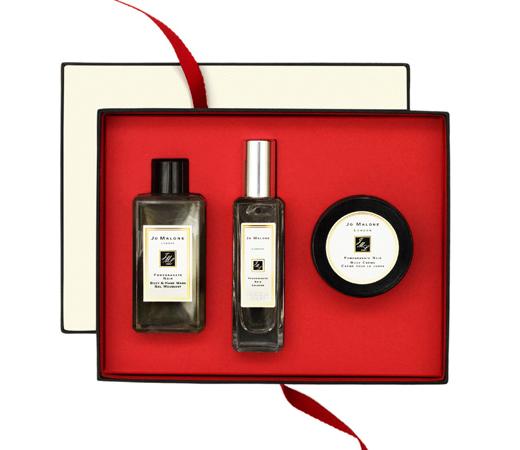 Pomegranate Noir Collection (£62):
– Pomegranate Noir Cologne (30ml)
– Pomegranate Noir Body & Hand Wash (100ml)
– Pomegranate Noir Body Crème (50ml)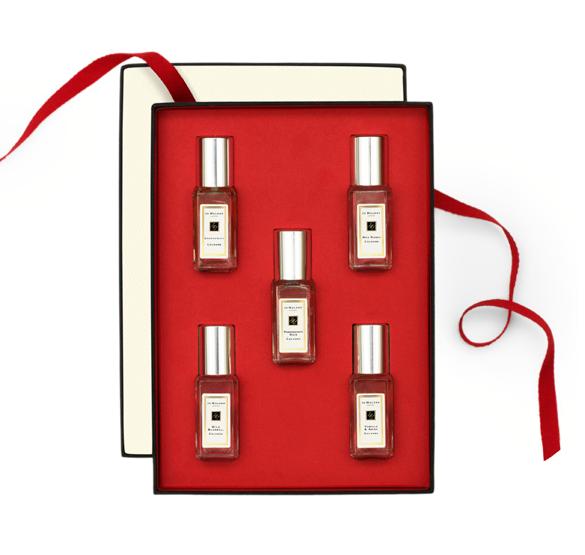 Cologne Collection (£62):
– Grapefruit Cologne (9ml)
– Pomegranate Noir Cologne (9ml)
– Wild Bluebell Cologne (9ml, see review here)
– Red Roses Cologne (9ml)
– Vanilla & Anise Cologne (9ml)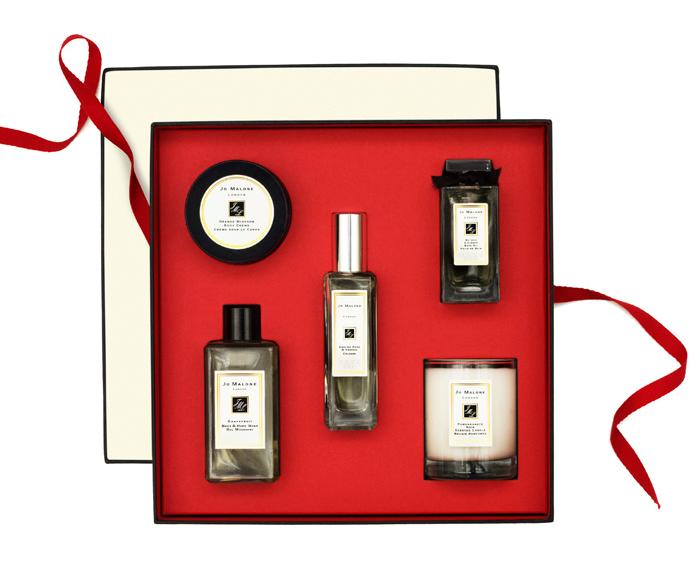 World of Jo Malone Collection (£98):
– English Pear & Freesia Cologne (30ml)
– Grapefruit Body & Hand Wash (100ml)
– Nutmeg & Ginger Bath Oil (30ml)
– Orange Blossom Body Crème (50ml)
– Pomegranate Noir Travel Candle (60g)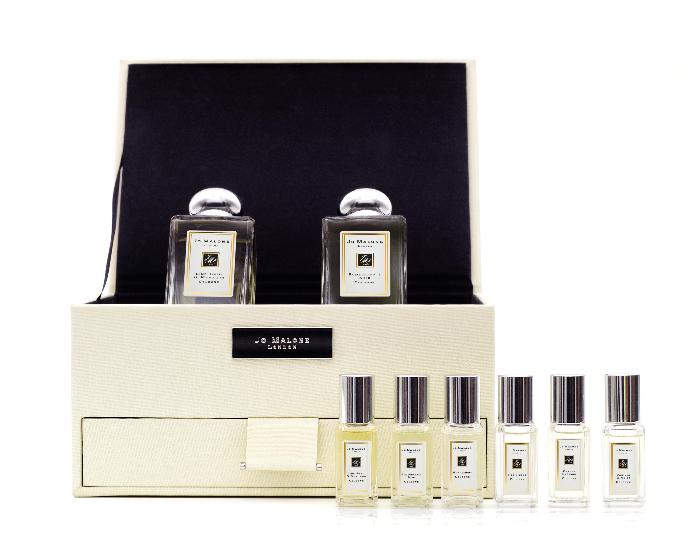 Customised Fragrance Combining Collection (£230):
– choice of two 100ml Colognes
– Lime Basil & Mandarin Cologne (9ml, see review here)
– Grapefruit Cologne (9ml)
– Pomegranate Noir Cologne (9ml)
– Red Roses Cologne (9ml)
– Orange Blossom Cologne (9ml)
– Vanilla & Anise Cologne (9ml)
(The product featured in this review is provided by Jo Malone.)
Related posts: