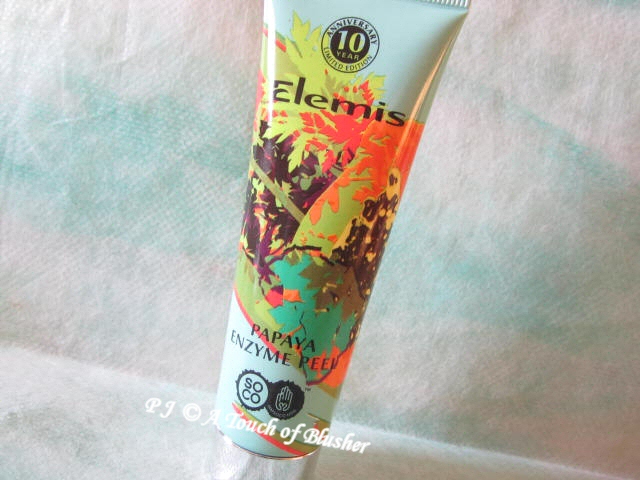 Designed to exfoliate and purify the skin, Elemis' Papaya Enzyme Peel mask is one of the brand's more noted products. To celebrate the product's 10th anniversary, Elemis has launched a limited-edition packaging today, and, in this review, I will be looking into the ingredients of this product.
Papaya Enzyme Peel (50ml, £28.60) has a light creamy consistency and it spreads easily on the skin. It has a fruity scent.
The product has a fairly emollient base, featuring moisturizing ingredients such as propylene glycol, octyldodecanol, glyceryl stearate SE, cetearyl alcohol, glycerin, helianthus annuus (sunflower) seed oil, and milk protein (lactis proteinum).
It contains fucus vesiculosus (bladderwrack) extract and (a very small amount of) tocopherol as antioxidants. Bladderwrack extract also has hydrating properties.
It is alcohol-free. It contains fragrance (parfum) and other scenting agents such as citronellol.
The two ingredients claimed by Elemis to have exfoliating properties are papain and ananas sativus (pineapple) fruit extract. However, both ingredients are potential skin irritants. Papain is an enzyme from papaya that can have exfoliating properties, but it can also cause skin irritation. Pineapple extract contains the enzyme bromelain, which can have exfoliating efficacy, but bromelain on its own is more beneficial for the skin as it does not contain the skin-irritating elements from pineapple.
Overall, without pineapple extract and papain, this product would be a well-formulated moisturizing (not exfoliating) mask. The two ingredients can have exfoliating efficacy, but there are ingredients which are also able to exfoliate the skin and are less likely to cause irritation (such as beta hydroxy acid (BHA, also known as salicylic acid), which is also an anti-irritant). Patch tests are strongly recommended if you are interested in purchasing this product.
The limited-edition packaging is designed by British photographer and pattern designer Laura Oakes.
(Elemis has teamed up with SOCO (Socially Conscious) to raise funding for vaccination for children in Africa. For every sale of the limited-edition Papaya Enzyme Peel, Elemis will donate the cost of one 5-in-1 Pentavalent vaccine (£1.07), which provides immunization against diphtheria, tetanus, whooping cough, hepatitis B and Haemophilus influenza type B.)
(Some ingredient information is based on Paula Begoun's Cosmetic Ingredient Dictionary.)
(The product featured in this article is provided by Elemis.)
Related posts:
Kanebo Sensai Cellular Performance Mask & Hydrachange Mask
Elemis Freshskin Purifying Face Mask & Quenching Face Mask