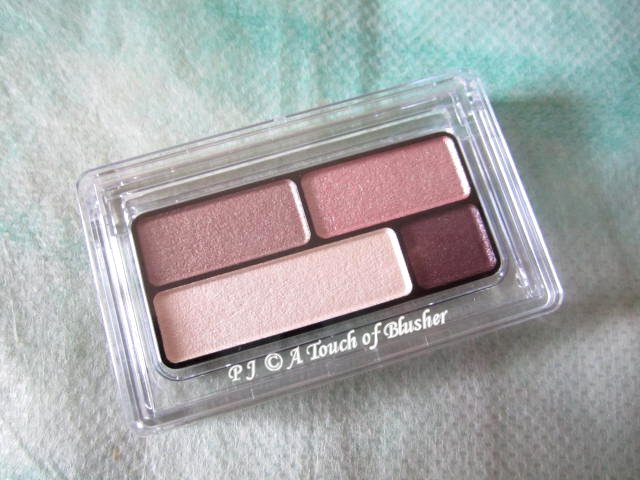 Today my Stash Debut 2012 series continues with Muji Eye Color (4 Color Type) in Plum 01.
Apart from homeware, clothing, and food, the Japanese lifestyle brand Muji carries health and beauty products, which include skincare, bodycare, haircare, and makeup items. I have been using Muji's Mild Oil Cleansing (note it is no longer available in the UK), and today I am sharing my thoughts on my first makeup purchase from Muji.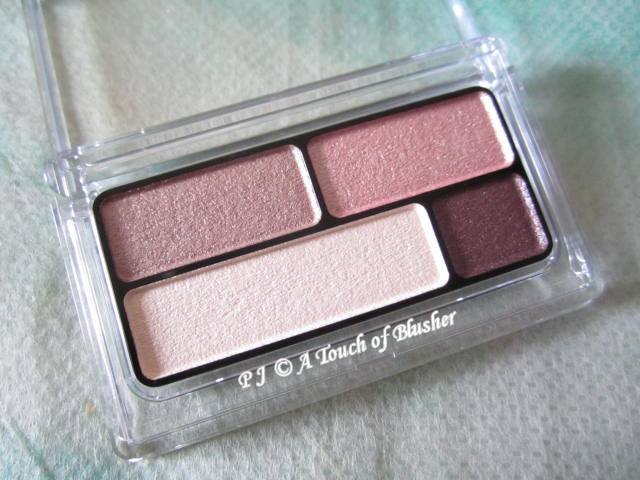 The four colors in Eye Color (4 Color Type) in Plum 01 are (clockwise from bottom-left):
– ivory white, softly-to-moderately pigmented, pearly with fine sparkles
– medium dusty mauve, moderately pigmented, softly pearly
– light warm pink, softly-to-moderately pigmented, pearly with shimmer
– warm plum, pigmented, subtly pearly with sparse fine sparkles
All the colors have multi-hued light-reflective particles. They all have a beautifully smooth and silky texture and good staying power.
(The eyeshadow palette is minimally packaged, like most of Muji's other products. It doesn't come with a mirrored case or applicators.)
The color that sealed the deal for me was the dusty mauve. It has enough warmth to suit my warm-toned complexion and enough depth to be a natural (not overly dramatic) shadowing shade for me. It looks low-key and muted in an elegant way. It does have a slight gray tone, but overall it doesn't look dull or ashy.
I also like the distinct and evenly mapped-out differences in depth among the four shades, and they together are able to create a beautiful gradation from ivory white to rich plum.
The only shade I need to be careful about is the light warm pink. Even though it is not heavily pigmented, the pink does show up and it can create a slightly noticeable irritated-eye look. (I think the irritated-eye effect could be lessened if the shade were a little cooler.) To avoid this (without skipping this color), I put it on first and layer the ivory white and the dusty mauve over most of it just to allow a little bit of it to show through to create the gradation.
This palette is similar to Coffret d'Or's Trance Deep Eyes in 01 Rose Variation. The main differences are that Coffret d'Or's Rose Variation is generally more sparkly and that its main shadowing shade, the dusty pink, is lighter and warmer than the mauve in the Muji palette.
Overall it is a very lovely palette, and I am very impressed by the texture of the powder. I think I will definitely consider picking up more eyeshadows from Muji if I see other suitable colors.
Related posts:
A Splash of Color: Sensuous Plum
Elsia Luxe Shine Eye Color in E-5
Giorgio Armani Eyes to Kill Silk Eye Shadows in 2 Lust Red, 4 Pulp Fiction & 7 Sweet Fire