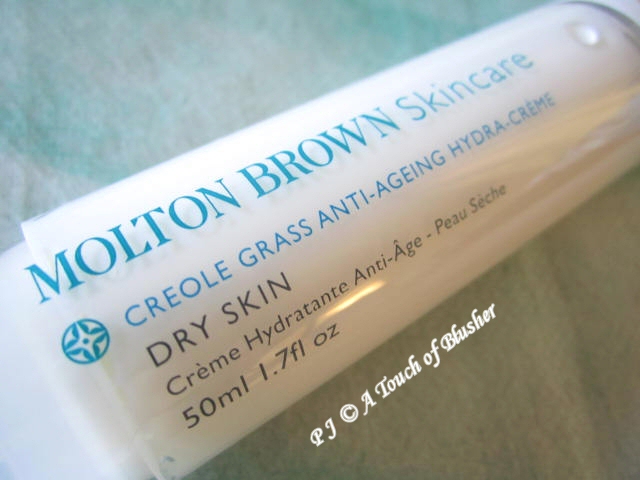 Molton Brown is a UK-based brand launched in 1973. Currently, it mainly carries skincare, bodycare (including handcare), haircare, men's grooming, fragrance, and home fragrance items. In March 2012, Molton Brown released a new skincare and bodycare range, and today I am reviewing Creole Grass Anti-Ageing Hydra-Crème from the range.
Creole Grass Anti-Ageing Hydra-Crème (50ml, £65) has a rich creamy consistency. It spreads reasonably well on the skin but more slip would be more ideal. Some of the moisturizing ingredients in this product are cetearyl alcohol, shea butter, glycerin, rubus idaeus (raspberry) seed oil, caprylic/capric triglyceride, stearic acid, and sodium hyaluronate.
The product contains anti-irritants such as lonicera japonica flower extract and lonicera caprifolium flower extract. (Both are honeysuckle flower extracts.) Apart from being a moisturizing agent, raspberry seed oil also has antioxidant efficacy.
(In case you are wondering, it appears that creole grass (from the name of the product) is listed on the ingredient list as spilanthes acmella flower extract (as it is not any of the other ingredients on the list). From the information I have come across (most of which is unlikely to be based on independent scientific research (I generally disregard information from non-independent sources)), it is not obvious whether this ingredient has any substantial or unique skincare benefit other than possible skin-conditioning properties.)
The product is alcohol-free and paraben-free. It contains fragrance (parfum) and other scenting agents, such as geraniol and linalool. The level of fragrance content is relatively high as fragrance is listed among the first third of the ingredient list. Even though the product doesn't have a very strong scent, the fragrance content might still be a concern for some people.
Overall, this moisturizer is a fairly decently formulated product. Its rich consistency will appeal to those with dry or very dry skin. Due to its occlusive moisturizing ingredients such as shea butter and raspberry seed oil, this product is unlikely to suit those with combination or oily skin.
(Some ingredient information is from Paula Begoun's Cosmetic Ingredient Dictionary.)
(The product featured in this article is provided by Molton Brown.)
Related posts:
Astalift Regenerating Night Cream