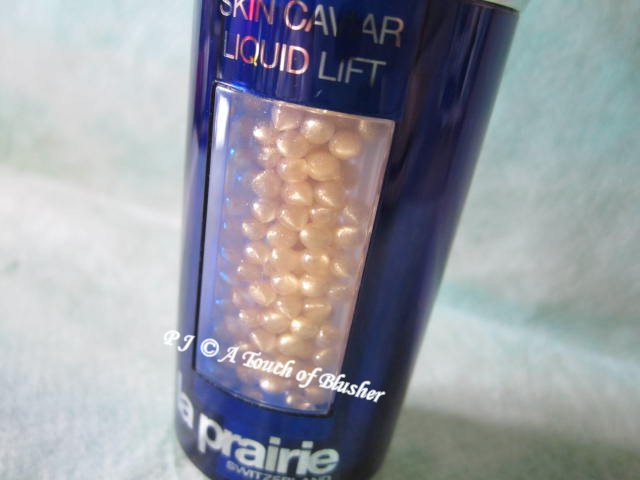 La Prairie's Caviar range is perhaps the most noted range of the Swiss skincare brand. In September, a new addition to the range, Skin Caviar Liquid Lift, was launched in the UK. Today I am taking a closer look at this product.
Skin Caviar Liquid Lift (50ml, £304) has a gel-serum consistency, and it has a good slip on the skin. Some of the main moisturizing ingredients in this product are glycerin, sodium hyaluronate, butylene glycol, pentylene glycol, hexylene glycol, and propylene glycol.
The caviar extract that this product contains may have skin-conditioning properties, but it is certainly far from a miracle ingredient.
The product contains antioxidants such as panax ginseng root extract, ascorbyl glucoside, and algin. It contains pentapeptide-31 and palmitoyl tripeptide-38, which are cell-communicating agents, and it contains centella asiatica extract, which has antibacterial efficacy.
Even though this product has some skin-benefiting ingredients as mentioned above, it also includes some problematic ingredients. It contains alcohol (sixth on the ingredient list) and sodium lauryl sulfate, both of which can be highly irritating. (Alcohol can also cause free-radical damage in the skin.) It also contains equisetum arvense (horsetail) extract, which has antioxidant properties but components of which can be irritating.
The product contains lactic acid, which is a form of alpha hydroxy acid (AHA) and has exfoliating properties. It is not a problematic ingredient in itself, but some people can be sensitive to it (and AHAs in general).
The product contains fragrance (parfum) and other scenting agents. I find the scent to be slightly on the strong side.
Overall, despite the antioxidants and the cell-communicating agents, I would not recommend this product. The tightness that you might experience (which can be confused with the skin-lifting effect that this product is claimed to have) is likely to be due to the drying alcohol as well as other skin-irritating ingredients in this product. If the irritating ingredients were absent, it would be a very competent product.
(Some ingredient information is from Paula Begoun's Cosmetic Ingredient Dictionary.)
(The product featured in this article is provided by La Prairie.)
Related posts:
Olay Regenerist Night Renewal Elixir
SK-II Facial Treatment Repair C