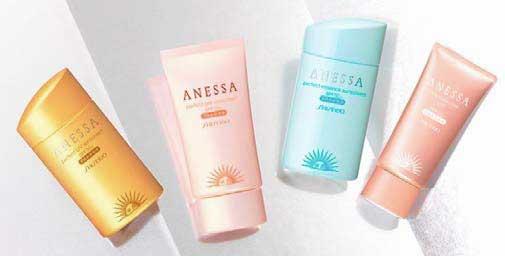 (image/info from www.nikkei.com)
Shiseido's Anessa is one of the most popular suncare ranges in Japan. The range features sunscreens (including one designed for babies), foundations, and a BB cream, all of which offer high levels of protection against UVA and UVB rays. The range also includes cleansers formulated to remove high-factor sun protection.
Currently, in Japanese cosmetics, the labels indicating the strengths of UVA protection are PA+, PA++, and PA+++. From January 2013, as a result of the advancement of UVA protection technology in Japan, the Japan Cosmetic Industry Association will introduce PA++++, an even higher level of UVA protection.
Anessa's spring/summer 2013 suncare collection, which will be released in Japan on February 21st, features items with the PA++++ UVA-protection level. The collection includes (from left to right in the photo above):
– Perfect UV Sunscreen A+ SPF50+ PA++++ (waterproof, 60ml/25ml)
– Perfect Gel Sunscreen A+ SPF50+ PA++++ (60g/25g)
– Perfect Essence Sunscreen A+ SPF50+ PA++++ (light-lotion consistency, 60ml/25ml)
– Face Sunscreen BB SPF50+ PA++++ (2 shades, 30g)
Related posts:
SHISEIDO Benefiance WrinkleResist24 Day Cream SPF 15 & Night Emulsion
Boots No 7 Protect & Perfect Intense Day Cream SPF 15 + 5-Star UVA
Sofina Jenne 2-Week Trial Set (Moist Type)
(featuring Day Protector II SPF 24 PA+++)