About A Touch of Blusher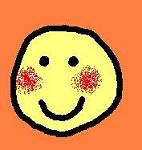 (Hello!)
About Me
Hi, this is PJ!
Beauty and fashion are my passions, among other things. I started my blog, A Touch of Blusher, in November 2006, to share my thoughts on beauty (mostly) and fashion.
I am living in the UK.
Do send me a comment or an e-mail. (Please find my address in the Contact page.) It will make me smile (and blush) even more!
– Skin type
I have oily-dry skin (oily and dehydrated). (See this post for more on oily-dry skin.) My skin reacts negatively to alcohol (ethanol).
See the list of skincare products that I am currently using in the sidebar on the right.
– Base makeup preferences
I prefer powder foundations to liquid/cream foundations. (I have never used liquid/cream foundations regularly.) I have been using Shiseido ZA Two-Way Foundation for years, and 22 is the shade I use. (With foundations from most Japanese brands, I go for the second-lightest OC shade. (See this post for more on OC/BO/PO shades.)
– Point makeup preferences
I like neutral-toned and purple-toned eyeshadows, natural and softly matte blushers, and lip glosses with a hint of shimmer. (I also have a mild obsession with blue lip glosses.) I don't wear mascaras or eyeliners regularly.
I generally prefer Japanese makeup lines to western lines. Some of my favorite Japanese makeup lines include Lunasol, Coffret D'Or, Lavshuca, Jill Stuart, and Paul & Joe.
See the list of some of my favorite makeup products in the sidebar on the right.
You can also find out a little more about me on the FAQ page.
Disclosure
Posts with the word "review" in the titles indicate reviews of products provided by cosmetics companies or PR firms for trial and review purposes. All these reviews are written with the same critical eye as discussion on my own purchases as well as items I test in shops. (In some cases, such as posts that feature both my own purchases and items provided by cosmetics companies or PR firms, the titles may not include the word "review" but relevant notes are provided.)
Since October 2009, in order to comply with guidelines concerning endorsements and testimonials set out by the US Federal Trade Commission (even though I am based in the UK), I have been including a disclosure statement in my review articles on products I receive from cosmetics companies or PR firms.
I do not post sponsored articles on my blog.
Disclaimer
The reviews on my blog are based on my personal experience and opinion, but I do try to point out various aspects of the products so you can stay well-informed.
Copyright
All the content (text and images) on this blog, unless otherwise noted,  is copyrighted. Please do not re-publish any of my content without my prior consent.
Also, please do not hot-link to images on this blog.