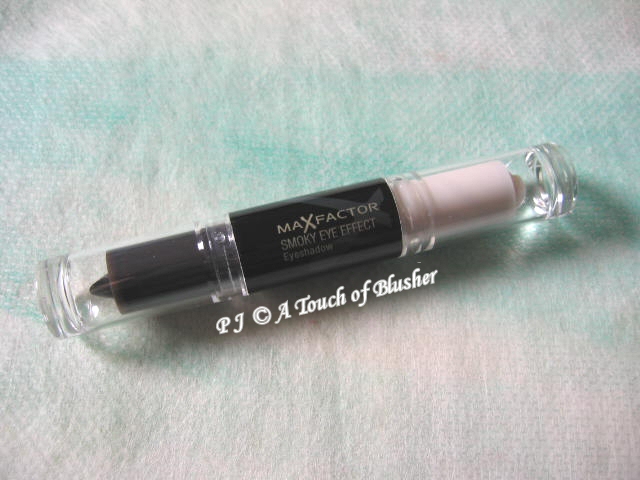 Available in six variations, Max Factor's new Smoky Eye Effect Eyeshadow aims to make the trendy smoky-eye look easier to create. The cream-stick formula allows blending with fingers and without the use of brushes.
Each variation contains two shades. The lighter shade has a rounded edge and the darker shade is more tapered. The shade I am featuring here, Onyx Smoke, features a silvery white and a black. The silvery white has a pearly finish and the black has some sparse shimmer. I like the fact that the silvery white is not overly pigment-rich or too frosty. The black, when blended, is more grey than black.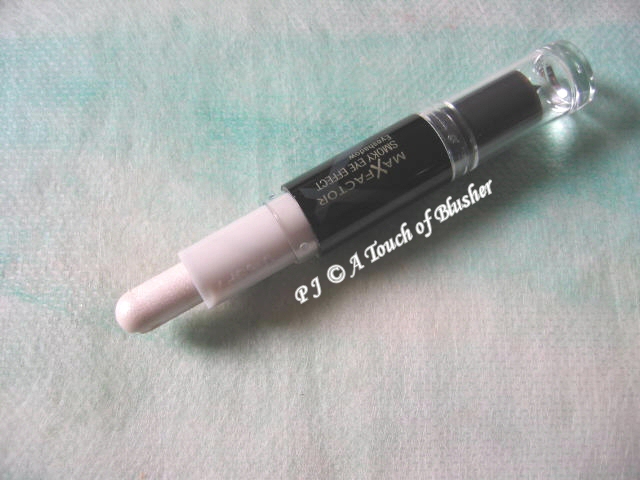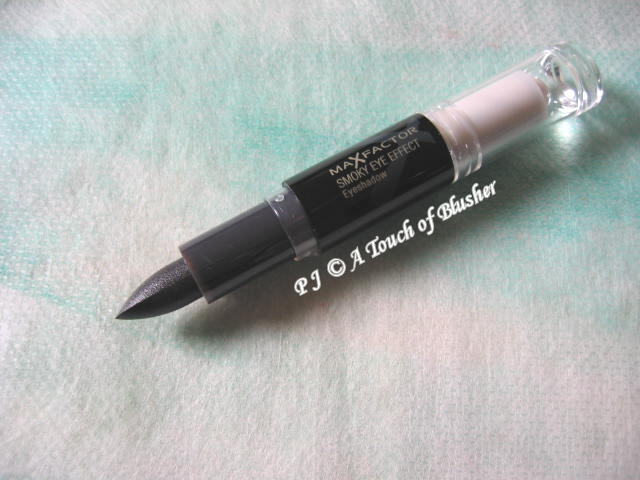 A smoky-eye look is achievable with this product, and, once everything is in place,  the staying power of the colors is relatively good.
However, there are quite a few problems with the product. First of all, even though the product does not dry too quickly and there is plenty of time for blending, using fingers to blend the darker shade can be tricky. Blending can be difficult if precision is required for certain looks or if you only want the darker shade to be very close to the lashlines.
Also, I noticed that, when the black was being blended, some of it was pushed to and then deposited at the roots of the lashes. My lashes are black so the deposit was not too noticeable, but the colors from some of the other variations might be a lot more so.
Thirdly (perhaps the biggest problem with the product), both cream sticks broke (at the root) during the application. After the silvery white broke, I tried to be more careful with the black but it still broke. After the sticks broke, dispensing the colors on the eyelids became very difficult. (I think this could be easily rectified by changing the tubes into thinner ones that closely hug the sticks.)
Another smaller issue is that the sticks are longer than the tubes and I have to be careful when opening and closing the caps.
The product is meant to make makeup application easy and hassle-free, but all these problems make the product very difficult and fiddly to use. For me, it is still some ultra-blendable powder eyeshadows plus a few good-quality brushes on any day.
(The product featured in this article is provided by Max Factor.)
Related posts on Max Factor:
Vibrant Curve Effect Lip Gloss in Fashion Leader
Spring 2010 Makeup Collection
(Japanese line)
Fall 2009 Makeup Collection
(Japanese line)