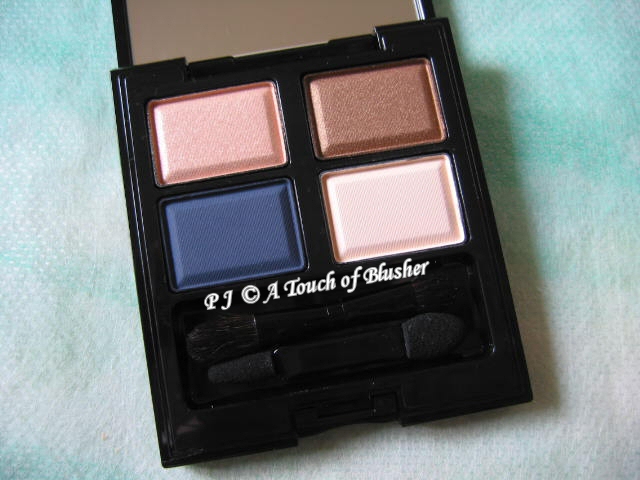 On September 3rd, SUQQU went through a major brand renewal in Japan and its fall 2010 makeup collection includes many new point and base makeup products. (There are also new skincare items.) Blend Color Eyeshadow, available in 6 variations, is one of the new products, and today I am reviewing 01 Kakitsubata.
The four colors in this palettes are (clockwise from bottom right):
– warm ivory, softly pigmented, glowy matte with no shimmer
– dark navy blue, pigmented, glowy matte with no shimmer
– pale peach, moderately pigmented, with pearly shimmer and soft sparkles
– golden brown, pigmented, with gentle pearly shimmer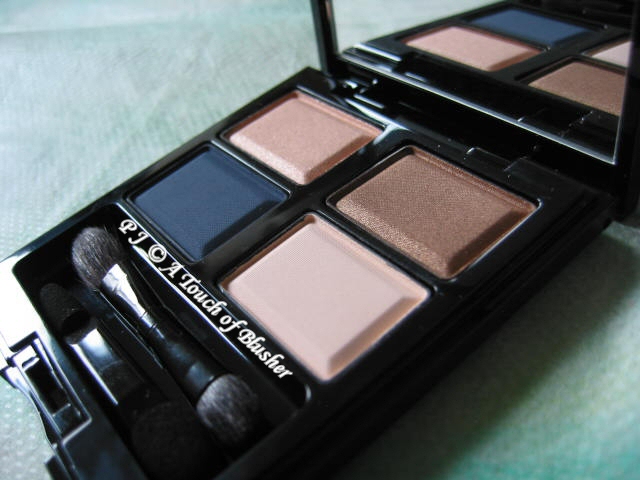 As I mentioned in an earlier post, Kanebo-owned brands/lines often release eyeshadow palettes with gold (or brown) and dark blue. Kakitsubata is a good example. (In this case, it is a golden brown.) I like every shade in this palette as well as how the four shades work together.
The warm ivory has a shimmer-free glowy matte finish and is a great browbone highlighter. The glowy matte finish is natural and flattering and it makes the eyes look fresh and awake. (I often think the base shades in some of the eyeshadow palettes from Japanese brands have a little too much shimmer and are not always flattering for the browbone areas.)
The pale peach is the most shimmery shade in the palette, but the overall finish is not glittery or too sparkly. The subtle warmth in the shade goes well with the warm ivory white and the golden brown.
The golden brown is a beautiful shadowing shade. What I like the most about the shade is its gentle pearly finish. When it is worn on the eyes, the shimmery particles are not really visible and the shade simply imparts a natural, dewy and luminous glow on the eyes. The shade has a nice amount of warmth to suit my warm-toned complexion but it doesn't look bronzy. It is dark enough to create a defined look but it never looks harsh.
I didn't think dark blues would suit me as eyelining shades, but I was pleasantly surprised by the dark navy blue in this palette. The look it creates is more defined than those by browns and purples (which I usually go for) but less so than those by blacks and dark greys. It also works well with the golden brown. I like the contrast between the two shades and the defined look that they create together.
Compared with the two Blend Eyeshadow palettes that I reviewed (10 Sakuragi (spring 2009) and EX-06 Maiyuki (holiday 2009)), Blend Color Eyeshadow has kept virtually all the assets of Blend Eyeshadow (silky powder, superb blendability and good staying power) but there are improvements (at least in my point of view), which are presented below. I think these improvements are quite unexpected since SUQQU has been producing some of the best eyeshadows I have ever come across.
The powder in Blend Color Eyeshadow is generally even softer, particularly the eyelining shade. (The eyelining shade in Blend Eyeshadow in 10 Sakuragi is slightly drier than the rest of the shades in the palette.) Also, I personally like the fact that the finishes of the shades in the palette are more distinctively varied. (The warm ivory and the dark navy blue are glowy matte, the golden brown is gently pearly, and the pale peach is pearly with soft sparkles.) The different finishes complement one another exceptionally well.
The look that this palette creates is very sophisticated and it is also quite elegant, with an air of low-key glamour.
I think there are probably some people who stay away from pricier makeup items because they are not very confident in applying makeup and they think pricier items could be a waste of money. But I do feel that a high-quality palette like Kakitsubata (£40 in the UK), whose shades are well-coordinated, superbly easy to apply, flattering for most skin tones, long-lasting, and suitable for virtually all occasions, could be a worthy investment that could benefit those who are new to makeup or those who might not be very confident in applying eye makeup.
(If dark blues do not suit your complexion, try 03 Matsukasa 0r the lighter 05 Sakurakaba. (Both include four warm neutrals.) If you prefer a cool-toned palette, try the grey-toned 04 Keshizumi. (See this post for images of all the variations.))
(Note on packaging: The cases for Blend Eyeshadow are dark violet while those for the new Blend Color Eyeshadow are black.)
(The product featured in this review is provided by SUQQU.)
Related posts on SUQQU:
SUQQU: Sensuality with an Attitude
Holiday 2010 Makeup Collection