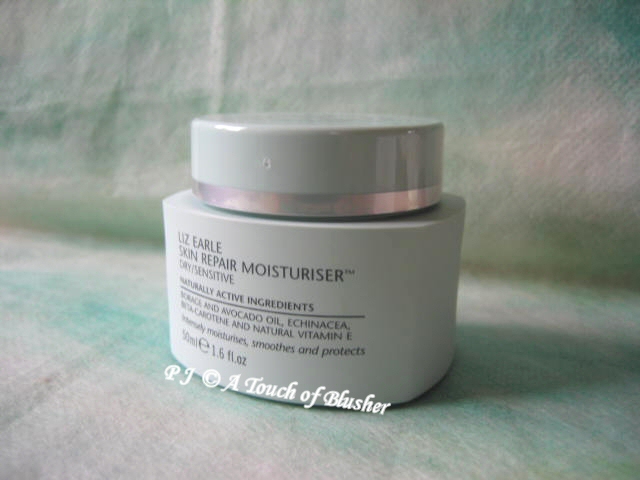 Earlier this year, I reviewed Liz Earle's Superbalm. In the next few weeks, I will review a few of the other products from the brand. Today I am focusing on Skin Repair Moisturiser Dry/Sensitive.
The product has an emollient texture but is not overly thick. Some of the moisturizing ingredients that this product contains are caprylic/capric triglyceride, avocado oil, borage seed oil, cetyl alcohol, glycerin, wheat germ oil, and urea.
Even though the product contains several occlusive moisturizing ingredients (avocado oil, borage seed oil and wheat germ oil), it is absorbed relatively easily while keeping the skin moisturized.
The product also contains the following skin-benefiting ingredients (some mentioned above as emollients):
Anti-oxidants: avocado oil, borage seed oil, tocopherol (vitamin E), tocopheryl acetate (vitamin E) and beta-carotene
Anti-irritant: echinacea (coneflower) extract
Cell-communicating agent: niacinamide (vitamin B3)
I have mentioned niacinamide a few times on my blog. According to Paula Begoun, niacinamide is a cell-communicating ingredient "that has been shown to increase ceramide and free fatty acid levels in skin, prevent skin from losing water content, and stimulate microcirculation in the dermis". My eyes usually light up when I see niacinamide in the ingredient list of a moisturizer, especially if it is towards the top of the ingredient list. Skin Repair Moisturiser Dry/Sensitive doesn't contain a lot of niacinamide (which is among the second half of the ingredient list), but it has it nonetheless.
(For skincare products that have a lot more of this great ingredient, have a look at some of the moisturizers from Olay, such as Complete Care Sensitive UV Fluid SPF 15 and Complete Care Night Enriched Cream, both of which I have been using for quite some time. Also, have a look at my review of Olay's Regenerist Daily Regenerating Serum.)
The product is alcohol-free and contains no skin-irritating fragrant plant oils. It does contain a very small amount of fragrance and some other scenting agents, but the scent of the product is very faint and subtle.
Overall, this is a very well-formulated night-time moisturizer for those with slightly-dry or dry skin. Those with oilier skin types might want to opt for products with fewer occlusive emollients.
(The product featured in this article is provided by Liz Earle.)
Related posts:
Chanel Sublimage Essential Revitalizing Concentrate
L'Occitane Immortelle Brightening Essence & Brightening Moisture Cream