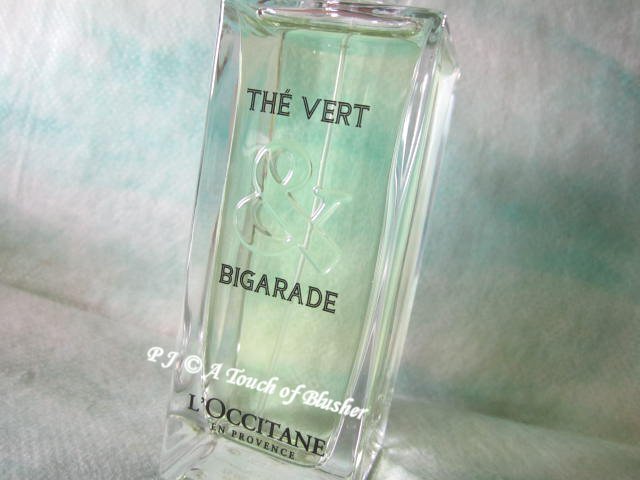 Last summer, L'Occitane debuted La Collection de Grasse, a collection of fragrances created by the brand's new (and first) in-house perfumer, Karine Dubreuil. The idea of the collection is that each scent is based on two main notes from different parts of the world. (In Japan, the collection is called Ampersand Grasse, highlighting the key concept of union.)
The launch lineup featured four scents: Jasmin & Bergamote, Magnolia & Mûre, Vanille & Narcisse, and Thé Vert & Bigarade. For fall 2013, Ambre & Santal was launched, and, for holiday 2013, Fleur d'Or & Acacia and Cèdre & Oranger were added to the collection. (Also, Rose & Osmanthus is available in some countries.) Today I am featuring Thé Vert & Bigarade.
Top notes: orange, bitter orange
Middle notes: green tea, yerba mate
Base notes: cedar, thyme, musk
L'Occitane characterizes this green-toned scent as an aromatic citrus. The two main elements in this scent are green tea extract from Japan and bitter orange essential oil from Tunisia. The very mildly sweet orange note makes a fleeting appearance before the bitter orange note takes over and makes a strong impression throughout the wear. Green tea, on the other hand, plays a supporting role, as a gentle trace of it lingers in the background. Both of the two main notes have an astringent feel and they (bitter orange in particular) give an angular (but never sharp) quality to the overall composition.
The fragrance does not develop very much and remains fresh throughout the wear. The bitter orange note is still perceptible in the drydown and the cedar and musk notes are very subtle. The staying power of the scent is good.
Thé Vert & Bigarade is a replacement of the previous Thé Vert, and they are similar. Compared with Bulgari's Eau Parfumée au Thé Vert, one of my favorite fragrances, it is greener, drier, and less floral. (Eau Parfumée au Thé Vert contains notes of orange blossom, rose, and jasmine.) Personally, I still prefer Bulgari's interpretation of green tea.
Overall, it is a clean-cut fragrance with a sophisticated character. Its freshness makes it suitable for warmer months and its green and aromatic tone should appeal to those who want to stay away from scents (tea-based or otherwise) that are too sweet and syrupy.
Thé Vert & Bigarade Eau de Toilette is available in 75ml (£49). The fragrance range also includes Perfumed Shower Gel (175ml, £11), Perfumed Body Milk (175ml, £16), and Perfumed Soap (125g, £7).
(The product featured in this article is provided by L'Occitane.)
Related posts:
L'Occitane Eau Universelle Cologne Fraîche
L'Occitane Paeonia (now Pivoine Flora)