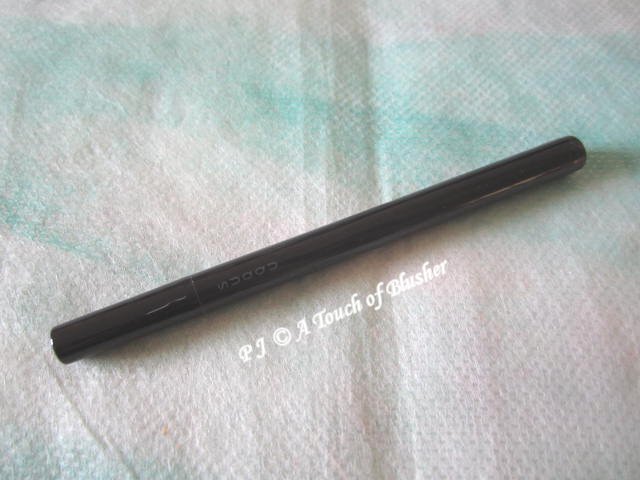 Combining quality and ingenuity, SUQQU has been among the top Japanese beauty brands for years. From Clear Veil Powder from 2006 to Contour Shadows from 2009, SUQQU has been continuously developing products that enhance facial beauty in unique ways.  Today, I am highlighting another example, Eyebrow Liquid Pen R in 01 Moss Green.
Eyebrow Liquid Pen R (£20) was released in fall 2010 as part of the brand's major product renewal at the time. (It replaced Eyebrow Liquid Pen, which was released in fall 2007.) It is available in two shades (01 Moss Green and 02 Brown).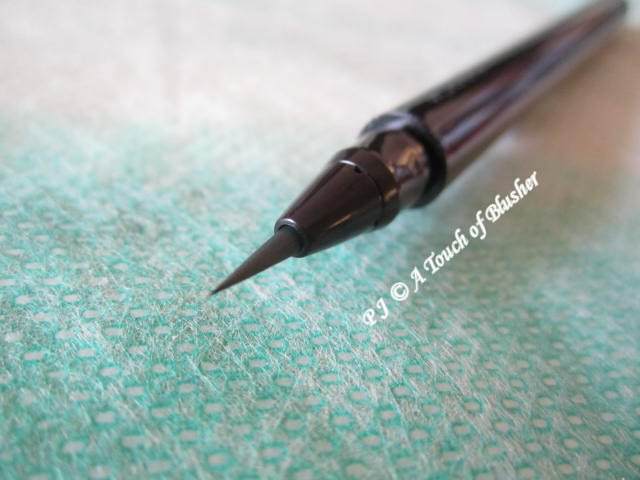 The product is similar to a liquid eyeliner. The liquid is dispensed through an automatic brush pen with a very fine tip. (There is no click or dial. The product is dispensed as you apply it.)
01 Moss Green is a lightly-pigmented muted moss green. The color starts off quite subtle, but it can be layered for more intensity. When worn, it essentially looks like a sheer black without looking ashy and it certainly doesn't look obviously green. It works very effectively to enhance the eyebrows, but the overall look is surprisingly natural.
(Moss green was also used by SUQQU for mascaras, as seen in Mascara Volume Long in EX-01 Green. The look was also very natural.)
The water-proof and smudge-resistant color has a very good staying power. It stays very well on my oily skin without fading or traveling, and it looks freshly applied throughout the day.
What makes this product stand out is how differently it works from an eyebrow pencil. With an eyebrow pencil, you see the pigment before the eyebrows. With Eyebrow Liquid Pen R, you still see the eyebrows first, as the subtle pigment doesn't overshadow the natural eyebrows. (Eyebrow powder, which I usually use, is somewhere in between.)
In terms of the application, this product might require some practice. Always apply the product very light-handedly, as mistakes from heavy-handed applications can be difficult to rectify once the color is set. Also, due to the buildability of the color, do not stay in one area for more than a couple of strokes. Move back and forth the eyebrows to fine-tune the color depth and the overall shaping.
On the whole, the product works subtly but very effectively. It might take some time to get used to a liquid-based pen for the eyebrows, but I certainly think it is worth the time and the efforts.
(The product featured in this article is provided by SUQQU.)
Related posts:
SUQQU: Sensuality with an Attitude
Review: SUQQU Fall 2013 Makeup Collection
(Blend Color Eyeshadow in EX-17 Hatsushimo & Face Color Palette in EX-03)