(continued from Part 1 & Part 2)
3rd: Chicca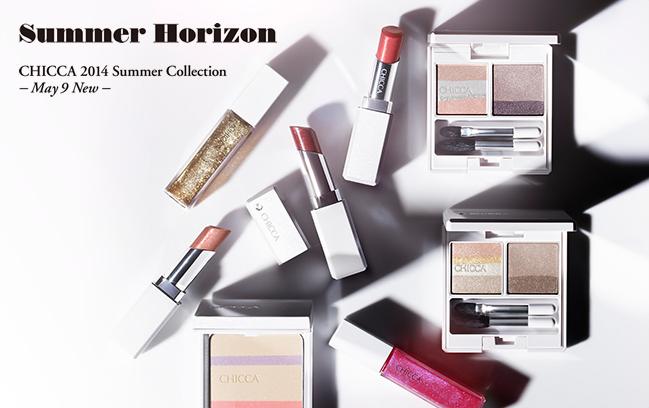 (image from www.chicca.jp)
For me, the highlights of Chicca's summer 2014 Summer Horizon makeup collection are the lip items. The two new shades of Mesmeric Gloss On look eye-catching (the golden 04 Monochrome Gold and the pink 05 Moon Pink with sparse blue-toned shimmer). Among the three new shades of Mesmeric Lipstick, I like 08 Rose Glacé (the top one in the image), which is a red pink with a subtle rose undertone. It is an understated and elegant color.
2nd: Emoda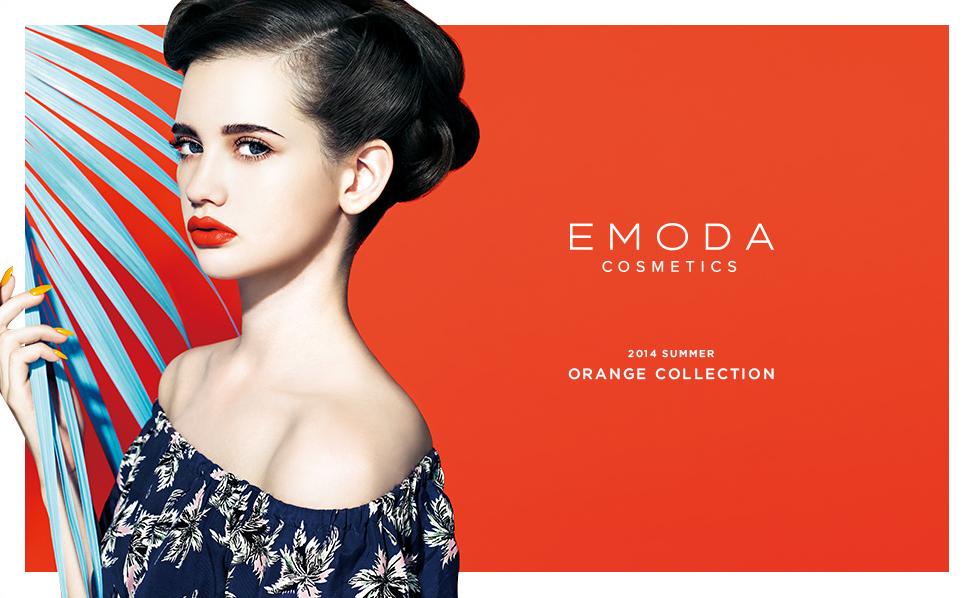 (image from www.emoda-japan.com)
Emoda is a Japanese fashion brand and it debuted its beauty line in Japan on February 14th, 2013. The launch collection featured Eye Color Base and Treatment Nail Lacquer, and most of Emoda's core beauty items (mainly point makeup items) were launched a month later on March 15th. Currently, the line carries point makeup, base makeup, nail colors, bodycare items, haircare items, fragrances, makeup brushes and makeup accessories.
I have not talked about Emoda before even though it has been on my radar for a while. However, its Orange Collection for summer 2014 really stands out for me not only among all the summer makeup collections this year but also among all the safer color schemes that we have seen from many major brands in the last couple of years.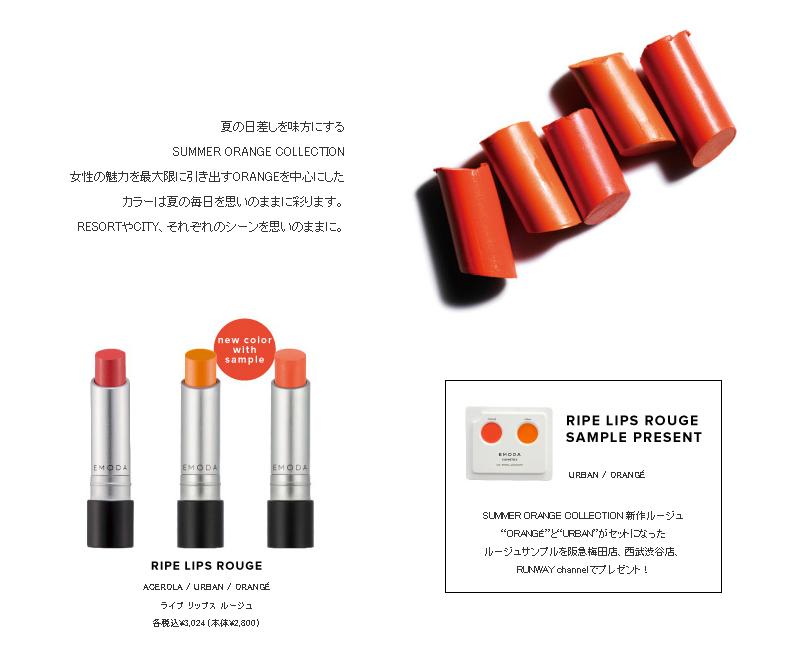 (image from www.emoda-japan.com)
Emoda's Orange Collection for summer 2014 includes:
– Impressive Eye Color (2 new shades (Dolce and Salmon), ¥2400)
– Ripe Lips Rouge (2 new shades (Urban and Orangé), ¥2800)
– Ripe Lips Rouge Gloss (2 new shades (Apricot and Canaria), ¥2400)
– Treatment Nail Lacquer (3 new shades (Tropical, Siren and Ceremony), ¥1900)
The other items in the two images are previously released items. (info from www.emoda-japan.com)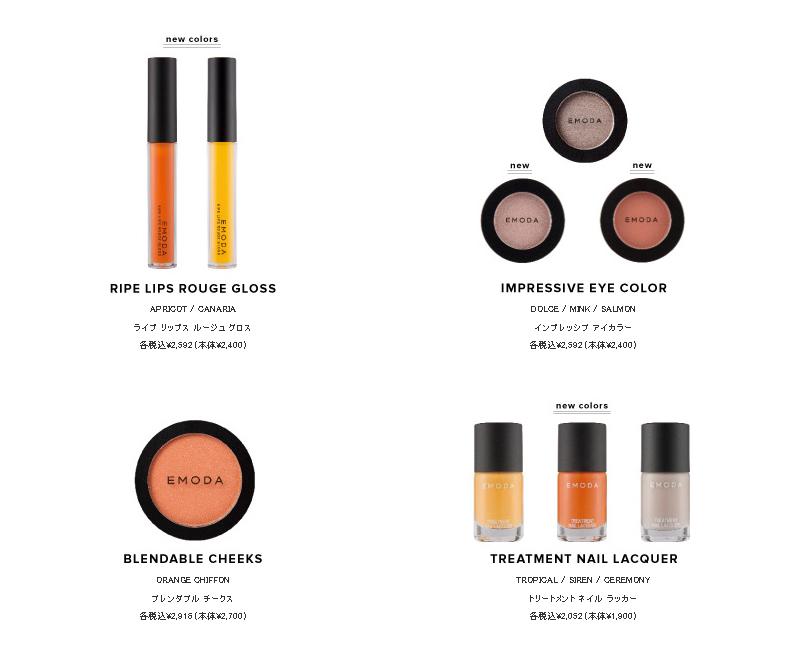 (image from www.emoda-japan.com)
It is very refreshing to see a line taking on a bold color and making a statement about it. For a relatively new line, a collection like this is exactly what it needs to establish a clear image and identity. These edgier shades evoke a sense of discovery and fun, and I don't think the line will distance itself from most makeup wearers with them. (Most of the new orange-toned items are for the lips and nails, and they can be easily coordinated with most people's everyday makeup colors.)
Notice that none of the new items is a limited edition, which means they will stay and build up Emoda's repertoire of colors. Overall, this is an exciting and memorable collection and Emoda is certainly one of the lines to watch in the coming seasons.
1st: Anna Sui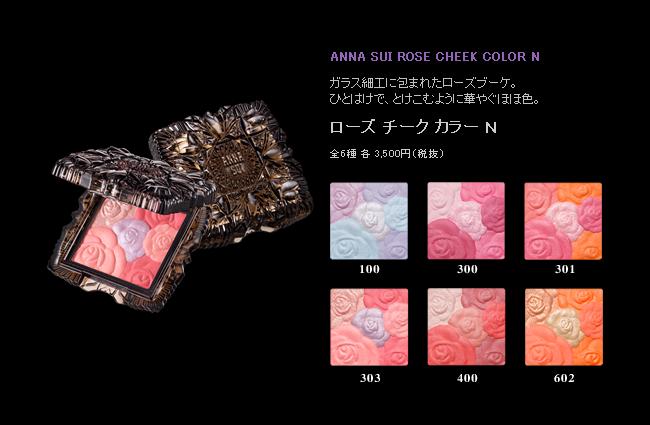 (image from www.annasui-cosmetics.com)
Anna Sui started another packaging revamp with its summer 2014 makeup collection. While I am still not sure I like the new packaging of Rose Cheek Color N, I do like the various combinations of colors. 100, 300, 301 and 400 were available in the original packaging, and I think it is a good idea to keep most of the (better-selling, I presume) variations since they were only released in spring 2012. There are two new variations, and I am particularly looking forward to seeing 303 in person. (I like the combination of lilac and soft pinks.) The cute Eye Shadow Cases finish off the collection with a flourish.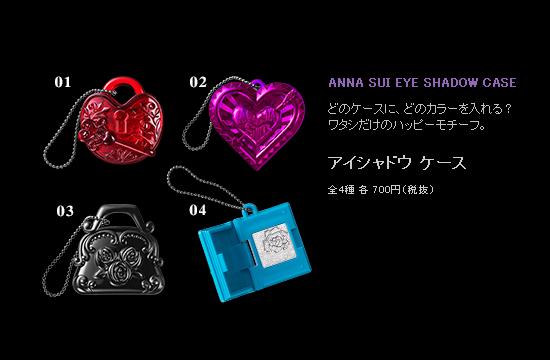 (image from www.annasui-cosmetics.com)
Related posts:
Chicca Fall 2014 Makeup & Skincare Collection
Anna Sui Fall 2014 Makeup Collection