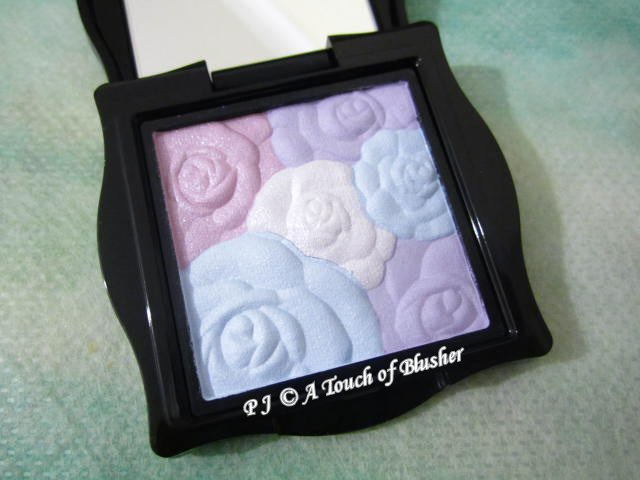 So far this year, I have reviewed Anna Sui's Rose Cheek Colors in 300 and 301. Today, I will be focusing on 100.
(Even though Rose Cheek Color in 100, released in spring 2012, is no longer available, it is essentially the same as Rose Cheek Color N in 100, which was released in summer 2014 and is currently available. The only difference is the case design.)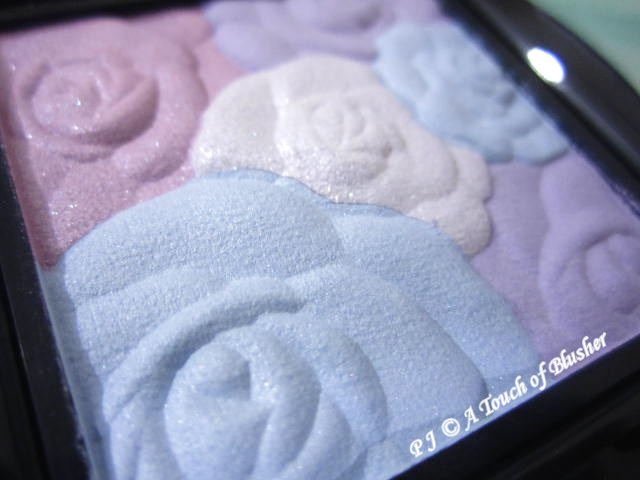 Anna Sui Rose Cheek Color in 100 (アナ スイ ローズ チーク カラー 100/ 安娜蘇 魔顏精靈薔薇頰彩 100, ¥3500) features a pale blue, a pale cool-toned lilac, a pale warm-toned lilac and an off-white with predominantly cool-toned lilac shimmer. The pale blue and the pale cool-toned lilac have a predominantly velvety finish, and the pale warm-toned lilac and the off-white have a shimmery finish.
All the shades are lightly pigmented but they do have a good staying power. The shimmering particles are also quite long-lasting as they are able to last through a few blotting sessions during the course of wear.
If you mix all four shades, you get a soft lilac with a shimmery finish. If you only mix the two velvety shades to avoid any shimmer, you get a relatively more blue-toned hue.
This variation works the best for me when I simply use it on the areas where I use a blusher. It highlights the cheek areas without making the appearance of pores overly pronounced as it doesn't have a pearly, frosty or metallic finish (which can often exaggerate the appearance of pores).
It can also be used as an all-over finishing powder and a highlighting powder for areas other than the cheeks. It can have some color-correcting efficacy, but it can look unnatural if applied heavy-handedly.
Overall it is a decently competent multi-purposed product. I like its adjustable finishes and color nuances, and I particularly like it as a highlighter for the cheeks. Whatever purpose you use it for, do layer it light-handedly to ensure an optimally natural look.
Related posts:
Anna Sui Fall 2016 Makeup Collection
Stash Focus: Paul & Joe Pressed Powder T in 001 Twinkle, Twinkle Little Star