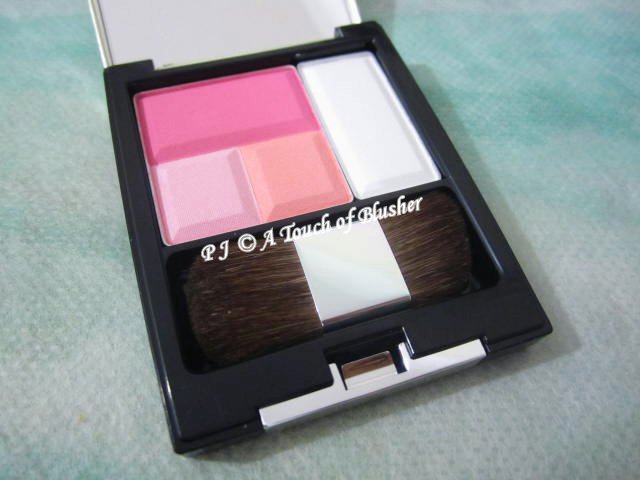 In 2012, Kesalan Patharan started a product revamp with the launch of Moisturizing Eyecolor, and it then released Cheek Color in the following year. I reviewed Moisturizing Eyecolor in E01 Elegant Violet last year, and today I will be sharing my thoughts on Cheek Color in C01 Cute Pink.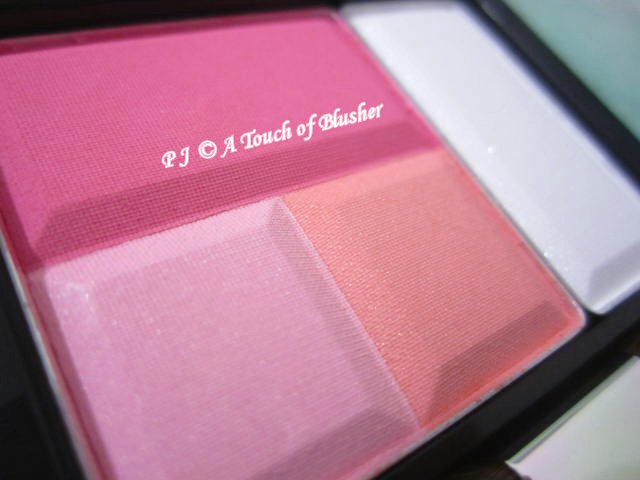 Kesalan Patharan Cheek Color in C01 Cute Pink (ケサランパサラン チークカラー C01 キュートピンク, ¥5000) was released in Japan in summer 2013. The four shades in this palette are:
cool-toned cherry pink, well-pigmented, velvety matte
light pink, lightly pigmented, glowy and softly pearly
light peach, lightly pigmented, pearly with subtle shimmer
snow white, lightly pigmented, velvety matte with sparse shimmer
The cool-toned cherry pink is the main blusher shade in this variation, and it is designed to be mixed with the light pink and the light peach. The snow white on the right is designed to be a highlighting shade. All the four shades are easy to apply and blend. The three blusher shades on the left have a good staying power, and the highlighting shade on the right has a decent staying power.
When the three blusher shades on the left are mixed together, they show up as a cool-toned pink with a subtle glow and a hint of shimmer. The light pink and the light peach don't alter the color of the cherry pink very much. They make the cherry pink very slightly lighter and they mainly add light reflectiveness to the velvety matte shade.
I have also tried applying the mixture of the two lighter shades fairly liberally (to get the colors to show up) before applying the cherry pink. The colors of the two lighter shades don't show up very much on my light-to-medium complexion, but their glowy and pearly finishes certainly do. The cherry pink looks slightly warmer (but still cool-toned) on top of the two lighter shades, and the overall finish is still fairly glowy and pearly.
The snow white works very well for me as a highlighting shade. It has a matte white base (without being too pigmented) with sparse shimmer. (It looks more shimmery in the pan.) It is a natural-looking highlighting shade (without looking unnaturally white-ish) with some pore-concealing efficacy.
Overall I like this blusher palette. My preferred way to use it is to use the cherry pink alone as the blusher shade (without mixing it with or layering it on top of the two lighter shades) and then use the highlighting shade. I like the cool tone and the vibrancy of the cherry pink. I just need to make sure that I am light-handed with it.
(Cheek Color was replaced by Cheek Color N in summer 2015.)
Related posts:
Kesalan Patharan Spring 2017 Makeup Collection
Kesalan Patharan Holiday 2016 Makeup Collection