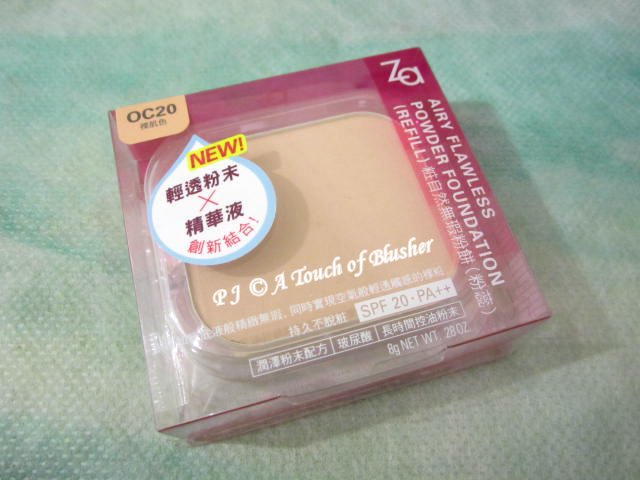 Shiseido ZA's Perfect Fit Two-Way Foundation was replaced by Airy Flawless Powder Foundation a couple of years ago. Being a faithful fan of ZA's powder-based foundations, I decided to try it.
Shiseido ZA Airy Flawless Powder Foundation (資生堂 ZA 粧自然無瑕粉餅, shade selection varying from country to country, SPF 20, PA++, 8g, refill 330 NTD (approx. 10.94 USD)) was released in summer 2015. The shade I purchased is OC20.
It has a satiny matte finish that looks polished and natural. Its coverage is between light-to-medium and medium (towards medium), and the level of coverage is sufficient for me. It has decent pore coverage.
A big issue with this foundation for me is that it doesn't have sufficient oil control efficacy for my oily skin. Some parts of my face can even look shinier overtime with this foundation than without it.
It doesn't cake or travel on me (which is a strength of almost all the ZA powder foundations I have tried), but there is some darkening over the course of wear. The darkening is quite noticeable and it is a slight issue for me.
The foundation comes with a double-sided applicator with a sponge side and a puff side. (It comes with the refill, not the case.) The puff side is designed to create more pore coverage, and it does create a little more (but not considerably more) pore coverage.
For me, this foundation looks great right after I have applied it, but the look doesn't last very long due to the lack of sufficient oil control efficacy. Overall, this foundation is serviceable for me but I prefer most of the previous powder foundations from ZA that I have tried. I think it is more likely to suit those with normal or normal-to-dry skin who don't have an issue with excessive sebum. It may also work for those with slightly oily skin.
Related posts:
Foundation Face-Off (5): ZA Skin Beauty vs. ZA True White Plus
Stash Focus: Sofina Primavista Ange Powder Foundation UV (Long Keep)
Stash Focus: Jill Stuart Everlasting Silk Powder Foundation Flawless Perfection