(images from celvoke.com)
(info from celvoke.com, mashbeautylab.com,
www.facebook.com/Celvoke.official,
twitter.com/Celvoke_jp & www.instagram.com/celvoke.jp)
Launched in 2016, Celvoke is a fairly new Japanese beauty brand. (Its official website has an English version.) I have noticed that Biteki has been featuring its products quite regularly, and today we will look into this brand a little more.
Celvoke is owned by Mash Beauty Lab Co. Ltd., which launched the brand in a pop-up store in Isetan Shinjuku in Tokyo in October 2016 with a lineup of skincare items. The brand was available nationwide from November 2016, and its makeup line made its debut in February 2017. It currently has retail points in Tokyo, Nagoya, Osaka and Fukuoka, and it is also available via Isetan's and Hankyu's on-line stores (delivery within Japan only). It is currently not available outside Japan.
The name of the brand comes from the combination of the word "cell" and the root word (morpheme) "voc" (or "vok"), which means "call".

(Celvoke's skincare range)
Celvoke currently carries skincare, base makeup and point (color) makeup items. (It also carries a foundation brush.) The brand's skincare items have the F Organics brand name on them. (F Organics (which carries organic skincare, bodycare and haircare items) is also owned by Mash Beauty Lab Co. Ltd., and presumably Celvoke's skincare items are produced either by or in collaboration with F Organics.)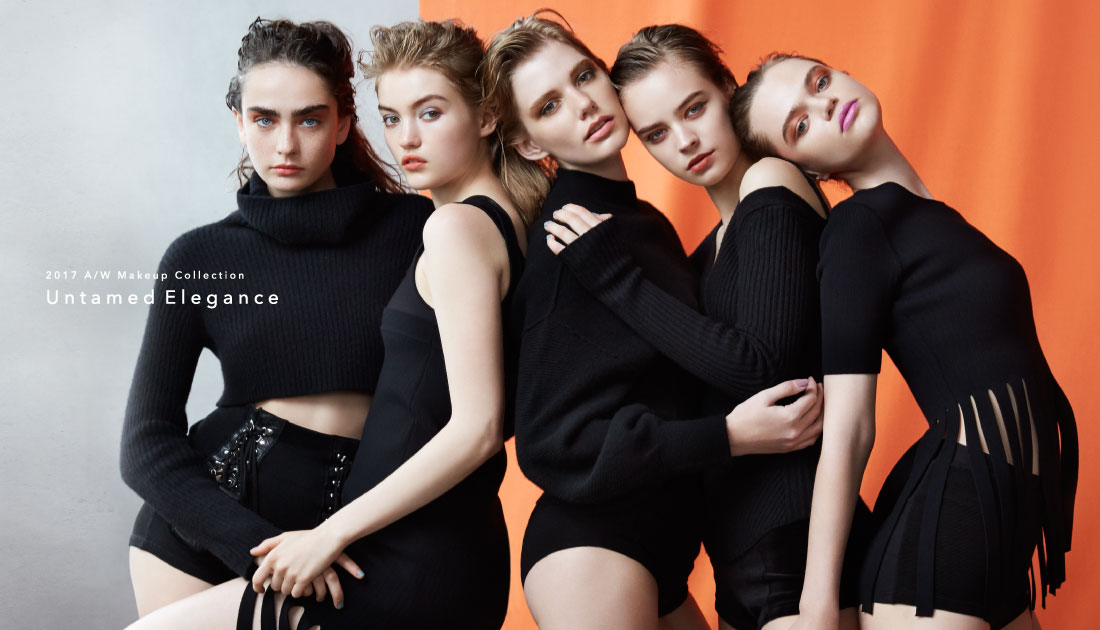 (Celvoke's fall 2017 makeup collection,
Untamed Elegance)
Celvoke's products are mostly packaged in black cases, and the look of the products is simple, sleek and modern. (The seasonal promotional images have a similar style.) I am fairly interested in some of the brand's point makeup products, especially the blusher duos and the eyeshadow singles. (So far, all the eyeshadow palettes are seasonal limited editions.) However, before I consider trying something from the brand, I will pay close attention to how the brand develops in the next few seasons.
Related posts:
Japanese Cosmetics Focus: Hacci
Japanese Cosmetics Focus: Isetan Mirror Beauté