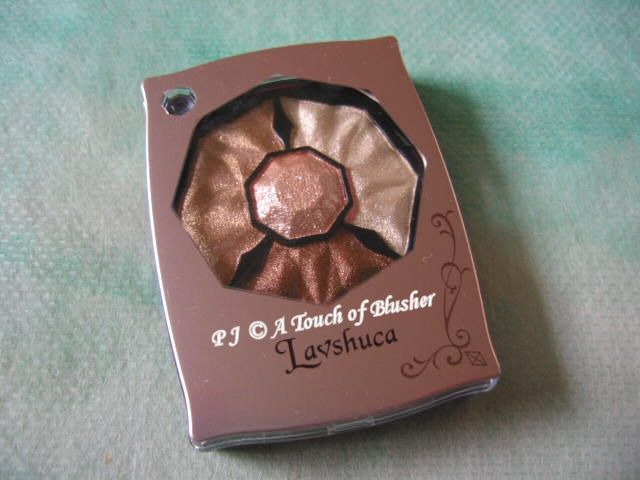 Kanebo Lavshuca's Star Decoration Eyes series is from the line's winter 2010 makeup collection. As soon as I came across images of the palettes, I thought I would definitely get one of them. The choice was between BR-1 and PU-1, and, because I don't really like purple paired with grey (greys are usually too cool for me), I went for BR-1.
The case has the same length and width as those of Eye Color Select palettes, but it is a little thicker, which I like.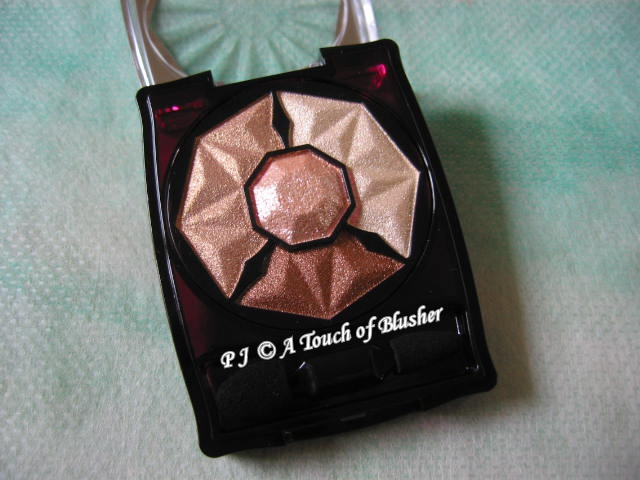 The colors in this palette are (clockwise from upper-left):
– beige brown with a yellow-bronze undertone, moderately pigmented, shimmery and softly metallic
– creamy off-white, moderately pigmented, shimmery
– warm medium-to-dark brown with a red-bronze tone, pigmented, softly shimmery
– pale peach, softly pigmented, sparkly
All the shades have multi-colored shimmer. Apart from the pale peach, which is slightly grittier than the other shades due to the sparkles, the powder is generally very soft and creamy. The lasting power is very good.
This palette is very similar to Eye Color Select in BR-1, but they are not identical. Among the base shades, the main shades, the lining shades and the highlighting shades in the two palettes, the two lining shades are the most different. The one in Eye Color Select BR-1 is a slightly warm medium-to-dark brown while the one in Star Decoration Eyes BR-1 is warmer and has a red-bronze tone.
Also, the two main shades are not totally the same. The one in ECS BR-1 is slightly more orange-toned than the one in SDE BR-1, which is more yellow-toned. The two highlighting (sparkly peach) shades are virtually identical in color but the one in ECS BR-1 is very slightly more densely shimmery. The two base shades are virtually identical.
It is worth noting that the depth of color is virtually the same between each pair.
Because I enjoy the different nuances of all the neutral shades I have, I don't feel that this palette is a wasteful purchase. Plus I love warm beiges and those in the two palettes really appeal to me.
For those who already have ECS BR-1 who are considering this palette but are worried that they might be too similar, I would suggest thinking about how much of the lining shade you usually use in ECS BR-1. If you only apply it very close to your lashlines, then this palette would probably give you a very similar look (if you use it in the same way). But if you usually use it in a larger area for a smokier look, then the warmer red-brown in this palette should create a different feel.
On the other hand, if you like ECS BR-1 and want something similar (in terms of color, powder quality, and staying power), then don't miss this palette!
As I said in Holiday 2010 Makeup Top 10, Star Decoration Eyes, for me, is the most exciting eye palette series from Lavshuca since Eye Color Select, which was released in 2007. BR-1 is a very satisfying purchase, and I hope Lavshuca will bring out more lovely palettes!
Related posts:
Lunasol Aurorize Eyes in 02 Light Variation
Coffret D'Or Beauty C Curve Eyes in 04 Peach Beige