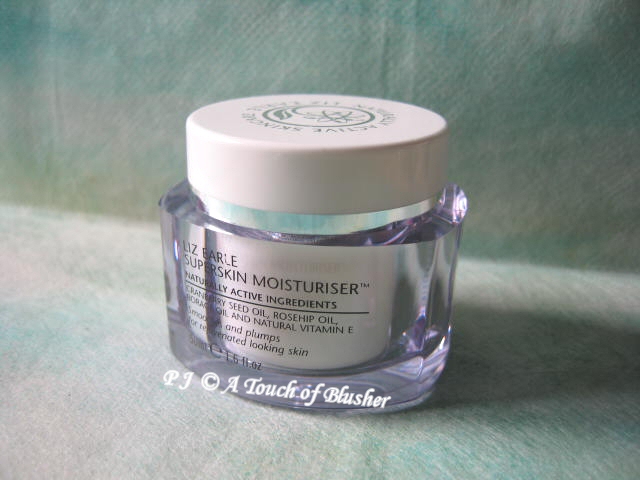 Last December, I reviewed Liz Earle's Skin Repair Moisturiser Dry/Sensitive. With antioxidants, an anti-irritant, and a cell-communicating agent, it is certainly one of the better formulated moisturizers I have featured on my blog. Today I will be highlighting Liz Earle's Superskin Moisturiser and I will be comparing the two.
The Superskin range features moisturisers for the face and body. For the face, the range includes Eye & Lip Treatment, Concentrate (facial oil), and the main facial moisturiser that I am reviewing today. (There are no variations of this product based on skin types.) The product has a light-cream consistency, and, considering all the oils that it contains, I feel that it is absorbed relatively quickly and thoroughly.
The main moisturising ingredients that it contains are cranberry seed oil, glycerin, ethylhexyl stearate, rosehip seed oil, dicapryl carbonate, tocopherol, borage seed oil, cetearyl alcohol, shea butter, and glyceryl stearate. Among them, cranberry seed oil, rosehip seed oil, tocopherol (vitamin E), and borage seed oil also function as antioxidants.
The product is free from alcohol, parabens, fragrance (parfum) and other scenting agents.
Compared with Skin Repair Moisturiser Dry/Sensitive, Superskin Moisturiser is more lightweight. Where as the former is suitable for slightly-dry or dry skin, I think the latter is probably just about emollient enough for those with dry skin. Both are more or less equally rich in antioxidants, but Superskin Moisturiser doesn't contain anti-irritants or cell-communicating agents. (Skin Repair Moisturiser Dry/Sensitive contains echinacea extract (anti-irritant) and niacinamide (cell-communicating agent).
Overall, Superskin Moisturiser is another very well-formulated product from Liz Earle. Even though the Superskin range is mainly targeted at a more mature clientèle, there is no reason why younger customers (with slightly-dry or dry skin) can't enjoy the antioxidant benefits from this product.
Related posts:
Liz Earle Instant Boost Skin Tonic