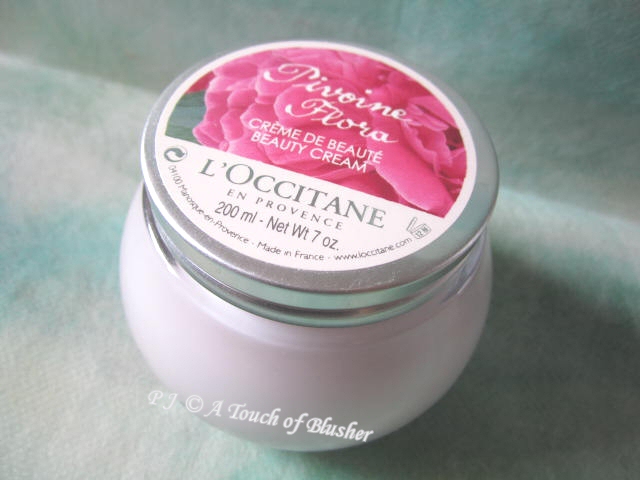 Launched last year, L'Occitane's Paeonia range explores the floral note of peony. The fragrance appeals to me personally, and the range seems to be generally popular as well. This year, the range has been renamed Pivoine Flora and it has been extended with additional products (including limited-edition makeup items). Today I am featuring the new Pivoine Flora Beauty Cream and Hand Cream.
Pivoine Flora Beauty Cream is a lightweight body cream. It has a gel-cream consistency and is just about light enough to be used all over the body.
Some of its moisturizing ingredients include glycerin caprylic/capric triglyceride, and sunflower seed oil. It contains tocopheryl acetate (vitamin E) and tocopherol (vitamin E) as antioxidants, and it is free from alcohol and parabens. The fragrant plant oils (grapefruit peel oil and rosa damascena flower oil) that it contains might be skin irritants for some people.
Even though the cream has a light consistency, it takes a bit of time to spread the cream as there is noticeable resistance. It dries to a soft and powdery finish (mainly due to tapioca starch, third on the ingredient list after water and glycerin). It is absorbed reasonably quickly and leaves the skin feeling refreshed and hydrated.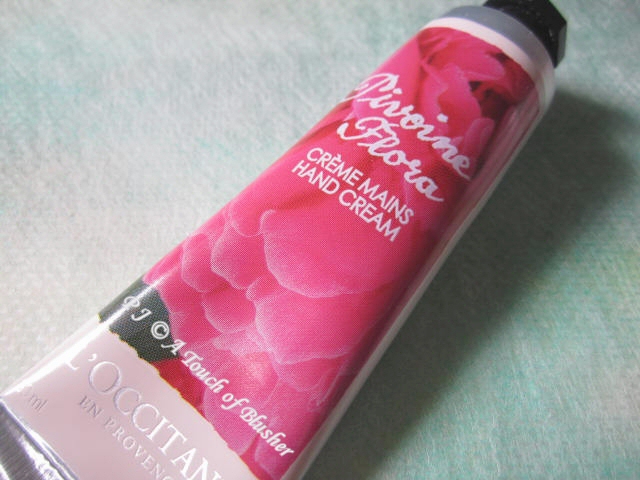 Pivoine Flora Hand Cream joins the array of  L'Occitane's famed hand creams. Like the Beauty Cream, it has a gel-cream consistency and feels lightweight on the skin.
Some of the moisturizing ingredients in this product are glycerin, shea butter, cetearyl alcohol, grape seed oil, dicaprylyl carbonate, cetyl alcohol, coconut oil, sunflower seed oil, and beeswax. The product contains tocopherol (vitamin E) as an antioxidant, and grape seed oil also functions as an antioxidant. It is alcohol-free and paraben-free.
It contains grapefruit peel oil and rosa damascena flower oil, which, as mentioned above, may be skin irritants for some people.
It is absorbed quickly and leaves the hands gently hydrated, but I feel the cuticle areas can do with more emolliency.
While the Beauty Cream contains tapioca starch to modify the texture of the product and to create a powdery finish on the skin, the Hand Cream contains corn starch for similar purposes (to avoid a greasy feel on the hands). I generally don't like tapioca starch or corn starch in hand creams (especially when there is a lot of it) because it can sometimes create an unnaturally powdery feel and it can cause the product to shred and roll off especially when the product is applied repeatedly overtime. In this product, corn starch is not towards the top of the ingredient list and it is below most of the emollients. The finish is not overly powdery and the shredding is minimal and very occasional.
(The Beauty Cream has quite a lot of tapioca starch and it can shred if you rub your skin after the emollients are absorbed, but I don't think this would be an issue for most people.)
Pivoine Flora is more of a spring/summer fragrance, and the lightweight consistency of these two products goes with the character of the scent. I would recommend them to those who don't need intensely emollient products. If your hands still get dry in spring and summer (mine do), both L'Occitane's Shea Butter Hand Cream and Garnier's Hand Repair Intensive Restoring Hand Cream (which are among my favorite hand creams, along with Clarins' Hand and Nail Treatment Cream) may be more suitable for you.
(The products featured in this article are provided by L'Occitane.)
Related posts:
Can't Live Without: Dove Body Silk
Review: EcoTools Body Lotion & Hand Cream