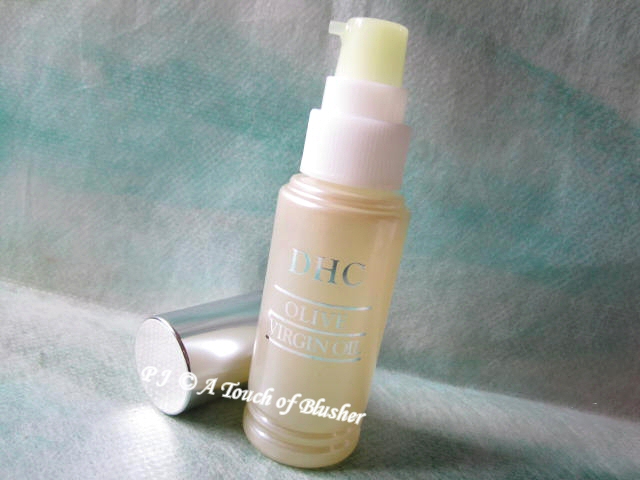 Founded in 1972, DHC is one of the Japanese beauty brands that have more visibility outside Asia. (There are DHC UK (launched in 2007),  DHC France, and DHC US.) DHC has physical stores in and outside Japan but it is known for its strong e-commerce presence.
Over the next couple of months, I will be highlighting a few more items from the brand. Today, I am focusing on one of the brand's most popular products, Olive Virgin Oil.
Olive Virgin Oil is made from organic olives grown in Spain. This single-ingredient product is virtually colorless and has a very faint olive scent.
According to Paula Begoun, olive oil has essential fatty acids such as linoleic acid (omega 6), oleic acid (omega 9), and palmitic acid (all of which function as emollients for the skin) and it also contains phenolic compounds, which have antioxidant efficacy. (Also, linoleic acid is an antioxidant and has anti-inflammatory and cell-communicating properties.)
The oil is relatively lightweight and doesn't feel too greasy or heavy. It feels slightly more lightweight than Trilogy's Certified Organic Rosehip Oil, which I reviewed earlier.
It is packaged in a semi-opaque bottle with a pump dispenser. The packaging is more ideal than that of Trilogy's Certified Organic Rosehip Oil, which has a dropper dispenser. (Antioxidants gradually lose their efficacy when they are exposed to air.) The packaging would be even more ideal if the bottle were completely opaque.
The product certainly has solid skin-benefiting properties, and how to make the best of it depends on your skin types and skincare needs. Obviously rich in emollients, it is great for dry areas on the face and the body. It can be used as a moisturizer or after your usual moisturizer, and it can be mixed with your face, body, and hand moisturizers. Those with combination or oily skin should use this product very sparingly and only on more dehydrated areas.
For the application method, see the video here.
DHC Olive Virgin Oil is available in 30ml. A 5ml option is also available on DHC UK and DHC US.
(The product featured in this article is provided by DHC.)
Related posts:
Nude Skincare Replenishing Night Oil
Avène Extremely Rich Compensating Cream