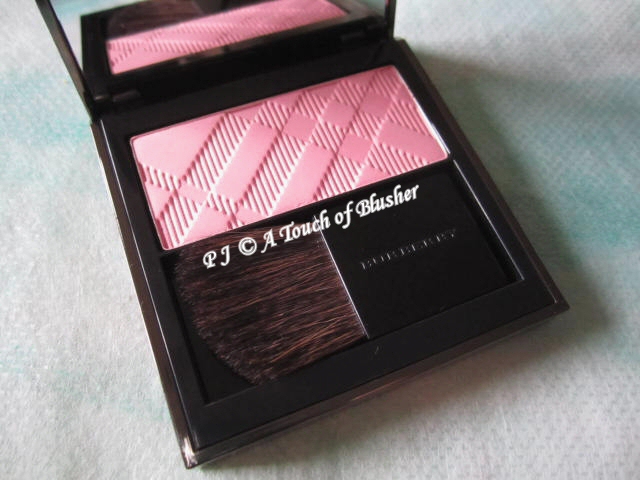 Burberry's Glow range features Light Glow (blushers, eight shades) and Warm Glow (bronzers, four shades). The shades generally look wearable and they are designed to enhance the complexion in a natural way. Today I am highlighting Light Glow in 04 Peony Blush.
04 Peony Blush is a light pink that is between medium and medium-to-cool. Sparse low-toned shimmer is visible in the pan but it doesn't show up on the face. The powder feels smooth and fluffy, and it has a velvety matte finish. (The powder is quite fragrant in the pan.)
The check patterns on the powder are deep enough and don't easily disappear.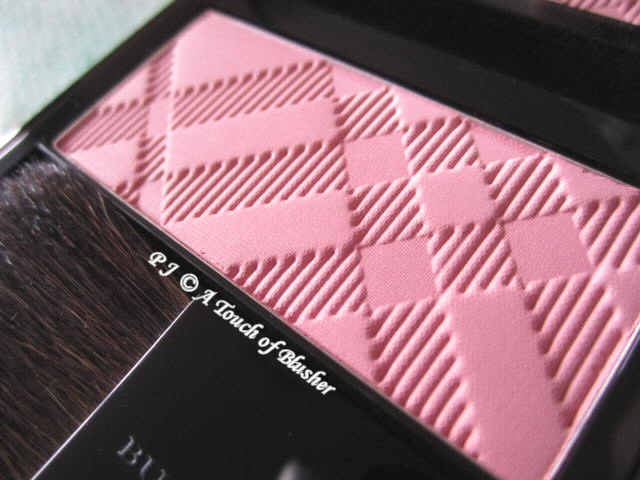 Even though the color is light, the pigmentation level is by no means low. It is just above moderately pigmented and it can be layered for additional intensity. (It can go from sheer to substantially more opaque. (It doesn't turn darker when layered.)) The staying power is decently good.
The brush that comes with the compact is an angled brush. It is soft and easy to use, and it picks up, dispenses, and blends the color very easily.
I personally like this color and its finish, as I tend to go for medium-to-cool blushers with a matte or semi-matte finish with no visible shimmer. The shade is perhaps just very slightly on the pale side for my light-to-medium skin tone, but it still looks natural on me and it creates a fresh look. The fact that it is a little bit more pigmented than some of my favorite blushers isn't too much of an issue either, as the color is relatively light and the powder is very blendable.
This shade will suit those with a light or light-to-medium complexion who want a soft and natural look. If you want to stay with cool-toned shades but want something more intense, then 02 Cameo Blush and 03 Rose Blush might be quite suitable.
(The product featured in this article is provided by Burberry.)
Related posts:
Review: Chanel Fall 2011 Makeup Collection
(featuring Joues Contraste in 68 Rose Écrin)
Review: SUQQU Fall 2011 Makeup Collection
(featuring Face Color Palette in EX-01)