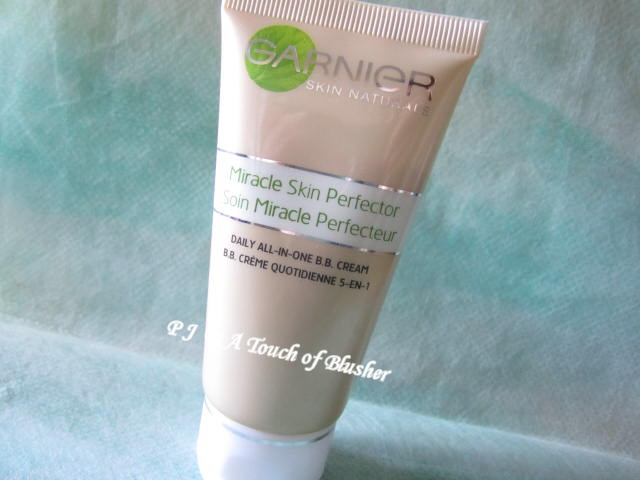 Over the years, one of the questions that I have been asked the most by my readers is "Have you tried B. B. creams?"
Personally, B. B. creams don't fit in with my daily skincare/makeup routine. Currently, when I don't wear makeup, my daytime routine ends with Olay's Complete Care Daily Sensitive UV Fluid SPF 15. When I do want coverage, I wear ZA's Two-Way Foundation on top of the Olay moisturizer. Generally, I prefer pigmented products for face, eyes, and cheeks to be powder-based. (Powder foundations suit my sebaceous skin a lot more, and I find powder eyeshadows (especially those from Japanese lines) and blushers a lot easier to work with. Also, I very rarely wear primers.) Therefore, I haven't been tempted to purchase a B. B. cream.
However, today, I am taking you through the basics of B. B. creams and I will be reviewing Garnier's Miracle Skin Perfector Daily All-in-One B. B. Cream.
I am sure many of you are familiar with B. B. creams. For those of you who are not, here is some brief background. B. B. (blemish balm) creams originated in Germany in the 1970s, and their popularity soared in East Asia in the past decade when they were widely available in South Korea. The original use of B. B. creams is to provide emolliency, sun protection, and natural coverage for those who have undergone more invasive dermatological procedures (such as acid peels and laser treatments) and who temporarily have ultra-sensitive skin. They became popular in South Korea when consumers discovered their mild formulations, effective emolliency, and natural coverage.
Based on what B. B. creams are supposed to do, a true B. B. cream should meet the following three requirements:
1. It should not contain potentially irritating ingredients. Particularly, it should be free from alcohol and fragrant plant oils. It should also be free from fragrance (parfum) and other scenting agents.
2. It should provide full-spectrum sun protection. In terms of UVA protection, ingredients such as titanium dioxide and zinc oxide are slightly more suitable than butyl methoxydibenzoylmethane since they are less likely to cause sensitivity. (Zinc oxide itself is also an anti-irritant.)
3. It should provide a natural coverage. Whether it offers a light-to-medium coverage or a fuller coverage, the coverage should look natural.
It appears to me that most post-treatment B. B. creams available from dermatologists tend to be more emollient and have more coverage while mass-market ones are tweaked to be more lightweight and to have a sheerer coverage in order to have a wider appeal.
Mass-market B. B. creams are usually marketed as multi-purposed products. Some companies claim that their B. B. creams combine the benefits of a toner, a moisturizer, a sunscreen, a primer, and a foundation. (This goes with the original purpose of the product, since, for those who have undergone certain dermatological procedures, a B. B. cream is likely to be one of the few products that are safe to use.) Some companies position their B. B. creams as makeup products (and suggest that they be used after the morning skincare routine). Also, some companies stress that their versions have additional benefits (anti-aging, brightening, mattifying, etc.).
In East Asia, it used to be the case that most B. B. creams were available through importing from South Korea. Now, not only do other major Asian beauty lines release their own B. B. creams (such as Fast Beauty Foundation UV from Kanebo Coffret d'Or), major western beauty brands (such as Dior, Lancôme, Estée Lauder, and Bobbi Brown) also carry B. B. creams that are usually exclusive to the Asian market.
A B. B. cream can be used in different ways. Some people use it as a tinted moisturizer, some use it as a primer, some use it as a foundation, and some use it as a primer and a foundation. No matter how it is used, I recommend taking it off with a makeup remover in the evening.
Launched in the UK in August, Garnier Miracle Skin Perfector Daily All-in-One B. B. Cream is one of the first mass-market products available in the UK that are marketed as B. B. creams. It is available in two shades, Light and Medium, and the one I am featuring here is Light.
According to the information on the outer box of the product, this product is described as an "all-in-one skincare solution" and a skincare product with mineral pigments. However, the packaging doesn't include the direction of use or mention specifically whether it is used as part of or after the skincare routine. This can confuse those who are not familiar with B. B. creams.
The cream appears a little thick from the tube but it melts to a lighter creamy-lotion consistency on the skin. It is relatively easy to spread and blend. The coverage of the product is slightly less than light-to-medium, and it can be layered for slightly more coverage. The finish is glowy and a little shiny. Those who don't like a shiny finish will need to set the product with a loose/pressed powder.
The Light shade is not too pale and is likely to suit those with a light-to-medium complexion. Those with a very fair complexion may feel that the shade is too dark. While it generally suits my light-to-medium complexion, I feel that the shade is slightly too red-toned. A more yellow-toned base would be more suitable for me and could potentially look more natural on most people.
Some of the main moisturizing ingredients in this product are isononyl isononanoate, glycerin, PEG-20 methyl glucose sesquistearate, methyl glucose sesquistearate, cetyl palmitate, propylene glycol, hydrogenated polyisobutene, and stearyl alcohol. It also contains ascorbyl glucoside, which can function as an antioxidant.
As a B. B. cream (and based on the requirements mentioned above), it has one potential problem and two clear drawbacks:
– It may not protect against UVA rays. According to the ingredient list, the product contains ethylhexyl methoxycinnamate to protect against UVB rays (the product has SPF 15), but it doesn't list any of the anti-UVA ingredients as an active/main ingredient (towards the top of the list). (The product does contain titanium dioxide, but it is listed in the [+/- may contain] bracket, which essentially means it is used in the product mainly as a colorant/pigment.) Therefore, I am not able to say that this product protects against UVA rays. Either as a B. B. cream or as a product that claims to offer sun protection, this is potentially very problematic. (Personally, I would not purchase a product like this and think it will give me full-spectrum sun protection.)
– The product contains a significant amount of alcohol. It is fifth on the ingredient list, and the amount is too much to be ignored. It also contains a small amount of polyvinyl alcohol, which can be a skin-irritant. This large amount of alcohol in a product that is supposed to have skincare benefits is inexcusable.
– The product contains fragrance (parfum). It also contains other scenting agents, such as linalool, limonene, geraniol, and citral. I would say this drawback is less serious than the one above (especially considering the fact that this is a mass-market B. B. cream), but I still maintain that a well-formulated B. B. cream should ideally be free from these ingredients.
Overall, this is not a well-formulated product, especially as a product marketed as a B. B. cream. (It should not be marketed as such.) Based on the significant amount of alcohol, I would hesitate to recommend this product (as a B. B. cream or as anything else) to anyone.
(Some of the ingredient information is based on Paula Begoun's Cosmetic Ingredient Dictionary.)
(The product featured in this article is provided by Garnier.)
Related posts:
Liz Earle Sheer Skin Tint SPF15