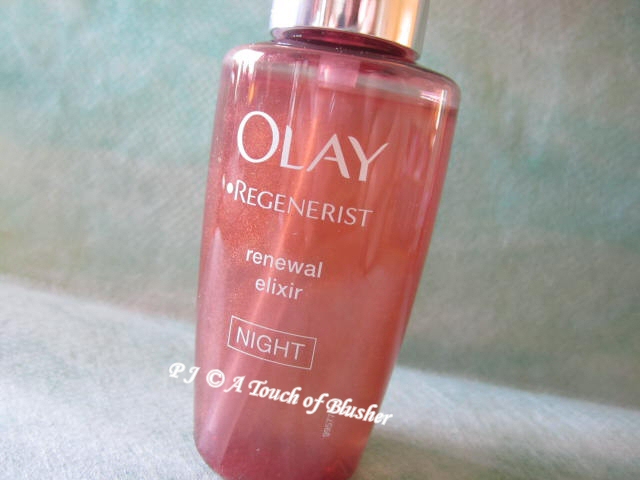 In terms of facial moisturizers, Olay is currently my preferred brand as I have been using Olay Complete Care Daily Sensitive UV Fluid SPF 15 and Olay Complate Care Night Enriched Cream in the last few years. Today I am reviewing a new product from Olay's Regenerist range, Regenerist Night Renewal Elixir.
Olay Regenerist Night Renewal Elixir (50ml) is essentially an exfoliating serum that is designed to be used during night-time. It has a lightweight gel-serum consistency and an aloe-like slippery texture. It takes a bit of time to sink into the skin.
The key ingredient in this product is glycolic acid (third on the ingredient list, after water and glycerin). It is a form of AHA (alpha hydroxy acid) that, depending on its dosage in a product and the overall pH of the product, has either water-binding or exfoliating efficacy.
It is not possible to tell exactly how much glycolic acid there is in this product or the pH of the overall formulation simply by reading the ingredient list. However, according to Paula Begoun, the product* contains 8-10% glycolic acid (according to the information she obtained from Olay) and it is in the correct pH range for glycolic acid to work as an exfoliant (between pH 3 and 4, according to Paula Begoun's Cosmetic Ingredient Dictionary entry on AHA).
The product contains moisturizing ingredients such as glycerin, butylene glycol, and propylene glycol. It contains antioxidants such as camellia sinensis (green tea) leaf extract and vitis vinifera (grape) seed extract, and it also contains palmitoyl pentapeptide-4 as a cell-communicating ingredient and allantoin as an anti-irritant.
The product is fragrance-free. It contains benzyl alcohol, which might be a skin irritant for some people, but it is towards the end of the ingredient list and it is not likely to cause irritation for most people.
The container of the product is semi-transparent. The efficacy of the antioxidants would last longer if the bottle were opaque.
Even though this product is marketed as a moisturizer, I don't think the lightweight serum consistency will be emollient enough for most people. (It will probably be hydrating enough only for those with oily skin with no dehydration issues.) However, Olay is right to stress (on the back of the outer packaging) that the product should be used as part of the evening skincare routine and that, as AHAs may increase skin's sensitivity to the sun, sun protection should be used during daytime. (Everyone (from infants over 6 months old) should be using sun protection anyway…)
Overall, this is a well-formulated product that not only contains antioxidants, a cell-communicating agent and an anti-irritant but also should do what it is designed to do. However, please bear in mind that some people may be sensitive to AHAs (particularly at this level of concentration in this product.) Patch tests are highly recommended before including this product in your skincare routine.
*The product reviewed by Paula Begoun is Olay Regenerist Night Resurfacing Elixir, which is sold in the US. Regenerist Night Renewal Elixir, sold in the UK, is essentially the same product with very slight variations. For your information, here are the full ingredient lists of the two products:
Olay Regenerist Night Renewal Elixir (sold in the UK):
aqua, glycerin, glycolic acid, sodium hydroxide, butylene glycol, hydroxyethylcellulose, propylene glycol, panthenol, palmitoyl pentapeptide-4, camellia sinensis leaf extract, vitis vinifera seed extract, mica, allantoin, cellulose gum, xanthan gum, cellulose, phenoxyethanol, benzyl alcohol, methylparaben, PEG-100 stearate, CI 77499, CI 77891
Olay Regenerist Night Resurfacing Elixir (sold in the US):
water, glycerin, glycolic acid, sodium hydroxide, butylene glycol, hydroxyethylcellulose, propylene glycol, panthenol, palmitoyl pentapeptide-4, camellia sinensis leaf extract, vitis vinifera seed extract, allantoin, PEG-100 stearate, cellulose, xanthan gum, cellulose gum, benzyl alcohol, titanium dioxide, mica, iron oxides (from www.olay.com)
(On a side note, even though, according to www.olay.com, this is the full ingredient list of Regenerist Night Resurfacing Elixir, the list doesn't seem to include preservatives. I'd like to think that they are inadvertently left out of the list on the website because preservatives are vital in preventing bacterial contamination. (In Regenerist Night Renewal Elixir, the preservatives are phenoxyethanol and methylparaben.))
(The product featured in this article is provided by Olay.)
Related posts:
Review: Olay Regenerist Daily Regenerating Serum
Review: Chanel Sublimage Essential Revitalizing Concentrate
Review: SkinCeuticals Hydrating B5, Retexturing Activator & C E Ferulic