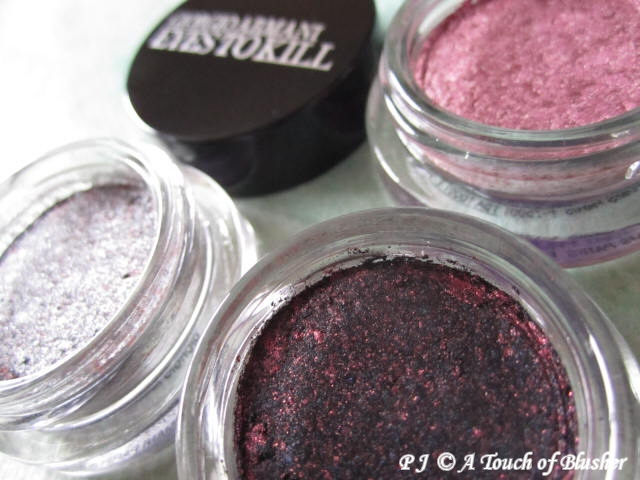 According to Giorgio Armani's website, the Eyes to Kill Silk Eye Shadow ("Eyes to Kill Intense Eye Shadow" on the brand's website) has a hybrid texture (between a powder and a cream) and provides smooth and lasting color. 16 shades are available (along with 2 limited-edition shades for holiday 2011), and today I am highlighting 2 Lust Red, 4 Pulp Fiction, and 7 Sweet Fire.
Eyes to Kill Silk Eye Shadow is a loosely-pressed powder eyeshadow. All the three shades reviewed here are well-pigmented and have a very good lasting power. 4 Pulp Fiction and 7 Sweet Fire are very smooth, silky, and blendable, while 2 Lust Red is relatively drier.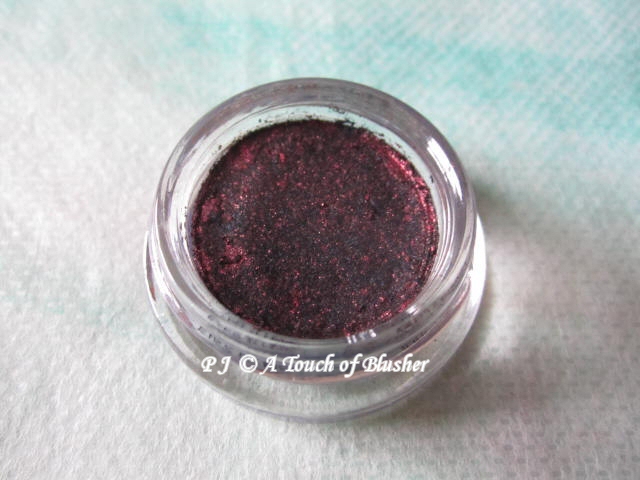 2 Lust Red is an intense black with a velvety finish and flecks of pink-red shimmer. As an eyelining shade, the rich pigment glides relatively easily and creates intensity effortlessly. It is a good alternative to the usual black eyeliner, as the sparse pink-red shimmer adds a twist to the shade. Because this is definitely an eyelining shade for me (and not a shadowing shade), the fact that the powder is slightly drier and less blendable (than the other two) is not an issue for me.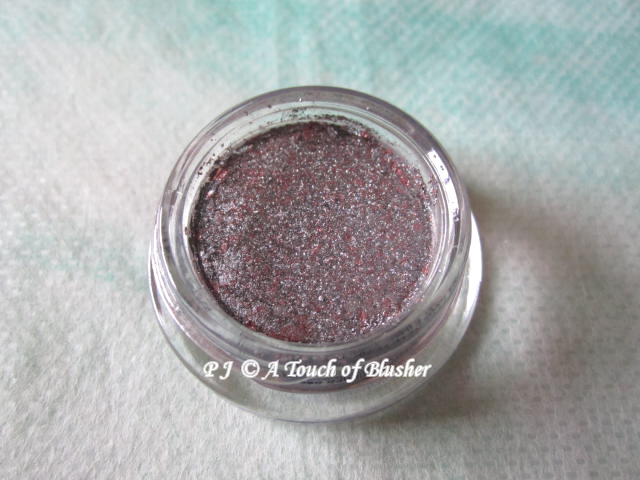 4 Pulp Fiction is a medium-to-dark gray with a metallic finish, a hint of silver-toned sparkle, and a very minimal pink undertone. (Unlike the pink-red in 2 Lust Red, which shows up on the eyes as sparse shimmer, the pink pigment in 4 Pulp Fiction shows up as a very subtle (barely noticeable) pink undertone.) The silver-toned sparkle adds dimension to the overall finish.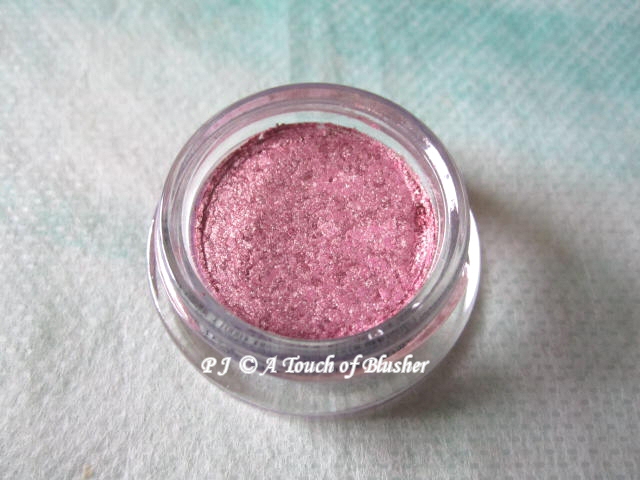 7 Sweet Fire is a berry-toned pink with a metallic finish. (There are spots of pink-plum but they look fairly similar to the main shade.) The finish is frostier than that of 4 Pulp Fiction, but the fine multi-hued shimmer prevents the finish from being overly flat.
I thought this shade might look a little too bright and too pink on my eyes, but it turned out to be more wearable than I expected. Despite the high-toned metallic finish, the color itself has a touch of softly muted look. Also, with the cool berry tone, the shade doesn't give the eyes the irritated red-eyelid look. Among the three shades, I like this the most.
(The products featured in this article are provided by Giorgio Armani.)
Related posts:
Fall 2011 Makeup Review: Chanel Illusion d'Ombre in 83 Illusoire & 84 Épatant and Joues Contraste in 68 Rose Écrin
Jill Stuart Jelly Eye Color N in 08 Crystal Sky