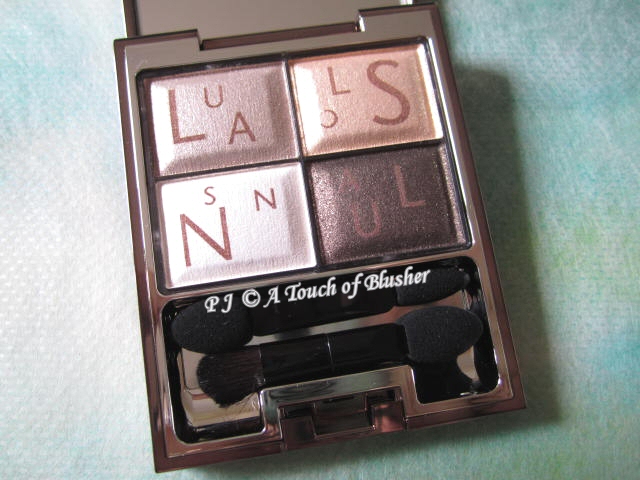 For the last few summers, Lunasol has been releasing two eyeshadow palettes as an extension of the spring makeup themes. They usually consist of a neutral-toned palette and a more colorful one, and they are usually limited editions. I never went for these summer palettes until I decided to try Ocean Scene Eyes in EX01 Shelly Ocean for summer 2011.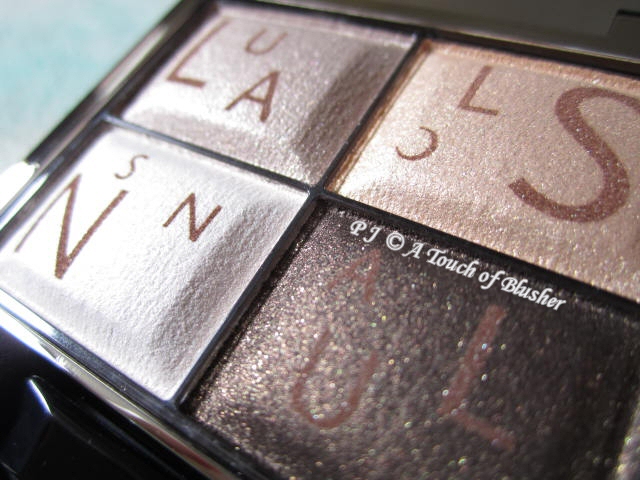 The colors in this palette are (clockwise from bottom-left):
– pale white gold, softly pigmented, with pearly shimmer
– cool beige, moderately pigmented, with pearly shimmer
– light orange peach, softly pigmented, shimmery with a hint of sparkle
– very dark medium-to-cool brown with a hint of olive green, very pigmented, gently pearly with a hint of sparkle
(All the shades have multi-colored shimmer. The staying power of all the shades is good. The letters on the colors are spray-ons. I am trying to keep them as much as I can.)
There are many things I like about this palette, but I will start with one thing I don't like. I have played with the cool beige (the shell beige, as in the name of the palette) in different ways, but it always shows up grayish on me, which is a little disappointing for me. (Grays generally don't like me. Dark grays as eyelining shades are fine (I prefer browns, violets, and dark blues though), but medium grays (for shading) usually look muddy on me and they make my eyes look tired.)
I have tried laying the peach over and underneath the beige (and both over and underneath it), but the beige still looks gray. It is a pity, because, when swatched on the back of my hand, I can see hints of warm beige and  mauve, which are almost completely lost when worn on my eyes. For me, the best way to wear it is to apply it very gently along my upper lashlines to frame the eyes subtly. It doesn't suit me as a shading color on the eyelids.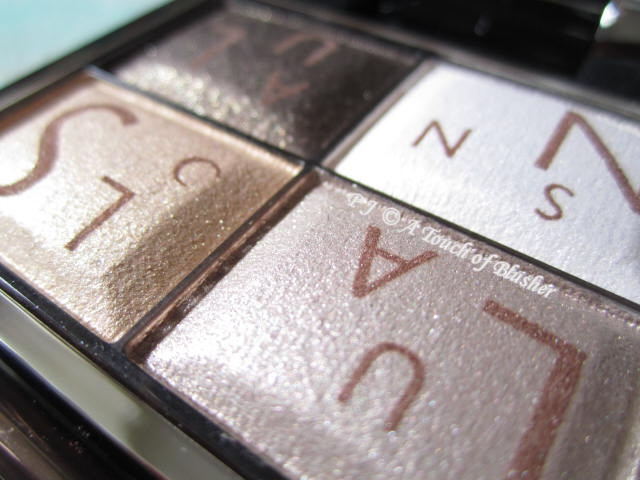 But there are many things I do like about this palette. First of all, the texture of the powder is exceptionally smooth and creamy. Among all the Lunasol palettes I have (Scent Form Eyes (fall 2006), Sheer Contrast Eyes (spring 2008), Layer Bloom Eyes (spring 2009), and Aurorize Eyes (fall 2010)), the texture of this palette is the creamiest.
I also love the general finish of the colors. I said in my review of Aurorize Eyes in 02 Light Variation that I would prefer its overall finish to be more pearly and without iridescence, and Shelly Ocean is exactly that. All the shades have flattering pearly shimmer, and only the orange peach is a tiny more sparkly, which looks equally pretty.
Shade-wise, my favorites are the lightest and the darkest shades. I was worried that the bottom-left shade would look too white-ish, but it actually shows up with a hint of soft pale gold, which goes well with my skin tone and doesn't look too white or silvery at all.
The cool dark brown is another surprise. The fact that the shade is dark, well-pigmented, and very smooth in texture makes lining the eyes very easy. I don't always like very intensely dark lining shades (I very rarely line my eyes with blacks or dark grays), but the dark brown in this palette is intense but not severe. I think the subtle olive-green undertone takes away the harshness of the color.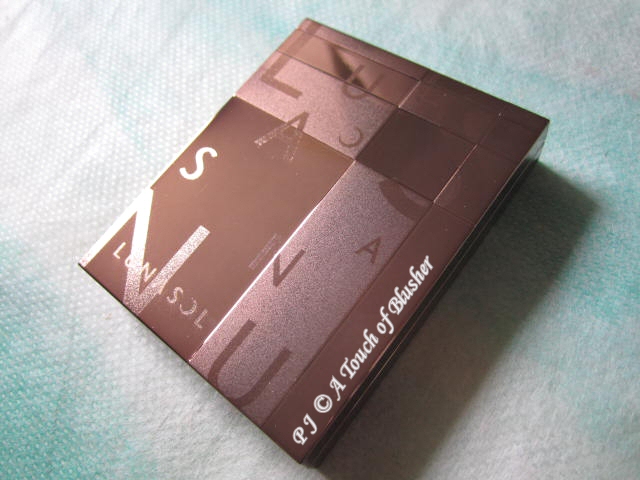 I also like the limited-edition case. The letters add a touch of vibrancy to the otherwise low-key (but very sophisticated and elegant) design. I also like the thicker lid, which accommodates the raised eyeshadows in the pan and makes the palette look and feel more substantial. (I think the Ocean Scene Eyes palettes from spring 2011 also have the thicker lids.)
Despite the unmissable drawback, I do still like Shelly Ocean for its great texture and finish and for a couple of the colors.  But I think, in most cases, I would replace the cool beige with the warmer beiges and light browns that I have in many of my other neutral-toned palettes.
Related posts:
Lunasol Fall 2011 Makeup Collection
Lunasol Skin Modeling Eyes Kit