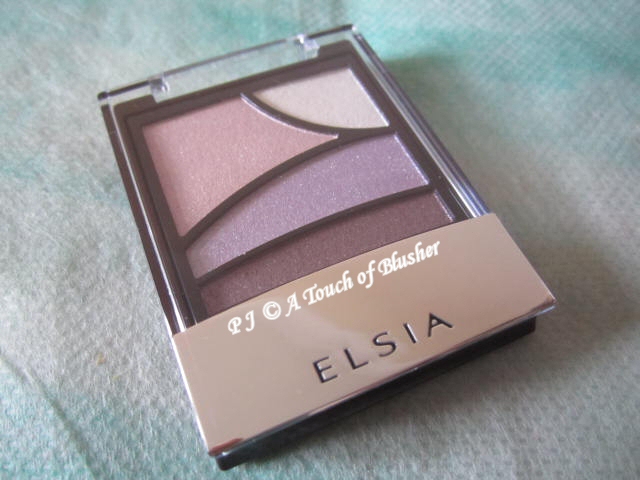 Today I am launching a new series: Stash Debut 2012. In the last few months, I purchased a few items from Japanese beauty lines I had never purchased from before and I also bought eyeshadow palettes from Japanese lines which I hadn't previously own eyeshadows from. I have been trying these items, and, in the next few months, I will be sharing my thoughts on them. First up in the series, I am reviewing Elsia's Luxe Shine Eye Color in E-5.
Elsia is a drugstore beauty line owned by Kosé, and it currently carries base and point makeup items. Compared with Visée, Fasio, Happy Bath Day, and Nature & Co., Elsia is certainly one of the more low-key drugstore lines from Kosé. It doesn't bring out a large new collection every season and (perhaps as a result of that) it is not often featured in Japanese beauty magazines.
I hadn't written about Elsia since I first posted about it back in 2008, but I had been fairly interested in trying the line and I decided to pick up Luxe Shine Eye Color (from spring 2010, in 5 variations, ¥1260) in E-5.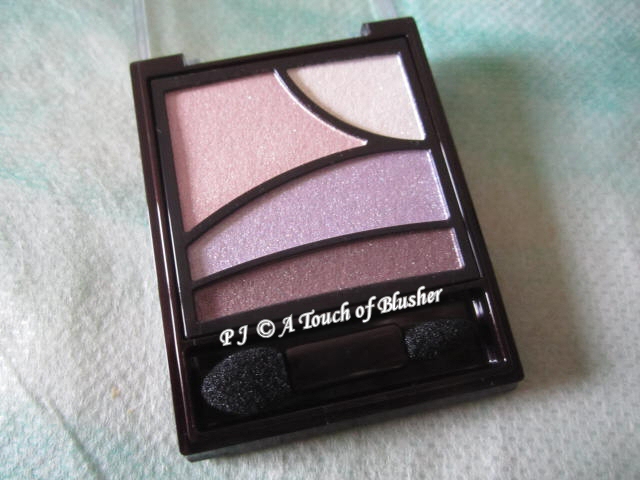 The four shades in this palette are (from the lightest to the darkest):
– platinum white, moderately-to-well pigmented, with high-toned pearly shimmer
– light rose pink, softly-to-moderately pigmented, pearly
– light-to-medium purple, softly-to-moderately pigmented, softly pearly
– dark plum, pigmented, subtly pearly
The shimmery particles in all the colors are fine and multi-hued, and the colors have a good staying power.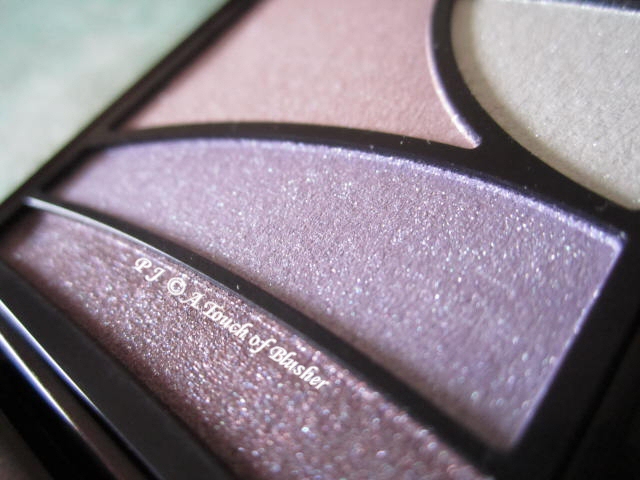 I decided to pick up this palette because I was drawn to its pink-purple color combination and the pearly finishes of the colors. In this palette, the lighter the color, the pearlier it is. The platinum white is very pearly and light-reflective (but it doesn't look frosty), and, as a highlighter for the brow bones (which the shade is designed as), a little goes a long way.
Designed as a base shade, the rose pink is my favorite color in the palette. It has an elegant pearly finish and gently brightens the eye areas. The plum is not too red-toned (I generally prefer violets to plums as plums can often be too reddish for me) and it is an effective eyelining shade.
For me, the shadowing shade is the most important element in an eyeshadow palette. With this palette, I have to say that I wish the purple were a little darker, a little more shimmery, and a little more pigmented. I feel that, compared with the platinum white and the rose pink, the finish of the purple is slightly lackluster. Also, it takes a bit of layering for the color to show up nicely. I also feel that a darker purple would allow this palette to create more depth and dimension for the eyes.
While I do think this is a soft, elegant, and wearable palette, I think the purple has to have a little more punch for the palette to work better for me. Having said that, my interest in Elsia continues and there is another review of an Elsia eyeshadow palette to come later on.
Related posts:
Stash Focus: Visée Glam Glow Eyes in GR-4 (Fall 2011)
Esprique Summer 2012 Makeup Collection