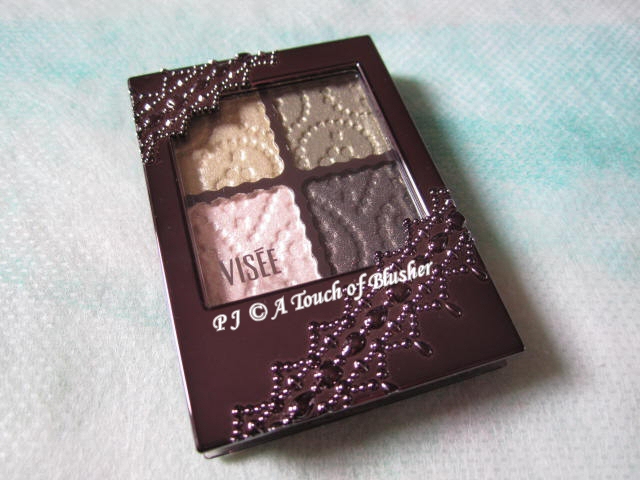 Happy New Year, everyone!
In my first post in 2012, I will be sharing my thoughts on Visée's Glam Glow Eyes in GR-4. The Glam Glow Eyes series (available in 5 variations) is from Visée's fall 2011 makeup collection. I have previously reviewed BR-3.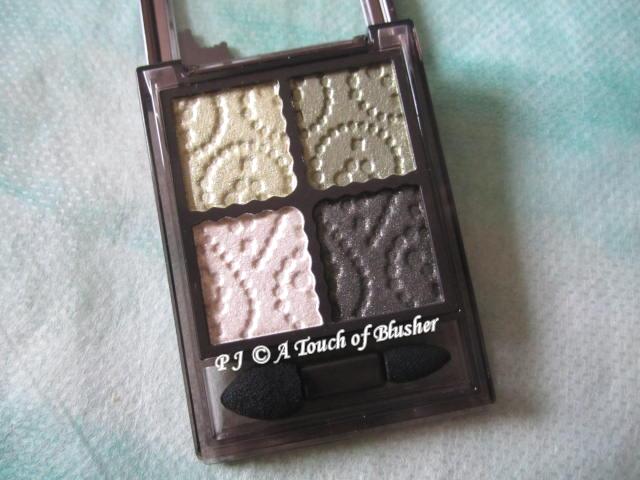 The four colors in this palette are (clockwise from bottom-left):
– multi-hued (but slightly green-toned) high-toned fine sparkles with very little pigment
– light medium-to-warm green, moderately pigmented, with high-toned pearly shimmer
– medium warm green, moderately-to-well pigmented, glowy with pearly shimmer
– dark warm green, pigmented, with soft shimmer
In terms of the general texture and quality of the powder, please see the paragraph below the individual shade descriptions as well as other sections in my review of Glam Glow Eyes in BR-3 (link above).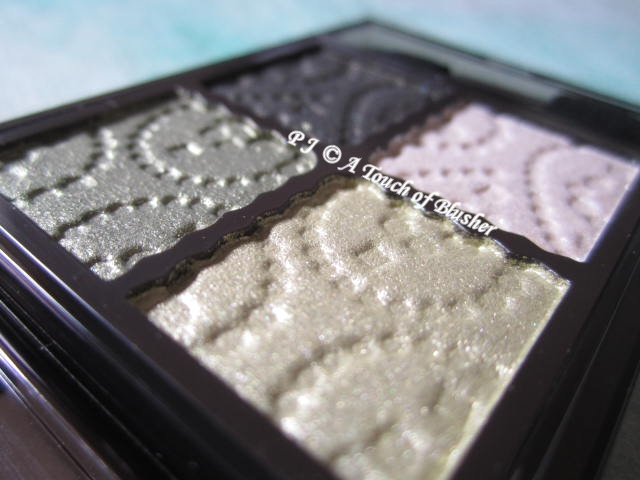 Compared with Glam Glow Eyes in BR-3, the upper-left light green has more color than the upper-left ivory beige in BR-3, which is quite pale. Between the two darkest shades in the two palettes, the dark green has a little more shimmer than the dark brown.
Even though I would still describe GR-4 as a warm-toned green palette, it is less warm-toned than Visée's Glam Shade Eyes in GR-5, which contains a yellow green and an olive green. None of the shades in this palette has a strong yellow or olive tone.
Like BR-3, GR-4 is generally a well-coordinated tone-on-tone palette. (The bottom-left shade is still to bling-y for me and I tend to avoid it.) Because greens don't always suit me, I have to be a little careful with this palette. For instance, while I do like the light green, I can't really wear it all over the eyelids and I have to be careful not to over-layer it. Otherwise, the overall look will be a little too vibrantly green for me.
Having worn BR-3 and GR-4 (separately) for a number of times, I think they can work well together. I haven't tried it yet, but substituting the pale beige for the light green when wearing GR-4 might be a good option for me.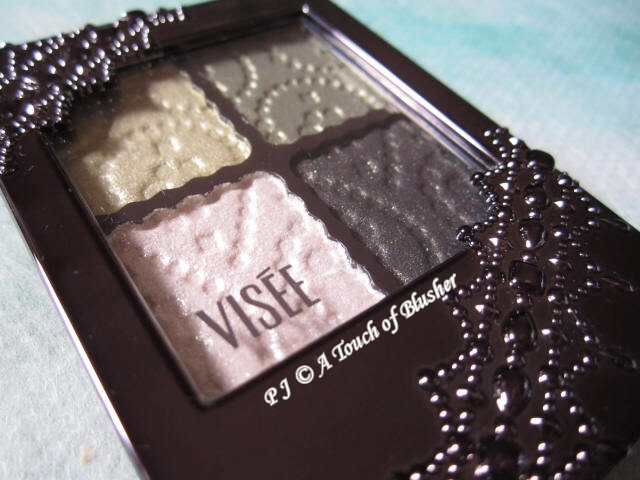 As mentioned in my review of BR-3, I like the case of the Glam Glow Eyes palettes. I think it is one of the prettiest eyeshadow palette cases from Visée.
Overall I would definitely say that this palette should suit those who adore greens and like a full-on medium-to-warm green look for the eyes. For me, in most cases, it will have to be used strategically, but I still love the general texture of the powder and the finishes of the three greens (not the high-toned sparkles at the bottom-left) in this palette.
Related posts:
Visée Spring 2012 Makeup Collection (in Collaboration with Blondy)
Visée Holiday 2011 Makeup Collection (in Collaboration with SmackyGlam)
(with link to swatches)