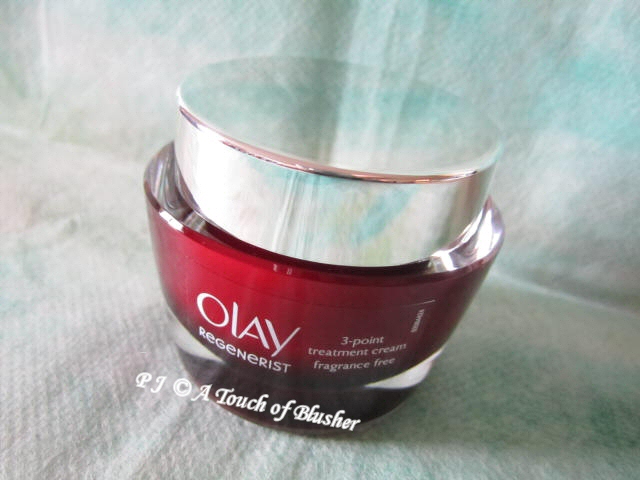 As part of Olay's 60th-anniversary celebration, the brand has launched a fragrance-free version of one of the brand's most popular products, Regenerist 3-Point Treatment Cream. Today I am taking a closer look at this product.
Olay Regenerist 3-Point Treatment Cream Fragrance Free (50ml) has a creamy consistency that doesn't feel heavy. It has a silky texture, spreads easily on the skin, and is absorbed well.
Some of the moisturizing ingredients in this product are glycerin, isopropyl isostearate, soluble collagen, elastin, aloe barbadensis leaf juice, sodium hyaluronate, cetearyl alcohol, stearyl alcohol, caprylic/capric triglyceride, cetyl alcohol, and propylene glycol.
(Note that, in skincare products, collagen and elastin function as moisturizing ingredients by being water-binding agents. They do not have any efficacy in building collagen/elastin in the skin.)
The product contains antioxidants such as tocopheryl acetate (vitamin E), carnosine, and camellia sinensis (green tea) leaf extract.
It contains allantoin as an anti-irritant. Carnosine and camellia sinensis leaf extract also function as anti-irritants.
It contains niacinamide (vitamin B3), which is a cell-communicating ingredient. (It is fourth on the ingredient list.) According to Paula Begoun, niacinamide "has been shown to increase ceramide and free fatty acid levels in skin, prevent skin from losing water content, and stimulate microcirculation in the dermis". Another cell-communicating ingredient in this product is palmitoyl pentapeptide-4.
It does not contain alcohol, fragrance (parfum), or other scenting agents. It contains benzyl alcohol, which in itself can be irritating. But it is towards the end of the ingredient list and it is unlikely to cause irritation.
Overall, with a pleasing texture and good doses of cell-communicating ingredients, antioxidants, and anti-irritants (most of them in the first half of the ingredient list), this is a very well-formulated nighttime moisturizer. It should suit those with normal, slightly dry, or slightly oily skin. If you prefer a lighter moisturizer, consider Olay Essentials Complete Care Night Cream (previously named Complete Care Night Enriched Cream), which is another very well-formulated product from Olay and is my current nighttime moisturizer.
(Some ingredient information is from Paula Begoun's Cosmetic Ingredient Dictionary.)
(The product featured in this article is provided by Olay.)
Related posts:
Olay Regenerist Daily Regenerating Serum
Olay Regenerist Night Renewal Elixir