If you happen to be a regular reader of my blog, then, yes, this is finally my first ever item from Kate!
As mentioned in my post back in 2007, Kate, owned by Kanebo, is a popular Japanese drugstore makeup line. It is generally as widely available in Japan, East Asia, and Southeast Asia as other popular drugstore makeup lines from Japan such as Majolica Majorca and Lavshuca. However, as a fan of Japanese cosmetics for many years, I had never bought anything from Kate. Earlier this year, I looked through Kate's products in person again and decided to go for Gradical Eyes A in GD-1, which was released in Japan in spring 2010.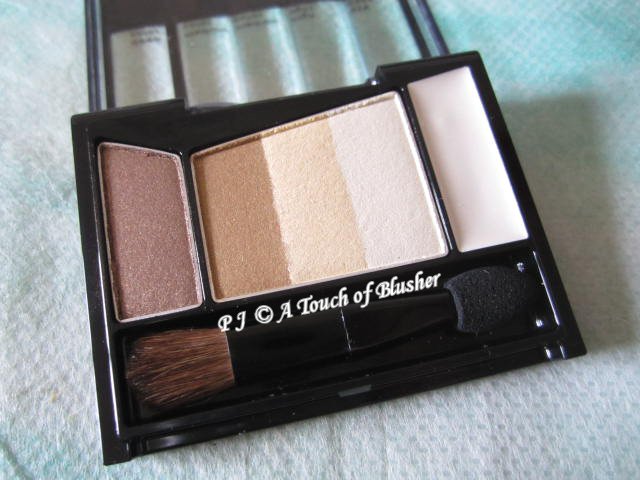 The five colors in this palette are (from right):
– pearly white (cream-to-powder consistency), moderately pigmented, softly pearly
– pearly white, moderately pigmented, softly pearly
– light beige yellow, moderately pigmented, with a high-toned pearly finish and soft shimmer
– medium-depth yellow brown, moderately pigmented, subtly pearly
– medium-to-dark brown, moderately-to-well pigmented, subtly pearly
All the shades have very fine multi-colored light-reflective particles and a good staying power.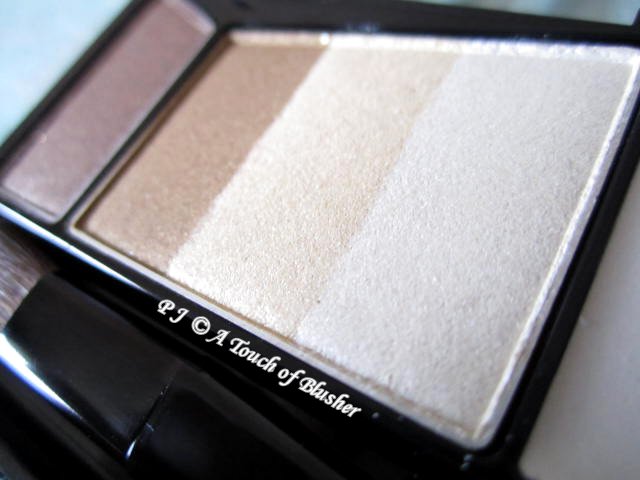 I went for this palette because it features easy-to-wear gradational shades and medium-to-warm neutral hues. The cream-to-powder base brightens the eye areas by adding a pearly glow to the eyelids. The four powder-based shades harmonize fairly well with one another and create a soft gradation. The overall finish is more pearly and glowy than shimmery.
Even though I do like the texture of the powder and the pigmentation levels of the colors, I have to say this is not one of my favorite neutral-toned eyeshadow palettes. I think the light beige yellow and the yellow brown are a little too yellow-toned for me. (Even though the yellow brown is still a warm neutral, its yellow tone is so cool-toned that the shade is almost olive-like.) Also, the medium-to-dark brown would work better as an eyelining shade (and make the palette more versatile) if it were darker.
If you feel that many eyeshadows from Japanese brands can sometimes be too shimmery for you (and prefer gently pearly finishes), then the Gradical Eyes A series (8 variations, ¥1470) might be worth looking into. As for me, even though I don't particularly love this palette, I will certainly continue to keep a close eye on Kate's future releases.
This is my last post in the Stash Debut 2012 series and my last post in 2012. Thank you all for your support in 2012 and I wish you a very happy 2013!
Related posts:
Kate Spring 2013 Makeup Collection
Kate Fall 2012 Makeup Collection