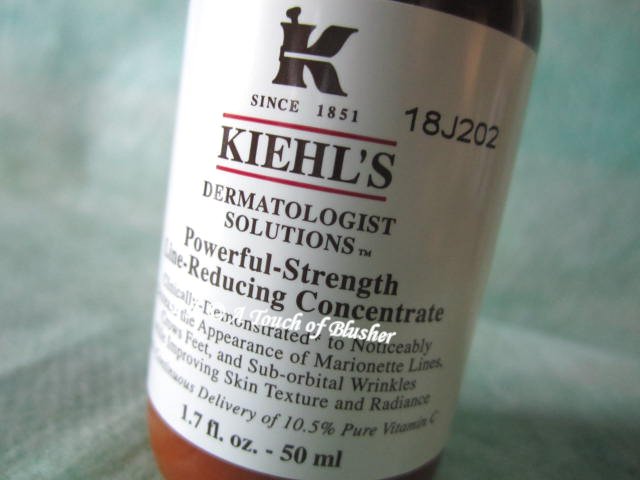 Launched in 2005, Kiehl's Powerful-Strength Line-Reducing Concentrate, part of the brand's Dermatologist Solutions range, is one of the brand's best-selling products. With 10.5% vitamin C, it is billed as a potent anti-wrinkle treatment. Today I am taking a closer look at this product.
Powerful-Strength Line-Reducing Concentrate (50ml, £49) is a silicone-based waterless serum with a slightly thick consistency. It takes a little bit of time to be absorbed, and it leaves a smooth and almost primer-like finish on the skin. It can be used as either a serum or a moisturizer.
The product has an elegantly simple formulation, as it only contains nine ingredients. The skin-conditioning ingredients in this product are propylene glycol, glycerin, and lauroyl lysine. The star ingredient is ascorbic acid (vitamin C), and this antioxidant is housed in a silicone base. The product also contains a relatively small amount of adenosine, which functions as a cell-communicating agent.
The product does not contain alcohol, parabens, or fragrance.
Some might think that silicones are fillers in skincare products, but they often perform important functions. Particularly, they preserve the efficacy of antioxidants much better than water. Also, they help prevent moisture loss and create a visibly smooth finish on the skin.
The product is packaged in a semi-opaque brown bottle with a pump dispenser. This is a relatively ideal packaging for products rich in antioxidants. (A completely opaque bottle would be even more ideal.)
I presume that, since the launch of the product eight years ago, the formulation has not been altered. While this is certainly a competent antioxidant serum, it is worth noting that products with a cocktail of various antioxidants have the potential to work better than those with a single antioxidant.
Overall, this is a well-formulated product suitable for most skin types. However, while it is potentially capable of dealing with shallow dry lines and improving the texture of the skin, it is perhaps unrealistic to hope that this product (or any other topically applied skincare product) will dramatically reduce deeper-set wrinkles.
(The product featured in this article is provided by Kiehl's.)
Related posts:
Olay Regenerist Daily Regenerating Serum
Elizabeth Arden Prevage Face Advanced Anti-Aging Serum
Lancôme Génifique Youth Activating Concentrate