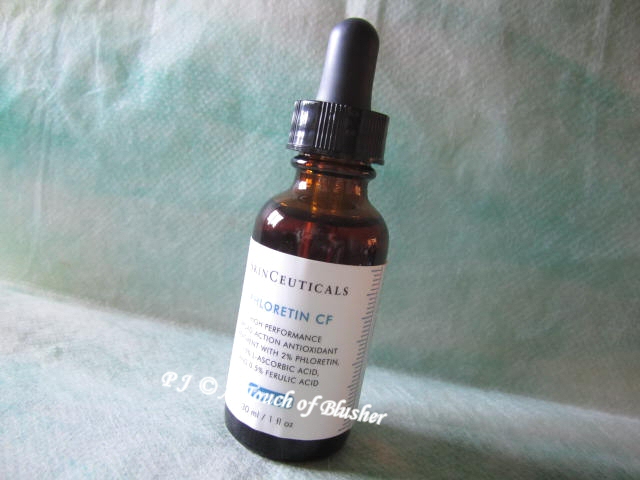 Last March, I reviewed SkinCeuticals' Hydrating B5, Retexturing Activator and C E Ferulic serums. Today, I am focusing on another serum from SkinCeuticals, Phloretin CF, as well as the brand's Ultra Facial Defense SPF 50.
Phloretin CF (High Performance Broad-Action Antioxidant Treatment) is an antioxidant serum with a very lightweight consistency. It features three antioxidants: ascorbic acid (vitamin C), phloretin, and ferulic acid. (Presumably, C and F stand for vitamin C and ferulic acid.) According to Paula Begoun, phloretin acts as an antioxidant, a melanin inhibitor, and a penetration enhancer, and it also helps protect collagen-generating fibroblasts. The product is paraben-free.
However, with all the skin-benefiting ingredients, this product is hampered by the inclusion of alcohol (third on the ingredient list and before any of the three antioxidants). Between SkinCeuticals' C E Ferulic and Phloretin CF (both are antioxidant serums), I would recommend C E Ferulic (see link above for my review), which is alcohol-free and just as antioxidant-rich.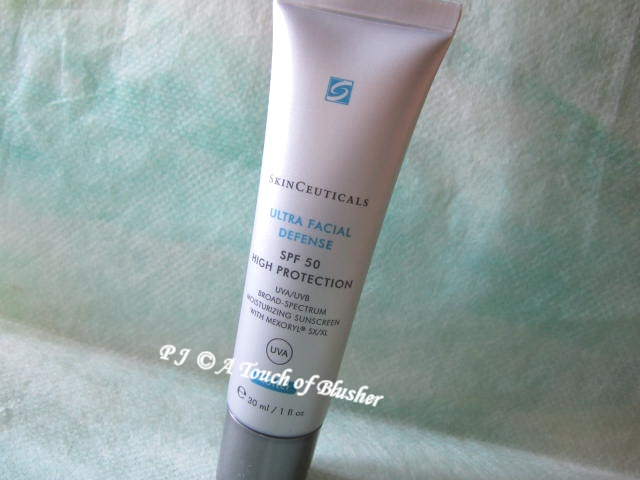 Ultra Facial Defense SPF 50 is a daytime moisturizer with a light-cream consistency and with ingredients to protect against both UVA and UVB rays. It uses ethylhexyl methoxycinnamate (also known as octyl methoxycinnamate) to protect against  UVB rays, and it uses titanium dioxide and Mexoryl SX/XL to protect against UVA rays. (Titanium dioxide also protects against UVB rays.)
(A note on Mexoryl SX/XL: It is essentially two ingredients, (water soluble) Mexoryl SX (also known as ecamsule and terephthalylidene dicamphor sulfonic acid) and (oil soluble) Mexoryl XL (also known as drometrizole trisiloxane). These two ingredients are exclusive to L'Oréal-owned brands. (SkinCeuticals was acquired by L'Oréal in 2005.) Mexoryl SX is an approved sunscreen ingredient in the EU and in some other countries, but, in the US, it is only approved in some products in La Roche-Posay's (also owned by L'Oréal) Anthelios range. Mexoryl XL is not an approved sunscreen ingredient in the US but it is in the EU, Canada, Australia, and Japan. This may explain why Ultra Facial Defense SPF 50 is not available on SkinCeuticals' US website.)
Some of the main moisturizing ingredients in this product are glycerin, propylene glycol, pentylene glycol, and stearic acid. The product also contains tocopherol (vitamin E) as an antioxidant. It is paraben-free.
Like Phloretin CF, this product contains alcohol. Although it is not towards the very top of the ingredient list, the product is likely to contain enough of it to be irritating for some people.
(The products featured in this article are provided by SkinCeuticals.)
Related posts:
Olay Regenerist Night Renewal Elixir
Boots No 7 Protect & Perfect Intense Day Cream SPF 15 + 5-Star UVA
SK-II Facial Treatment Essence, Facial Treatment Repair C & Skin Signature