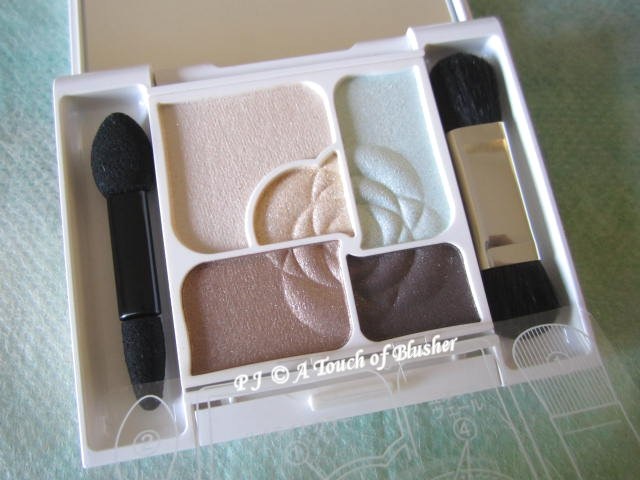 I have been picking up at least one variation of each of Kanebo Coffret d'Or's eyeshadow palette series since the launch of the line in 2007. With 3D Gradation Eyes, released as part of Coffret d'Or's late summer/ early fall 2013 makeup collection, I was choosing between 02 Mint Brown and 04 Rose Purple. I decided to go for 02 Mint Brown.
The five shades in this palette are (clockwise from top left):
– (outer) off-white cream, lightly-to-moderately pigmented, with pearly shimmer
– (inner) pale yellow gold, gently pigmented, very sparkly
– light green, lightly pigmented, shimmery with fine sparkles
– dark brown, pigmented, velvety with sparse sparkles
– medium-to-dark brown, moderately-to-well pigmented, with pearly shimmer
All the shades have multi-colored light-reflective particles. They are all very blendable and have a good staying power. (There is only very minimal shimmer fallout.)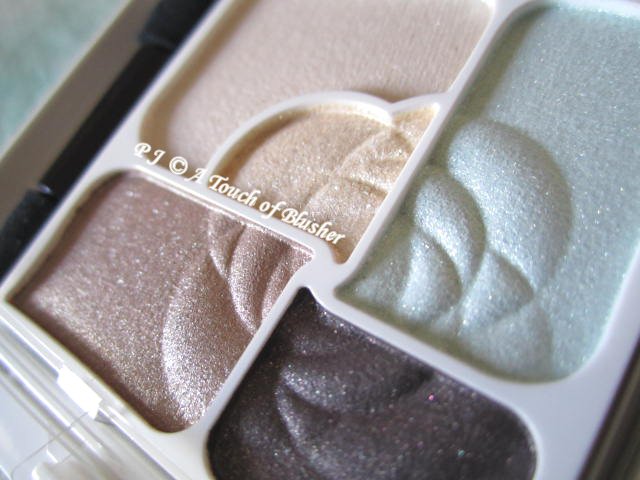 If you want shimmer and sparkle, then this palette is for you. The light green is quite shimmery, and the pale yellow gold is particularly sparkly. The three pale shades are combined with two depth-enhancing shades (the medium-to-dark brown, which is a very effective shadowing shade, and the dark brown for lining the eyes). Overall, the palette creates a very dimensional look for the eyes and it certainly lives up to its name.
For me, the medium-to-dark brown is slightly cooler than the neutrals I usually go for, but the shade does have a subtle gold overtone, which adds warmth to the shade.
According to the application instructions (attached to the palette itself and printed on the back of the outer box):
– The off-white cream is applied as a base on the upper eyelids and the brow bones.
– After the shadowing shade (on the lower parts of the upper eyelids) and the eyelining shade (along the upper lashlines and the outer 1/3 of the lower lashlines) are applied, the light green goes on the upper eyelids and along the inner 2/3 of the lower lashlines.
– The pale yellow gold is applied on the central parts of the upper eyelids.
For me, applying all the three light shades as instructed creates a bit of a sparkle overload. Plus, I don't really like the light green shimmer on top of the brown shades. A very dimensional look with no shortage of shimmer can be simply achieved with the off-white cream and the two brown shades.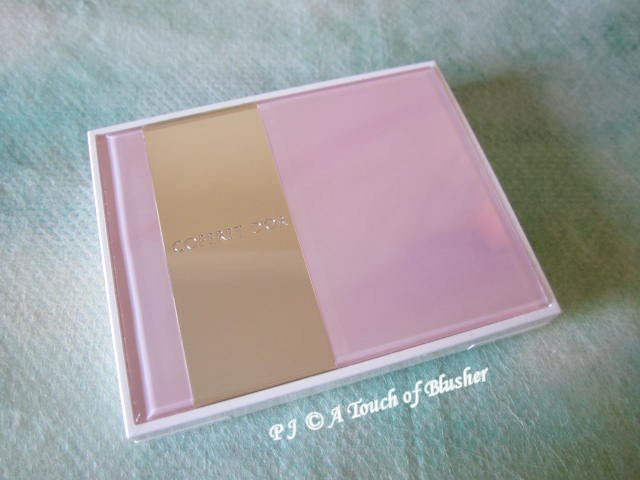 Among all the Coffret d'Or eyeshadow palette cases, this is one of the most minimal-looking ones. (I still prefer the earlier silver cases with pink embellishments.)
On the whole, I do like this palette. It combines color depth and shimmer to create a very satisfying dimensional look, which can be easily and efficiently achieved without the need to use all the shades in the palette. The intense sparkles are added extras, which I can take or leave.
Related posts:
Coffret d'Or Late Summer/ Early Fall 2014 Makeup Collection
Coffret d'Or Beauty Face Shadow in 02 Cream Brown