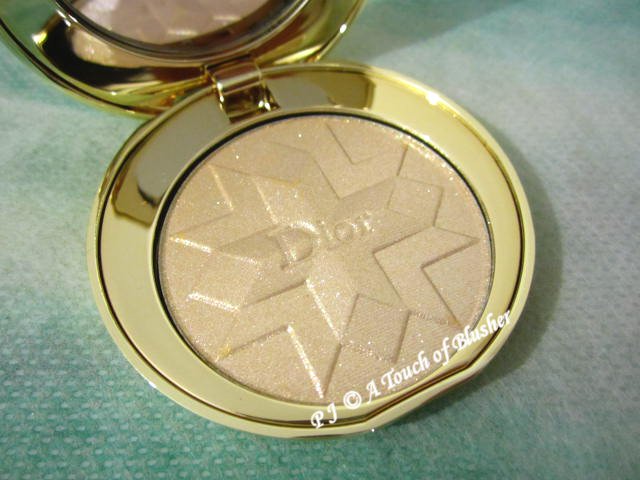 I have always liked the golden curvy bottles and cases of Dior's Diorific items, so it has been nice to see new Diorific items for the holiday seasons in 2012, 2013 and 2014. For holiday 2014, Dior released Diorific Golden Shock Illuminating Pressed Powder. It is fairly similar to Perfumed Illuminating Powder for holiday 2013, but I did decide to get it after getting the one from last year.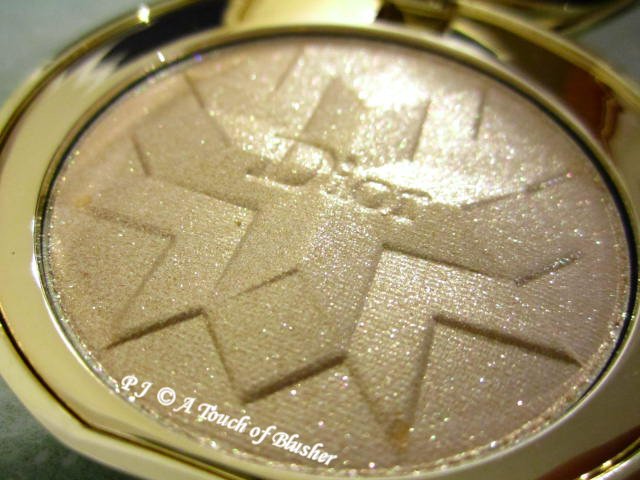 Dior Diorific Golden Shock Illuminating Pressed Powder (6g, £49) is available in two shades, 001 Gold Shock and 002 Pink Shock. With finishing and highlighting powders, I generally prefer yellow-based ones, so I went for 001 Gold Shock, which is a light warm-toned yellow.
I did test 002 Pink Shock at the counter. It had a pearly-to-frosty finish, whereas 001 Gold Shock was more shimmery.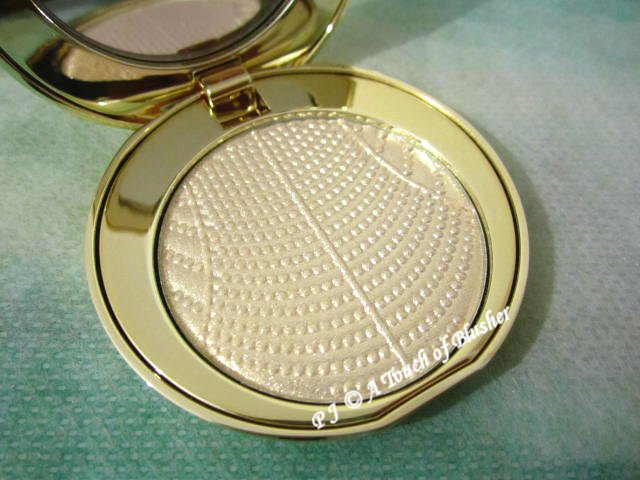 Here is a look at Dior Diorific Perfumed Illuminating Powder (6g, £49) in 002 Perle d'Or, a light champagne gold. It is also available in 001 Rose d'Or, which is warmer. (Both shades seem to be still available on-line.) I went for 002 Perle d'Or because it is more yellow-based than 001 Rose d'Or.
The embossment of the powder echoes the design of the beaded Maasai necklace seen on Charlize Theron in the J'adore fragrance ad campaign. The powder features a very faint J'adore scent.
(Read another review of this powder at The Makeup Museum.)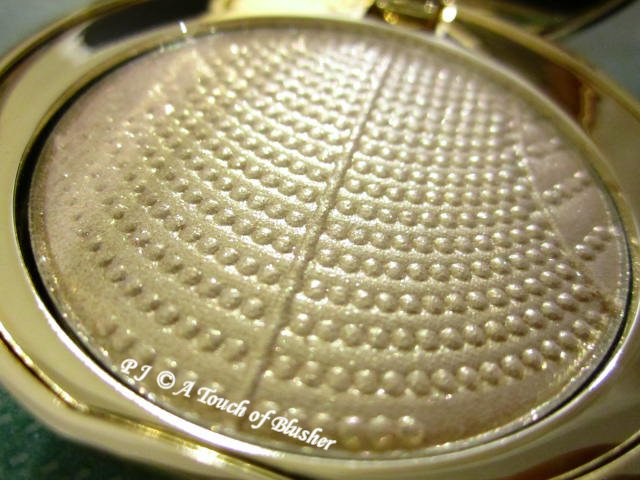 Golden Shock Illuminating Pressed Powder in 001 Gold Shock is slightly darker and warmer than Perfumed Illuminating Powder in 002 Perle d'Or. They both have multi-hued light-reflective particles and they have similar finishes (shimmery with fine sparkles).
The appearances of the cases of the two powders are the same, but the case for Perfumed Illuminating Powder closes magnetically while the case for Golden Shock Illuminating Pressed Powder doesn't close magnetically. They both feel nicely weighty and substantial. The two powders come with the same flat powder brush and the same velvet pouch. The pouch has a separate pocket for storing the powder brush.
If Dior releases more Diorific items for holiday 2015, I hope that the star item will be a little different. However, if it is another pressed powder in the same case, I think you know what I might do……
Related posts:
Dior Spring 2015 Makeup Collection
Dior Diorskin Nude Tan Transat Edition (Summer 2014)