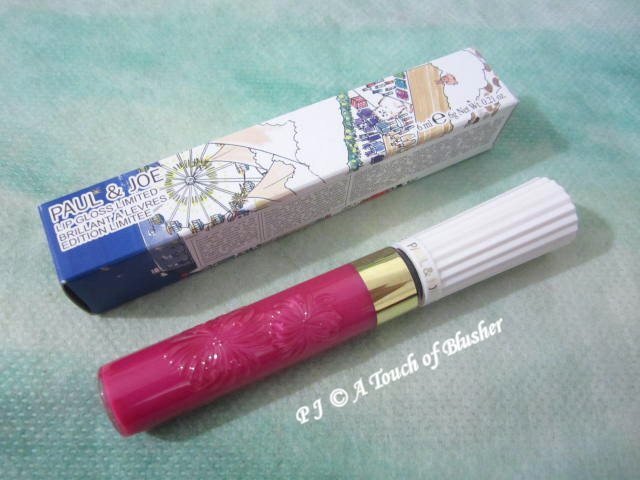 Among Paul & Joe's holiday 2016 Marché de Noël makeup collection are five limited-edition shades of Lip Gloss Limited. I went for 003 Confectionery Sugar, which caught my attention with its vibrant hue.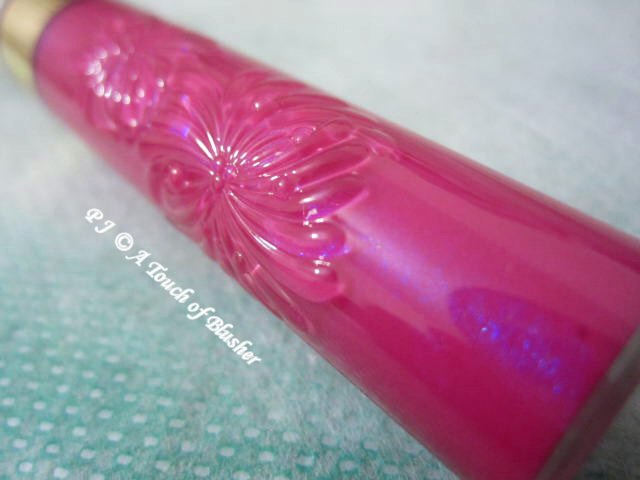 Paul & Joe Lip Gloss Limited in 003 Confectionery Sugar (ポール & ジョー リップグロス リミテッド 003 砂糖菓子/ Paul & Joe 聖誕市集唇蜜 003, ¥2500 in Japan, £15 in the UK) is a well-pigmented fuchsia pink with a glossy and a very subtly shimmery finish. Its shimmer is predominantly blue-toned, and there is also some pink-toned shimmer. The shimmer looks more obvious in the tube than on the lips.
Its glossy finish can be achieved with just a couple of layers. A very subtle hint of blue-toned opalescence appears with additional layers.
I like its rich fuchsia shade and glossy finish. However, I have a few issues with it. Firstly, the color gradually fades to a lighter, softer and more translucent (less pigmented) raspberry pink over the course of wear. Also, it doesn't fade evenly, which results in a patchy look. (The glossy finish actually outlasts the color.)
Secondly, when I apply more than two layers of it, it can gradually travel outside the lower lip line overtime. (The liquid-y consistency seems to be a trait of a couple of the lip glosses from Paul & Joe that I have written about (Lip Gloss N in 001 Black-Tie and Lip Gloss G in 07 Tangerine), and the traveling can look particularly obvious with a pigmented shade like 003.)
Thirdly, while the brush applicator is good for precision application (particularly around the lip lines), spreading this pigmented lip gloss evenly with it can take a bit of time. (This is a relatively minor issue.)
Overall, I am quite disappointed with the product. The biggest issue is that the color fades unevenly. Plus, the usual consistency of the brand's lip glosses and the usual brush applicator (which are not always problematic themselves) don't work well with the high pigmentation level of this shade. It is such a pity, since I would really want the fuchsia shade to stay vibrant, even and in place.
Related posts:
Paul & Joe Spring 2017 Makeup Collection
Stash Focus: Paul & Joe Lip Gloss M in 002 Strawberry Kiwi