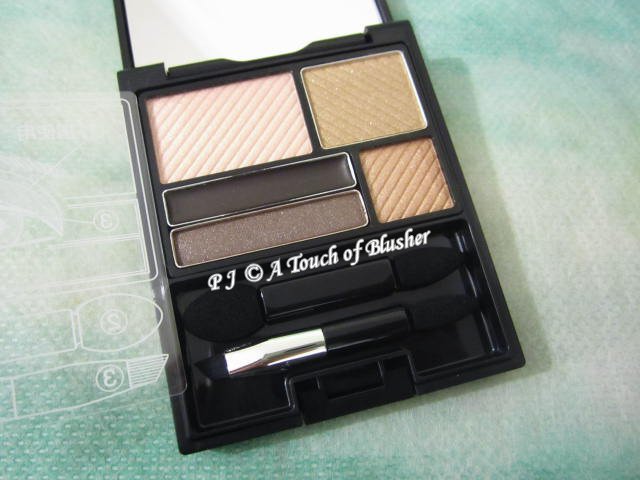 Kanebo Coffret d'Or launched Soft Glamorous Eyes with four variations in fall 2015. They were followed by six limited-edition variations in holiday 2015 and two limited-edition variations in spring 2016. (I don't think any other eyeshadow palette series from Coffret d'Or features more variations.) Today we will be looking at 01 Beige Variation.
Kanebo Coffret d'Or Soft Glamorous Eyes in 01 Beige Variation (カネボウ コフレドール ソフトグラマラスアイズ 01 ベージュバリエーション/ 佳麗寶 金炫光燦 恆魅眼影盒 01 Beige Variation, ¥3500) is among the four variations released in fall 2015. (All four are still available.)
The four powder-based shades in this palette are (clockwise from top left).
off-white pink beige, lightly pigmented, with pearly glow and a hint of pearly shimmer
light medium-toned beige, moderately pigmented, with pearly shimmer
bronze orange, moderately pigmented, softly shimmery and softly sparkly
dark brown, moderately-to-intensely pigmented, velvety with a hint of pearly glow
All these four shades have multi-hued light-reflective particles. They are easy to apply and blend, and they all have a good staying power. (I haven't tried the cream eyelining shade (the shade just below the off-white pink beige) as I usually don't go for liquid or cream eyeliners.)
The off-white pink beige generally works well as a base shade. It can look slightly too pearly if it is applied heavy-handedly, but it is not a shade I feel that I have to be ultra-careful about.
The light medium-toned beige is designed to be the main shadowing shade for the upper eyelids. It is fairly light and only creates a hint of shadow. In most cases, I would prefer shades like this to be darker. However, the combination of the shade's subtle color depth and pearly shimmer (which has a very flattering soft-spotlight effect) adds dimension to the eyes in a low-key (but not overly subtle) and very elegant way. This shade has been growing on me in ways I didn't expect.
The bronze orange is designed to be worn along the outer 1/3 of the lower lashlines, and it adds a touch of depth to the areas nicely. Because it has a just-below-medium color depth and is darker than the light medium-toned beige, it also works well for me as a main shadowing shade on the upper eyelids (either on top of the base shade or on top of both the base shade and the light beige). It can look very slightly too orange-toned for me, but I do generally like the color. It is reasonably low-key and doesn't look too bright or vibrant, and I also like the softly sparkly finish of the shade.
The dark brown is dark enough to be an eyelining shade and it creates a relatively soft look without too much intensity. (It is designed to be layered on top of the cream eyelining shade to soften its hard edges, so I do understand why it is neither intensely dark nor intensely pigmented.)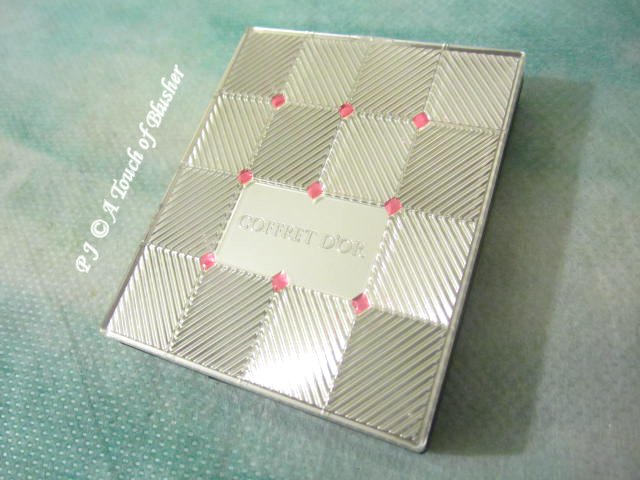 I like the design of the case, which reminds me of the earliest Coffret d'Or eyeshadow cases.
Overall, I do like this palette. I like how the relatively easy-to-wear hues and the well-coordinated finishes create soft, demure and sophisticated looks, and I like the fact that, compared with many of the other eyeshadow palettes that I like, this palette has a different set of appeals.
Related posts:
Coffret d'Or Spring 2017 Makeup Collection
Stash Focus: Coffret d'Or Full Smile Eyes in 01 Apricot Beige