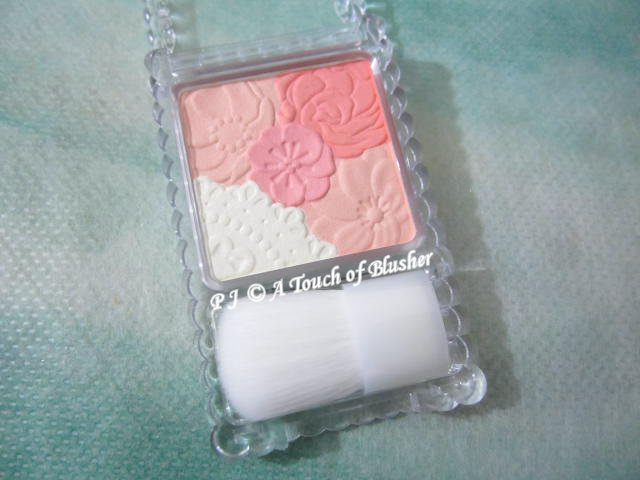 Last year, I reviewed Canmake's Mat Fleur Cheeks in 01 Mat Apricot and 02 Mat Girlie Rose. Today I will be sharing my thoughts on 03 Mat Marmalade.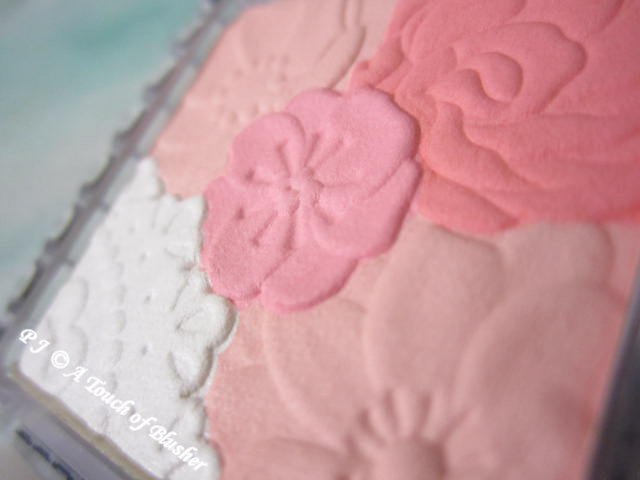 Canmake Mat Fleur Cheeks in 03 Mat Marmalade (キャンメイク マットフルールチークス 03 マットマーマレード/ Canmake 花漾戀愛修容組 (霧面) 03, ¥800) was released in fall 2014 (when the Mat Fleur Cheeks range was launched with three variations). It features a pale peach (top left and bottom right), a light peachy pink, a light-to-medium peach (with an orange tone) and an off-white yellow. All the shades are softly matte with no shimmer. The powder is soft and it is easy to apply and blend. (As with 01 Mat Apricot and 02 Mat Girlie Rose, the powder is quite softly-pressed.)
The pale peach, the light peachy pink and the light-to-medium peach are designed to be mixed together. When mixed, they show up as a light-to-medium pink-toned peach with a marshmallow-y matte finish and a light-to-medium pigmentation level. The staying power is good.
The off-white yellow is designed to be applied on top of and over the edges of the blusher shades. When applied as suggested, it makes the overall finish even fluffier and more marshmallow-y. It also acts as a setting powder and helps the blusher colors last longer.
Compared with 01 and 02, I find 03 Mat Marmalade to be slightly less wearable. This is mainly because the mixed shade turns deeper, more red-toned and more orange-toned over the course of wear. This deeper hue doesn't always suit me, and I do need to be a little light-handed with this variation.
Related posts:
Canmake Summer 2017 Makeup Collection
Stash Debut (4): Canmake Cheek Gradation in 06 Candy Stripe