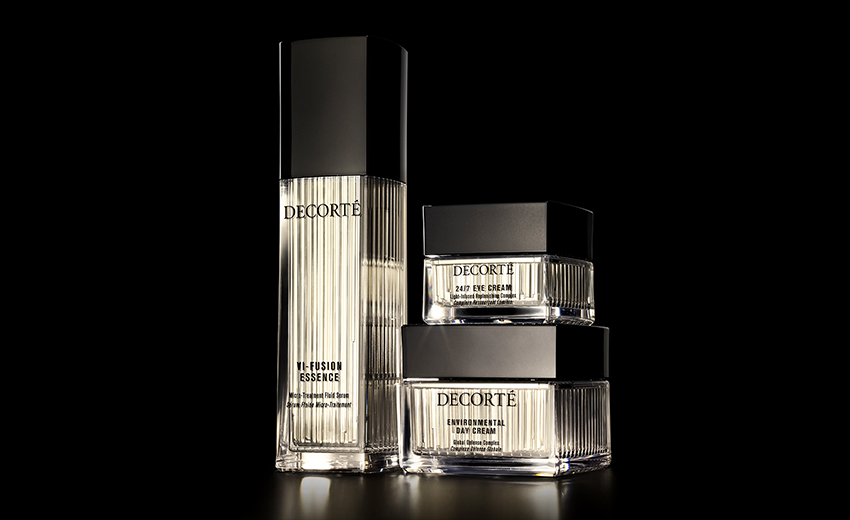 (image from www.decortecosmetics.com,
info from www.kose.co.jp, www.cosmedecorte.com,
www.decortecosmetics.com & www.decortecosmetics.co.uk)
Kosé Cosme Decorte has been launched in the UK.
The high-end Japanese beauty brand made its debut in Europe when it was launched in Italy in February 2012 (according to this article (in Japanese) from Nikkei.com), and it was recently launched in the UK. Currently, it is exclusive to Selfridges' on-line store.
According to the brand's official UK website, the brand will launch a concession at Selfridges Oxford Street in London.
(Cosme Decorte is the official name of the brand, but the brand logo used for product packaging and marketing changed from "COSME DECORTE" to "DECORTÉ" (with the acute accent added to the final e) on September 16th, 2015.)
Note that, at the moment, not all Cosme Decorte items sold in Japan are available in the UK. Also, in Japan, the Vi-Fusion range is currently only available at Maison DECORTÉ (Cosme Decorte's flagship store in Ginza, Tokyo), which opened earlier this year. In addition, as far as I know, all the makeup items currently featured on the brand's official UK website are not available in Japan (except Foundation Brush).
Model Kate Moss fronts the brand's ad campaigns.
Cosme Decorte is currently also available in Canada, China, Hong Kong, Malaysia, Singapore, South Korea, Taiwan, Thailand and the US.
Related posts:
Cosme Decorte AQ MW Holiday 2017 Makeup Collection
Muji Skincare Available in the UK Again