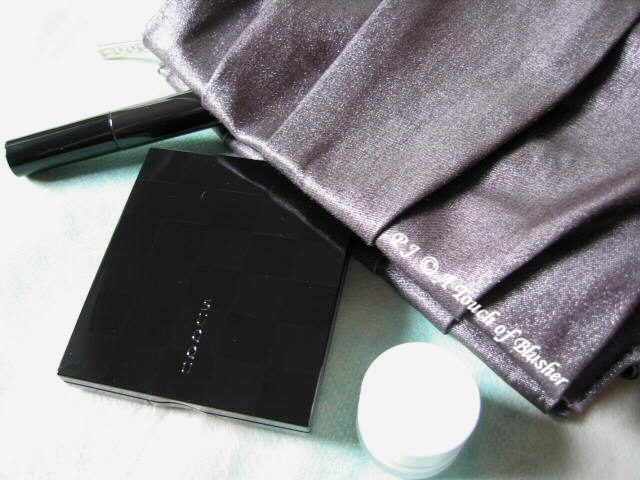 SUQQU's holiday 2010 collection features two makeup kits, one base makeup and skincare kit, and a pressed face powder. Today I am featuring 2010 Christmas Makeup Kit A, with a particular focus on the limited-edition Blend Color Eyeshadow in EX-01 Yukiyo.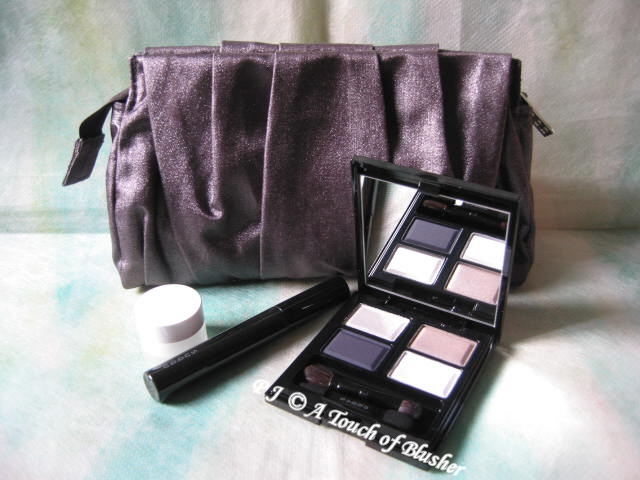 The 2010 Christmas Makeup Kit A includes:
– Blend Color Eyeshadow in EX-01 Yukiyo (limited edition)
– Mascara Volume Long N in 01 Black
– Eye Cream R (4g)
– Original Pouch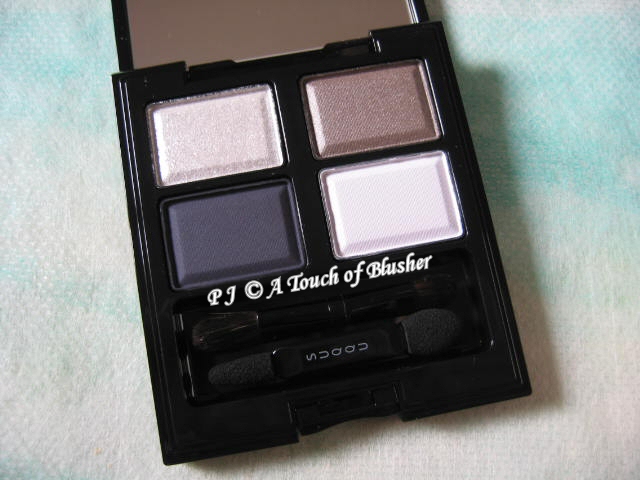 Blend Color Eyeshadow in EX-01 Yukiyo (Snowy Night) in this kit and EX-02 Fuyubara (Winter Rose) from 2010 Christmas Makeup Kit B are the first two limited-edition palettes from the new Blend Color Eyeshadow range, launched in Japan in September.
The four colors in EX-01 Yukiyo are (clockwise from bottom right):
– off-white blue grey, softly pigmented, glowy matte with no shimmer
– dark midnight blue, pigmented, glowy matte with no shimmer
– silver, softly pigmented, very sparkly
– dark grey, pigmented, with gentle pearly shimmer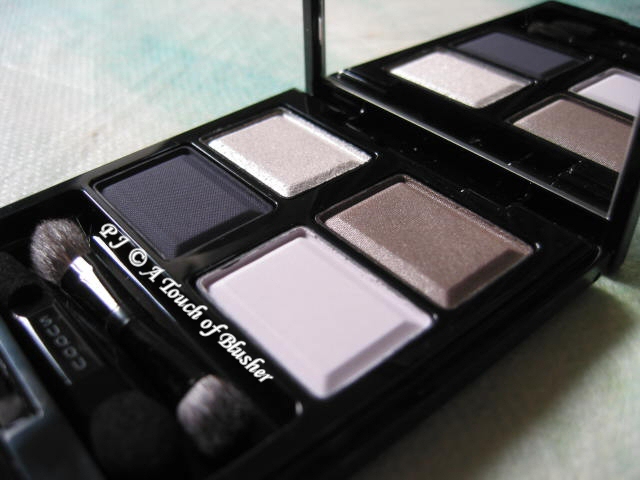 I took another photo of the palette under artificial lighting to show how sparkly the silver shade looks and the difference between the silver and the rest of the shades. (Note that there was some extra light bouncing back from the mirror of the compact on the silver.)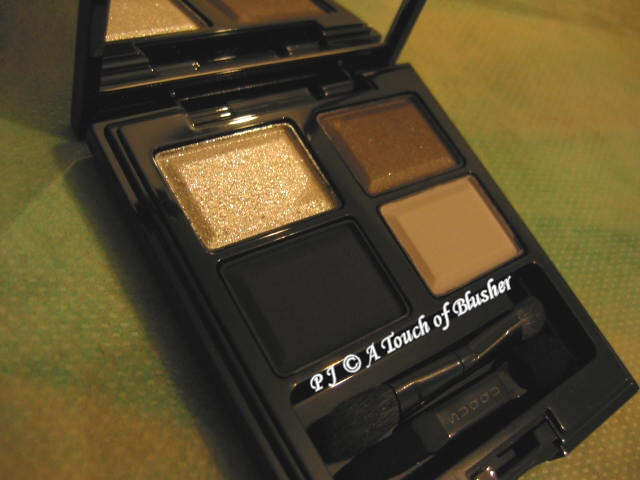 Compared with Blend Color Eyeshadow in 01 Kakitsubata, EX-01 Yukiyo is much cooler. Below are the comparisons of the (functionally) equivalent shades in the two palettes:
– The off-white blue grey is cooler than the warm ivory in Kakitsubata. It sets the scene for a cool eye makeup look.
– The silver is less pigmented and a lot more sparkly than the pale peach in Kakitsubata.
– The dark grey is darker than the golden brown in Kakitsubata.
– The dark midnight blue is also darker than the dark navy blue in Kakitsubata.
Overall, with the lightening shade (the silver) being so sparkly and the shadowing shade (the dark grey) being quite dark, I think this palette is almost strictly for evening makeup and is definitely great for creating a glamorous party makeup look.
Again, as with other eyeshadows from SUQQU, the powder is smooth and silky, the blendability is superb, and the staying power is very good. (Even the sparkly silver shade has a good staying power and very minimal fallout.)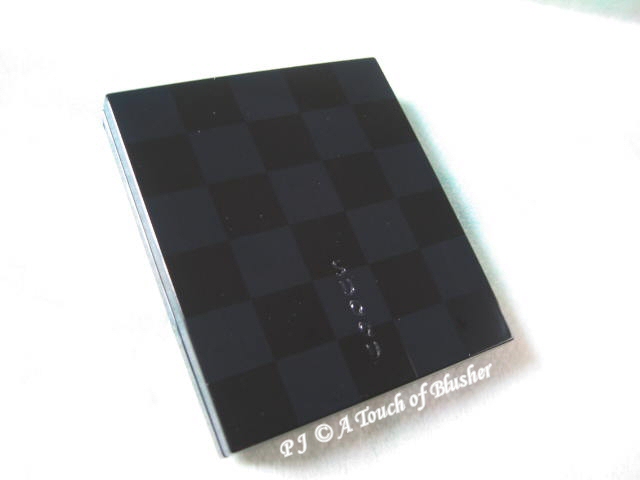 The eyeshadow palette compact features the traditional Japanese ichimatsu check patterns. (The Glow Nuance Face Color from the collection also features the patterns.) It was not easy to photograph the ichimatsu design. For your reference, here is the image from SUQQU's website: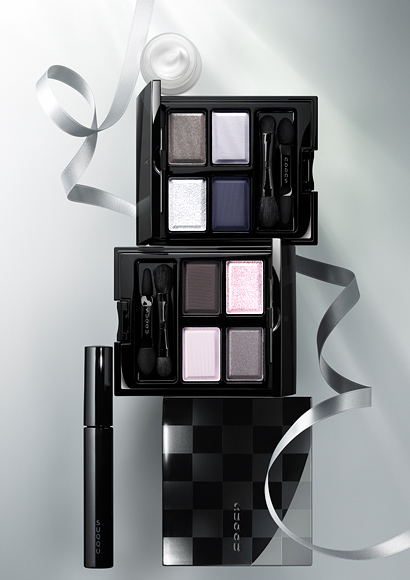 (image from www.suqqu.com/global)
The kit also includes Mascara Volume Long N in 01 Black. SUQQU currently features three mascaras: Mascara Volume N, Mascara Long N, and Mascara Volume Long N. All three are water-resistant, and both Long N and Volume Long N contain fibers. Volume Long N is supposed to add both volume and length to the lashes. For me, like the previous version (Volume Long ), it creates more length than volume. (See my review of Mascara Volume Long in EX-01 Green from SUQQU's Eyelash Kit.) I tend to like mascaras that create a more natural look, and this mascara does appeal to me. I am also very impressed by the fact that there were no clumps during my trials.
The travel-size item in this kit, Eye Cream R (4g), includes moisturizing ingredients such as butylene glycol, maltitol, squalane, petrolatum, beeswax and sodium hyaluronate. The fragrance-free cream has a rich texture. Note that it contains a small amount of alcohol.
(Mascara Volume Long N in 01 Black is part of SUQQU's usual items and is available separately. Eye Cream R is among SUQQU's revamped skincare and makeup products launched in September. As far as I know, the revamped skincare items (including the full-size Eye Cream R (15ml)) are not available in the UK yet. Neither are the new Creamy Glow Lipsticks (available in spring 2011) or the new base makeup items.)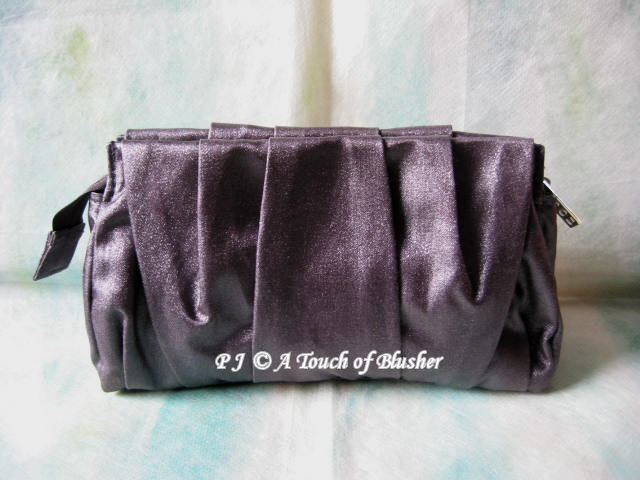 The kit also comes with a makeup pouch, with loose gathered details and a softly metallic finish.
If you want an eyeshadow palette that gives you a dark cool-toned sparkly look and an palette that you can easily create an intense smoky eyes with, then this kit is certainly worth a look. Also, for SUQQU fans that want more sparkly shades from the brand, this kit could be worth collecting.
(The product featured in this review is provided by SUQQU.)
Related posts on SUQQU:
Christmas Makeup Kit A for Holiday 2009
Powdery Cheeks in Ashibi & Oshiroibana