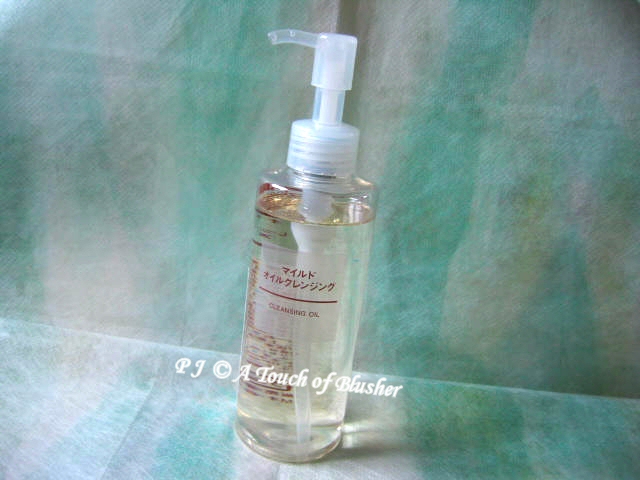 As I have mentioned, RMK Cleansing Oil is the makeup removing product that I have been using. For many years I have been enjoying using it and I am very glad that it is available in the UK. But, a couple of months ago, while I was at Muji looking for some storage units, I decided to try their Cleansing Oil. (The Japanese name of the product, as you see on the front label, is Mild Oil Cleansing.)
Compared with RMK Cleansing Oil, there are some noticeable differences:
– Muji Cleansing Oil has a slightly thicker consistency, but it is still easy to manoeuvre on the face.
– It emulsifies relatively well but not as well as RMK Cleansing Oil. Having said that, I feel that it emulsifies a lot better than DHC Deep Cleansing Oil, Nude Skincare Cleansing Facial Oil and most versions of Shu Uemura's cleansing oils, all of which leave the skin a little greasy.
– RMK's has a subtle herbal/minty scent. Muji's has no added fragrance but it has a peculiar scent that I find very hard to describe. (It is a cross between a nutty and a fishy scent.) The scent really didn't appeal to me when I first started using it, but I have gradually got used to it.
Ingredient-wise, RMK's uses olive fruit oil, avocado oil, grape seed oil and soybean oil, and Muji's uses olive fruit oil, jojoba seed oil and sunflower oil.
One of my initial concerns is that it could give me breakouts since it didn't emulsify as well as RMK's, but I continued to use it for a week and I was pleased that it didn't give me breakouts. I have been using it for almost two months now and I am very satisfied with it. (I have already purchased a second bottle.)
Overall, this cleansing oil cleanses effectively and I think it should be suitable for most skin types, including sensitive skin. I'd still say that I prefer RMK Cleansing Oil because it emulsifies better and because I feel that it gives the skin a deeper cleanse, but I like Muji's well enough that it is now my main makeup removing product. At the moment, I use RMK's once a week and I use Muji's the rest of the time. I may go for RMK's more frequently when the weather gets warmer.
(A note on prices: Muji Cleansing Oil is definitely the less expensive choice. It currently retails for £9.95 in the UK (for 200ml) while RMK Cleansing Oil is currently priced at £22 (for 175ml).)
Related posts:
Crème de la Mer The Cleansing Fluid
Elemis Pro-Radiance Cream Cleanser
Simple Moisturising Foaming Facial Wash
(I use this after the cleansing oil.)