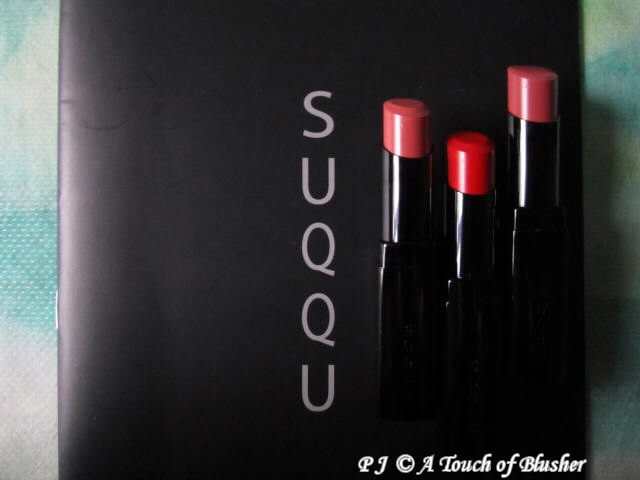 (SUQQU Creamy Glow Lipsticks in (from left to right)
09 Hanarenga, 18 Karakurenai & 07 Asasuou)
Lusciously creamy and comfortably nourishing, SUQQU's Creamy Lipstick and Blend Lipstick (also see here) are some of the best lipsticks I have ever come across. When SUQQU went through a revamp last September, both lipsticks were discontinued and replaced by Creamy Glow Lipstick. (I think some shades of the two previous lipsticks are still available in the UK.)
I was quite certain that it would be as good as the previous two, but I was wondering how different it would be. Launched in Japan last September with all the other revamped products, it was finally here in the UK in February. Today I am sharing my thoughts with you.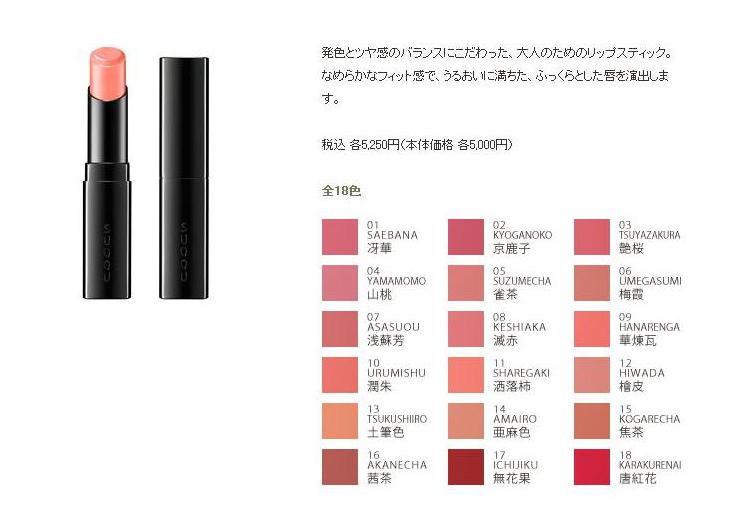 (image from www.suqqu.com)
At the moment, Creamy Glow Lipstick features 18 shades. Some of the shade names are repeats from those of Creamy Lipstick (such as Kyoganoko, Tsukushiiro, Umegasumi, Keshiaka, Asasuou, and Karakurenai (I am featuring the latter two today)) and I presume the shades are either similar or nearly identical.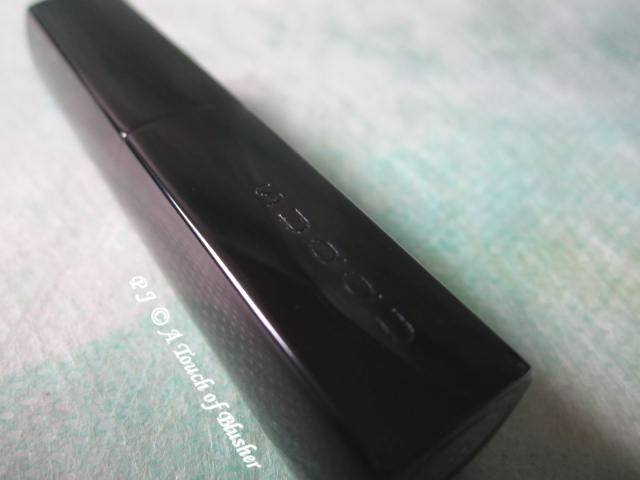 Like all the other revamped makeup items from SUQQU, Creamy Glow Lipsticks are packaged in black cases. (Creamy Lipsticks are in white cases with black inners, and Blend Lipsticks are in dark violet cases.) The brand name is edged onto the case as usual, and the packaging looks sophisticated and elegant.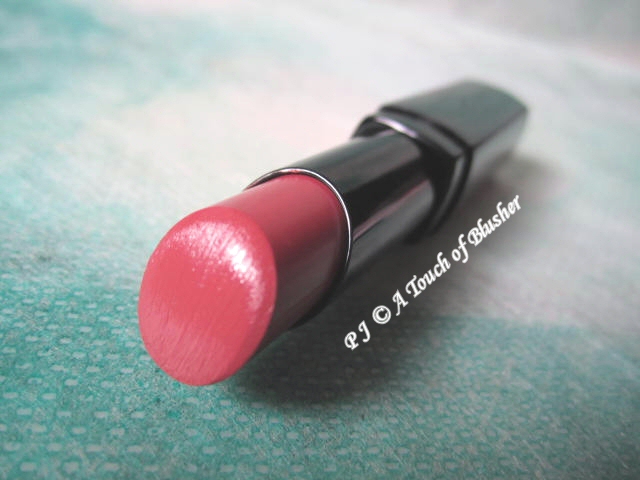 07 Asasuou (above) is essentially a muted warm-toned rose that goes on slightly warmer than it looks. Generally, all colors show up slightly differently under different lighting conditions, but I think this color does to a larger extent and that different lighting conditions really pick up different undertones it has (pink, peach, beige, brick-red, etc.). Under the early-spring late-afternoon blue-toned sunlight here in the UK, it looks cooler and rosier, while it looks like a soft peachy brick-red under warmer artificial lighting. (This is my favorite shade of the three.)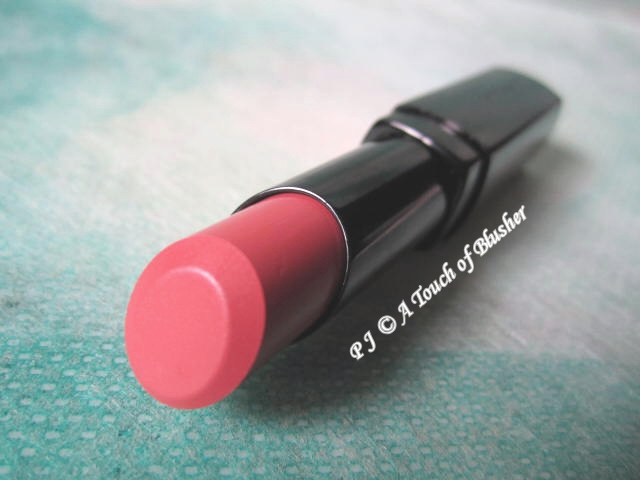 09 Hanarenga is a soft peachy beige and it is lighter and warmer than 07 Asasuou. It also goes on slightly warmer than it looks, and it is probably the most spring-like shade of the three.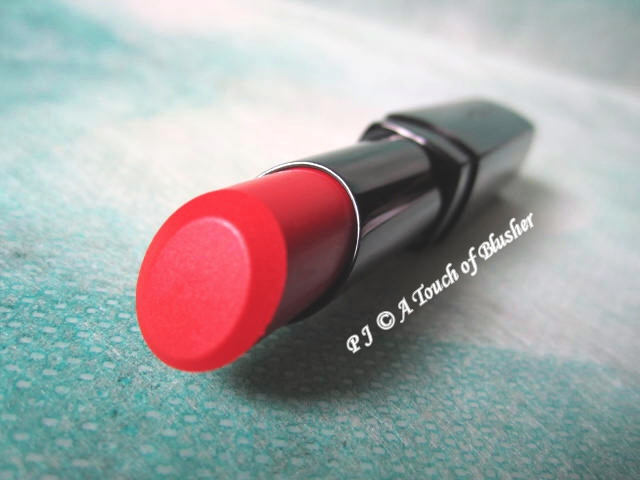 18 Karakurenai should tickle the fancy of red-lipstick lovers. It is a postbox red with a hint of warmth, but it never looks orange-toned. There is no compromise, as it goes on as rich and intense as it looks.
They all glide on the lips with tremendous ease, as they feel soft, buttery, and almost surprisingly fluffy. They also feel both lightweight and moisturizing throughout the wear. All three colors are richly-pigmented and opaque (they can completely cover the natural lip color), and they have a glowy satiny finish with no shimmer. The colors last very well and don't settle in lip lines overtime.
Also, they dispense color onto the lips so efficiently that there is almost no layering needed. A gentle swipe will effortlessly impart a rich layer of color on the lips.
Among Creamy Lipstick, Blend Lipstick, and Creamy Glow Lipstick, Creamy Glow Lipstick is certainly the most pigmented. It is also probably the most pigmented lipstick I have come across among those from Japanese brands, and it is as pigmented as the highly-pigmented ones from western lines.
In terms of texture, level of moisture, and lasting power, SUQQU's Creamy Glow Lipstick is of the highest quality. It will particularly please those who are looking for lipsticks that are as pigmented as they are nourishing.
Even though I personally prefer moderately pigmented semi-sheer lipsticks, there is no doubt that products like Creamy Glow Lipstick continue to solidify SUQQU's position as one of the world's top beauty brands in terms of makeup. As it is currently the only lipstick range from SUQQU since the revamp, I think it is quite likely that the brand will bring out another range in the next few seasons, which might probably be a little sheerer. I am definitely looking forward to it.
(The products featured in this article are provided by SUQQU.)
Related posts:
SUQQU: Sensuality with an Attitude
Makeup Review: SUQQU Blend Color Eyeshadow in 01 Kakitsubata
SUQQU Spring/Summer 2011 Base Makeup Collection
SUQQU New Year Special Kits for 2011
Makeup Review: SUQQU 2010 Christmas Makeup Kit A
Stash Focus: SUQQU Powdery Cheeks in 11 Ashibi & 14 Oshiroibana