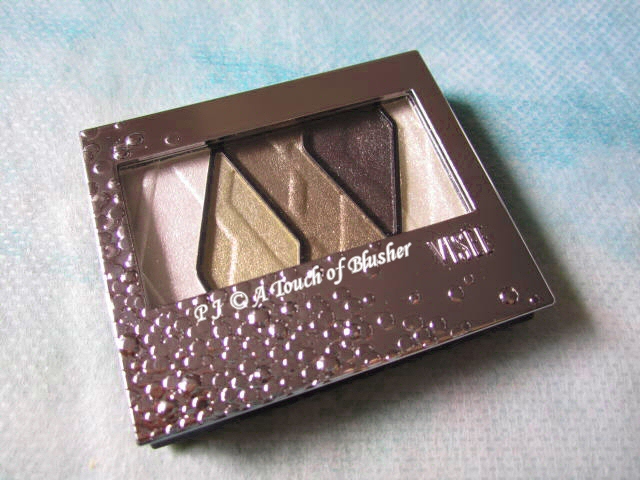 New phase, new brand.
After a couple of years of on-and-off investigation, I decided to start bringing greens into my usual repertoire of pinks, purples, and neutrals. Not just any green, but warm olive-toned greens, preferably with a gold undertone. (I don't think cooler jewel-toned greens would suit me.)
Visée is a popular drugstore makeup line from Kosé. Glam Shade Eyes in GR-5, from the line's spring 2011 collection, is not my first ever Visée item (see pictures of my Dual Shine Rouge Palette from holiday 2006, my first Visée product), but this is my first ever eyeshadow product from the line. The obvious warmth of the shades and the tone-on-tone color combination (which is great for me to play with the different shades of green) are the main reasons why I decided to get it.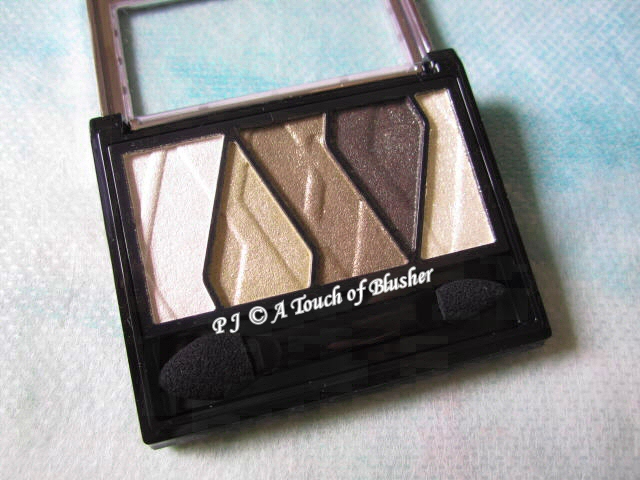 The colors in this palette are (from left):
– off-white, softly pigmented, with soft shimmer
– warm light-to-medium yellow green, moderately pigmented, with soft shimmer and pearlescence
– medium-to-dark olive green, well-pigmented, mildly shimmery
– green-toned black, well-pigmented, mildly shimmery
– off-white with hints of yellow and green, moderately pigmented, with high-toned shimmer and fine sparkles
All the shades have multi-hued shimmer. The texture of the powder is smooth and silky. All the shades have good staying power.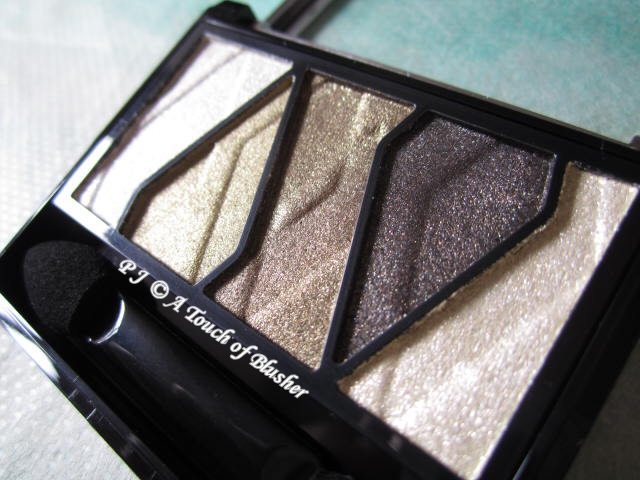 The Glam Shade Eyes series is designed to create substantial framing, shading, and depth for the eyes. (It reminds me of T'Estimo's Frame Impact Eyes.) Most of the variations feature darker spectra of colors than those in many eyeshadow palettes from Japanese beauty lines. (Visée also released 2 limited-edition variations in collaboration with Japanese fashion line Aula Aila.) The most popular variation seems to be PK-1.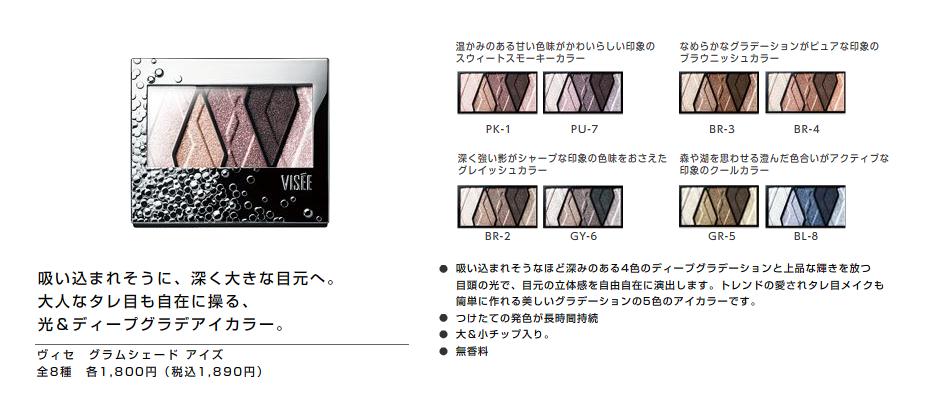 (image from www.visee.jp)
With GR-5, the second-from-left light-to-medium yellow green is almost dark enough to be a shading color, and the olive green in the middle is almost dark enough to be an eyelining shade. I think this palette should suit those who usually go for a smoky-eye look. For those who don't like heavier eye makeup looks (like me), this palette is still great for adding definition to the eyes. (After applying the light-to-medium yellow green on the lid areas, I usually apply the olive green relatively close to my upper lashlines. I then line the upper lashlines gently with the green black. The two darker shades work very well together.)
The shade that is the trickiest for me is the light yellow green. I think it is a little too warm and too yellow-toned for me. My way around it is to use a fluffy eyeshadow blending brush to brush a soft layer of the color on the lid areas (instead of using a denser eyeshadow brush). This way, the yellow undertone seems less pronounced but the shade itself is pigmented enough not to look washed out.
(It is generally the same story with my usual pinks, purples, and beiges/browns. They have to have enough warmth to suit me (neutral-to-warm being the most suitable) but not too much of it. I don't really like overly peachy, plummy, or bronzy shades.)
Overall, I do like this palette. I think a medium-to-dark olive green (worn relatively close to the lashlines) is definitely a good color for me. I am also pleased with the quality of the powder, and my subsequent purchase of Visée's Glam Glow Eyes in BR-3 and GR-4 (from fall 2011) certainly has something to do with the good impression I have with Visée.
My green phase has well and truly started. I don't know how long it will last, but I think there should be a few more posts on green eyeshadows to come.
Related posts:
Visée Spring/Summer 2011 Base Makeup Collection
Visée Fall 201o Makeup Collection