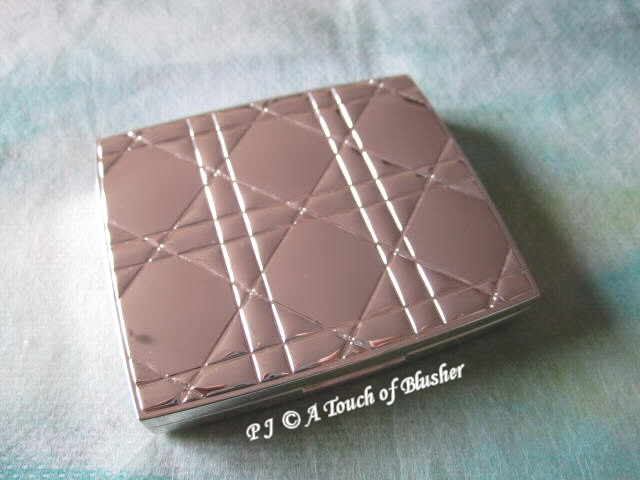 When I first came across images of Dior's fall 2011 Blue Tie makeup collection, I was instantly attracted to the stunning case of Dior Blue-Tie. Available in two variations, it features four eyeshadows and one lip color. I was not crazy about either of the two color combinations, but, not wanting to get four off-whites in 002 Smoking White, I decided to pick up 001 Smoking Blue with my Boots points.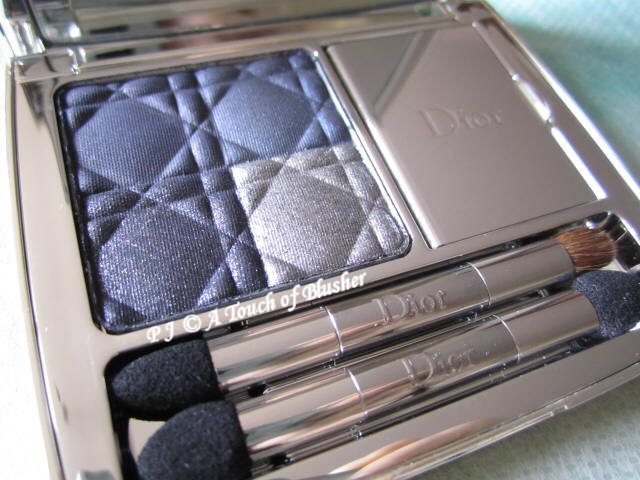 Dior Blue-Tie Evening Essentials Smoky Eyes & Nude Lips in 001 Smoking Blue includes four dark cool-toned eyeshadows and one warm-pink lip gloss. The lip gloss, to the right of the eyeshadows, has a metal lid over it. This thoughtful design is also seen in Dior Minaudière for holiday 2010.
The case (which closes magnetically) is silver throughout, and so are the handles of the applicators. I like the fact that both sides of the case feature Dior's classic cannage patterns. The well-finished compact feels heavy and substantial, just the way I like it.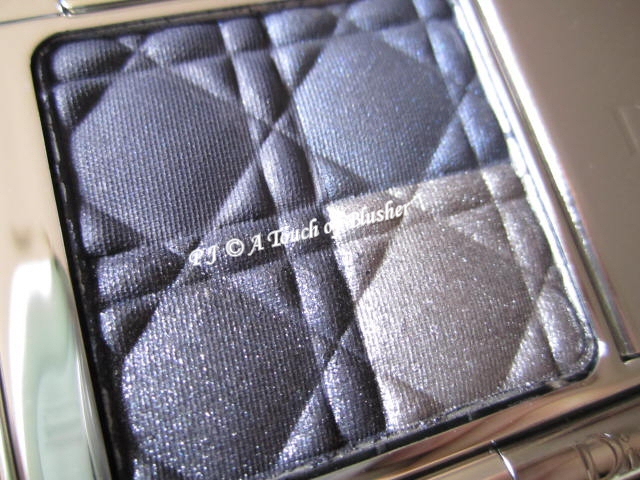 The four eyeshadows in 001 Smoking Blue are (anticlockwise from bottom right):
– medium-to-dark gray, with shimmer
– dark navy, with soft (blue-toned) pearlescence and iridescence
– dark gray-blue, satiny matte
– blue-toned black, with sparkles
All the shades are well-pigmented and have a good staying power.
The four eyeshadows have four different finishes (matte, pearly, shimmery, and sparkly), and the differences are distinguishable when the colors are worn on the eyes. Texture-wise, the two shades on the right are smoother than the two on the left, which feel a little dry. The gray is particularly silky and glides easily, while the blue-toned black feels a little gritty to the touch.
Even though the texture of the gray is by far the most pleasing, my favorite shade is the dark navy (mainly because it makes a nice eye-lining shade). Overall I think the four shades (as together in a palette) are too dark and that the palette would be much more versatile if it had one of the shades from 002 Smoking White (to replace one of the two darker shades on the left).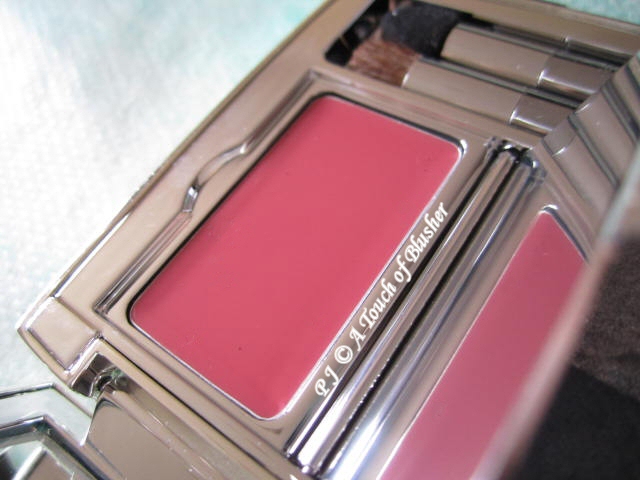 The palette also includes a sheer warm-pink lip gloss with no obvious shimmer. (I have only swatched the tester at the Dior counter for a couple of times. It is unlikely that I will use mine in the palette (just to keep it intact).)
As I mentioned before, I usually pick up Dior's seasonal limited-edition items just so that I can add them to my collection. (Most of my Boots points are spent on these items.) Packaging-wise, this is a beautiful palette, which is why I am very pleased with it. However, if you are after a blue-toned palette, then I think there are other better choices, both in terms of the overall texture of the power and in terms of the general versatility.
Related posts (on my other seasonal limited-edition items from Dior):
Dior Addicted to Dior
(summer 2010)
Dior Cristal Boréal
(holiday 2009)
Dior Lady Dior
(spring 2009)
Dior Night Diamond
(holiday 2008)
Dior Golden Dior
(summer 2008)