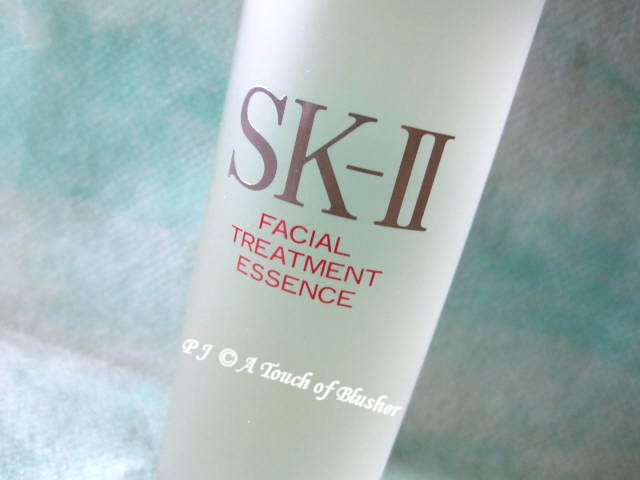 Launched in 1980 by the Japanese branch of Max Factor, SK-II needs little introduction. Apart from its well-known Pitera-rich skincare products, it also carries base makeup products as well as the recently launched color makeup items. Today I am reviewing three of the brand's skincare products, Facial Treatment Essence, Facial Treatment Repair C, and Skin Signature.
Facial Treatment Essence (Skin Balancing Essence) (75ml, 150ml, and 215ml) is one of SK-II's hero products. It is designed to be used after a toner and before a serum. Consistency-wise, it is more like a toner than a serum, as it is very lightweight and water-like. It is absorbed into the skin fairly quickly.
The two skin-hydrating ingredients in this product are butylene glycol and pentylene glycol, and the product is alcohol-free.
Those familiar with SK-II are probably aware of how the brand highlights the benefits of Pitera, which, as far as I know, is used in almost all of SK-II's skincare products. Pitera is listed as saccharomycopsis ferment filtrate, which is essentially yeast. Yeast can have antioxidant properties, but there is still more research to be conducted on yeast used in skincare products.
(Saccharomycopsis ferment filtrate is the first ingredient on the ingredient list of this product (before water, butylene glycol and pentylene glycol, and SK-II claims that the product contains over 90% Pitera.)
The product has a short and simple ingredient list (which is often a good thing (especially for those with sensitive skin), provided that there is no skin irritant). The only three ingredients in this product besides those mentioned above are preservatives (sodium benzoate, methylparaben, and sorbic acid).
I would position this product as a toner, and, overall, it is a very decent one. There is no obvious skin irritant and the lightweight and non-sticky consistency appeals to me. It should suit almost all skin types.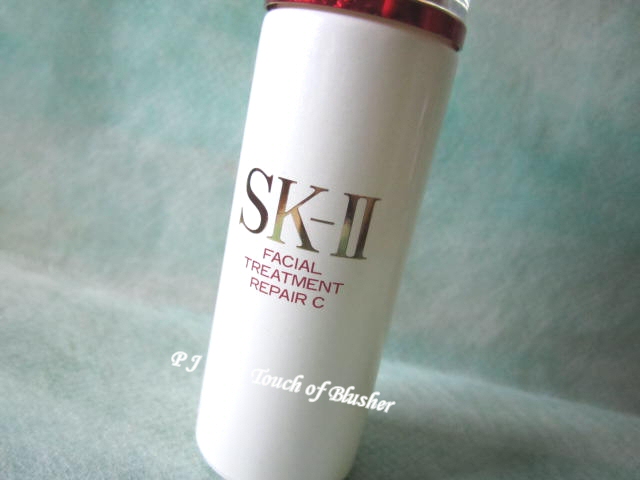 Facial Treatment Repair C (Skin Hydrating and Refining Concentrate) (30ml) is one of the many serums from SK-II. It has a slippery aloe-like consistency which is similar to that of SkinCeuticals' Hydrating B5 Moisture-Enhancing Fluid. Like Hydrating B5, the product takes some time to be absorbed. It hydrates the skin effectively, although it can leave a slightly sticky residue.
Like Facial Treatment Essence, it doesn't have a long ingredient list. It has all the ingredients in Facial Treatment Essence (saccharomycopsis ferment filtrate is again the first ingredient on the list) except sorbic acid, and it also contains glycerin and sodium hyaluronate (both are skin moisturizing agents). The product is alcohol-free.
A straightforward skin hydrator, it is a decently formulated product that would suit most people, especially those with drier skin types.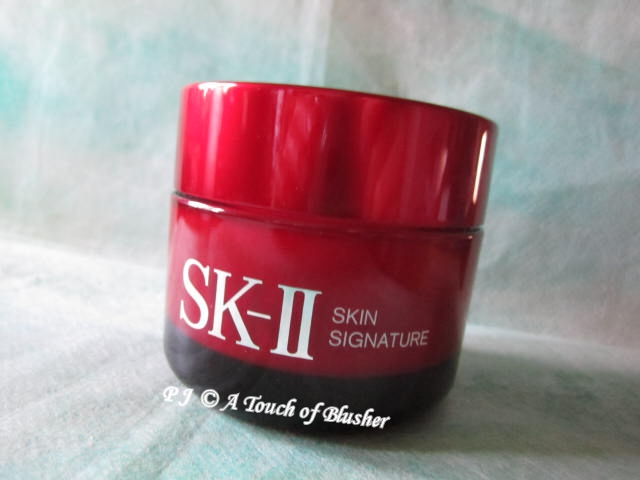 Skin Signature (Moisturising Cream) (80ml) is a very lightweight moisturizer. It has a water-cream consistency and spreads easily on the skin. Similar to Skin Treatment Repair C, it takes a bit of time to be fully absorbed.
Some of the moisturizing ingredients in this product are glycerin, pentylene glycol, isopropyl isostearate, butylene glycol, sucrose polycottonseedate, olive fruit oil, stearyl alcohol, and cetyl alcohol. It contains antioxidants such as tocopheryl acetate (vitamin E), olive fruit oil, and tocopherol (vitamin E). (In this product, saccharomycopsis ferment filtrate is the second ingredient on the list, after water and before glycerin.)
The product contains benzyl alcohol, which can be a skin irritant, but it is towards the end of the ingredient list and is not likely to cause irritation for most people.
The product contains niacinamide (vitamin B3), which is a cell-communicating ingredient. According to Paula Begoun, niacinamide "has been shown to increase ceramide and free fatty acid levels in skin, prevent skin from losing water content, and stimulate microcirculation in the dermis".
Niacinamide is fourth on the ingredient list, and this reminds me of many of Olay's facial moisturizers which also have niacinamide as one of the main ingredients. This is probably not too surprising, since both Max Factor and Olay are currently owned by Procter & Gamble.
Overall this is a well-formulated moisturizer and it should suit those with normal-to-oily or combination skin. (It is one of the few moisturizers that I have reviewed that actually suit my oily-dry skin, although I still prefer Olay's Complete Care Night Enriched Cream, which is a little more emollient.)
(Some ingredient information is from Paula Begoun's Cosmetic Ingredient Dictionary and EWG's Skin Deep Cosmetics Database.)
(The products featured in this article are provided by SK-II.)
Related posts:
Review: Elemis Pro-Collagen Marine Cream & Oxygenating Night Cream
Review: L'Occitane Immortelle Brightening Essence & Brightening Moisture Cream
Review: Elizabeth Arden Intervene Timefighting Radiance Serum & Stress Recovery Night Cream