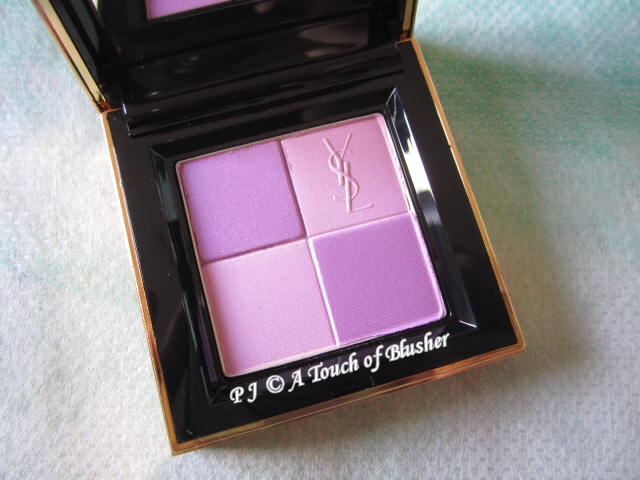 For fall 2011, YSL launched Blush Radiance as part of the brand's fall 2011 Midnight Garden makeup collection. (It is replacing Blush Variation in certain countries.) It is available in 5 variations, and each includes two shades deigned to be blended together. Today I am featuring 3 & 4.
Blush Radiance in 3 is a lilac-based variation. The light lilac has a matte finish and the warm-toned lavender is predominantly matte with a touch of iridescence. The texture of the powder is slightly on the dry side.
The combined shade is a light purple with a hint of iridescence. Do note that it is not the same shade as the off-white lilac that you can find in some finishing powders which are designed to cancel out sallowness. Even though the pigmentation level is relatively low, the purple will show up whether you use it as a blusher or an all-over finishing powder. Make sure you use it very strategically and avoid layering it too much.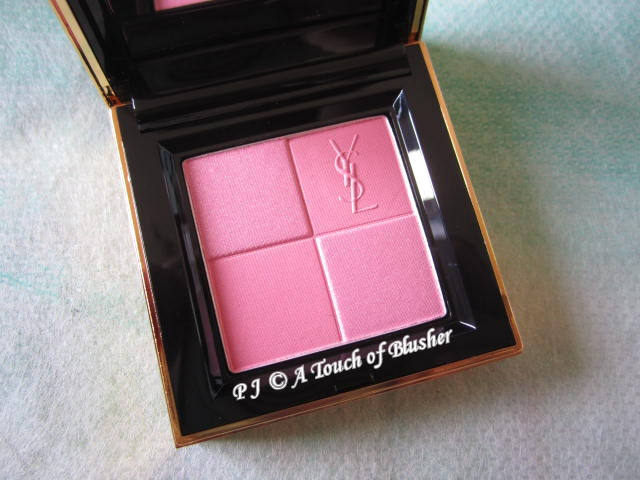 Blush Radiance in 4 has two soft medium-to-warm pinks. One of them (the top-left and bottom-right squares) has a white-toned pearlescence and a hint of shimmer. (The finish is much higher-toned than that of the lavender from 3.) It is paler than the other pink, which is a matte medium-to-warm light pink.
Between the two, the pearlescent pink is less firmly pressed so the brush tends to pick up slightly more of it than the matte pink. (It is also silkier and less dry.) The combined shade is a medium-to-warm light pink with a hint of pearlescence and shimmer. It is on the sheer side, but, as I prefer sheerer blushers, I like the fact that I can gradually layer the product to achieve a natural look.
While I tend to like blushers that are slightly more matte, I prefer 4 to 3, which can look a little too purple-y on my cheeks. I also think 4 should be very wearable for those with a light or light-to-medium complexion.
The product comes with a brush, which is stored in a separate inner pocket in the black velvet pouch that also comes with the product. (It can fit into the compact but you will need your own plastic film to separate the powder and the brush.) While the brush is nicely dense and soft, it is not tapered at the end and I don't find it ultimately easy to use.
(The products featured in this article are provided by YSL.)
Related posts:
YSL Holiday 2011 Makeup Collection
Beautiful Lips with Blue Lip Glosses – Summer 2011 Edition!
(featuring YSL Gloss Pur in 11 Icy Effect)