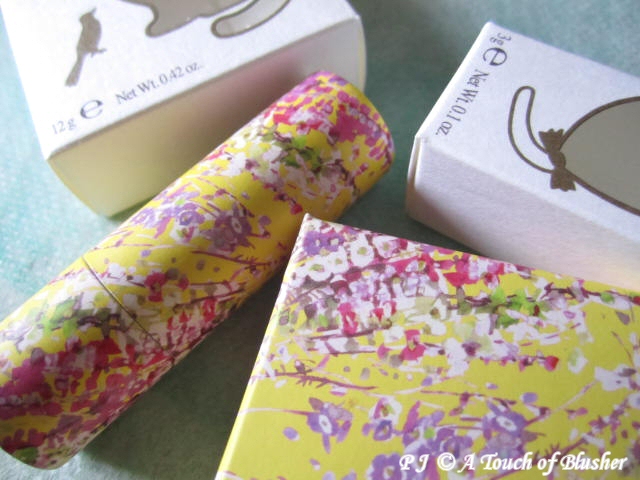 I still remember seeing Paul & Joe Beauté's beautiful debut collection for spring 2002 in Biteki magazine. Over the years, the style of the packaging has remained the same, which I think is one of the elements that reflect the success of the line. It is the combination of the soft and feminine product packaging design and the seasonal fashion-inspired Collections Sparkles, which are based on designer Sophie Albou's catwalk creations.
Paul & Joe's spring 2012 Meow! makeup collection celebrates the line's 10th anniversary, and the inspiration of the collection is Albou's love of cats. Today I am featuring Face & Eye Color CS in 078 Purr-fect and Lipstick C in 077 Catwalk.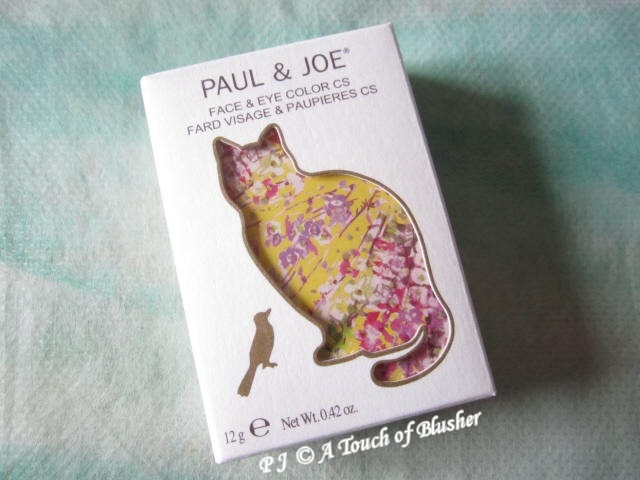 This season's Collection Sparkles items (the seasonal limited-edition items in paper cases with prints from Paul & Joe's fashion collections) are housed in boxes with cat-shaped cut-outs.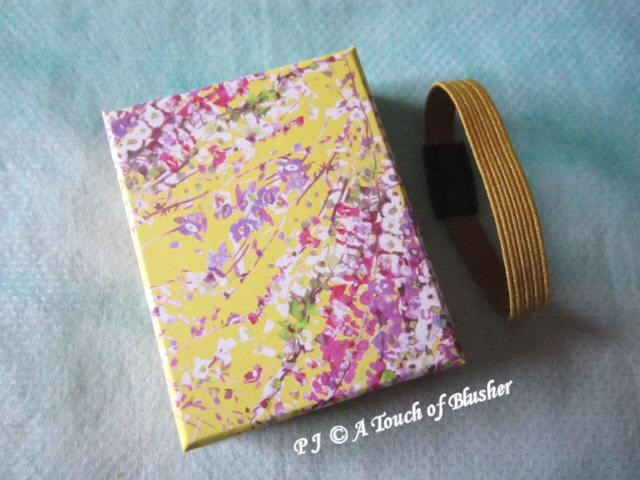 Unlike Color Powder CS from Paul & Joe's spring 2011 makeup collection, the elastic band of Face & Eye Color CS for spring 2012 (that secures the lid) is not attached to the base of the case. It comes separately.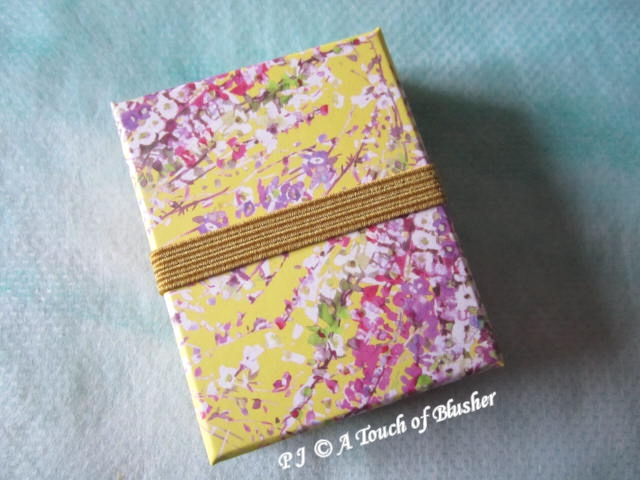 The lid is very slightly loose, so do use the elastic band especially if you would like to bring the product out and about with you.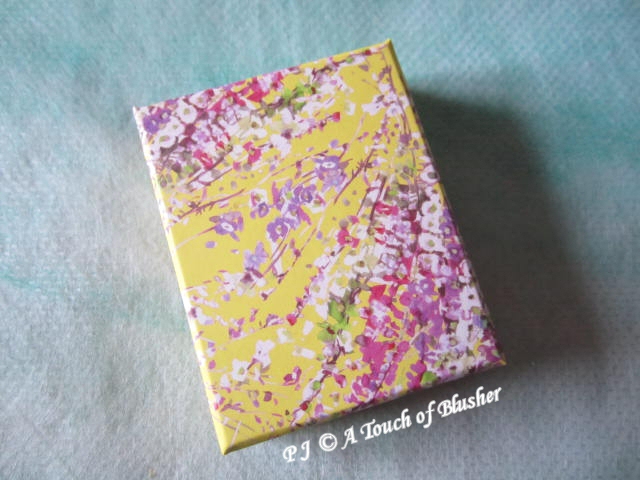 I really love the look of the print. A vibrant yellow background with blossoms of shades of lilac, pink, green, and white announces the arrival of springtime. I have to say that, occasionally, the Collection Sparkles items photograph better than they look in person, but this is by no means the case with this particular print. The print also runs all the way inside the lid.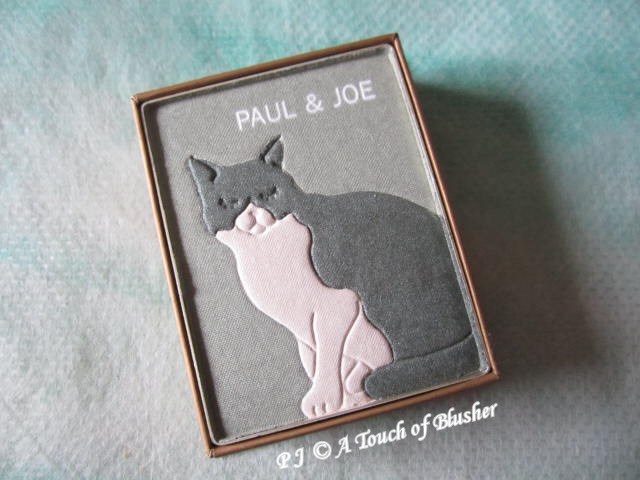 Face & Eye Color CS in 078 Purr-fect is a green-toned palette (very on-trend for spring 2012) that contains three shades:
– cream white, softly pigmented, with a gently glowy finish
– light sage green, softly-to-moderately pigmented, with a softly glowy finish (marginally more glowy than the cream white)
– medium sage green, moderately-to-well pigmented, with a softly glowy finish and a hint of green-toned shimmer
The powder is soft and fluffy. The colors blend very well and have a good staying power.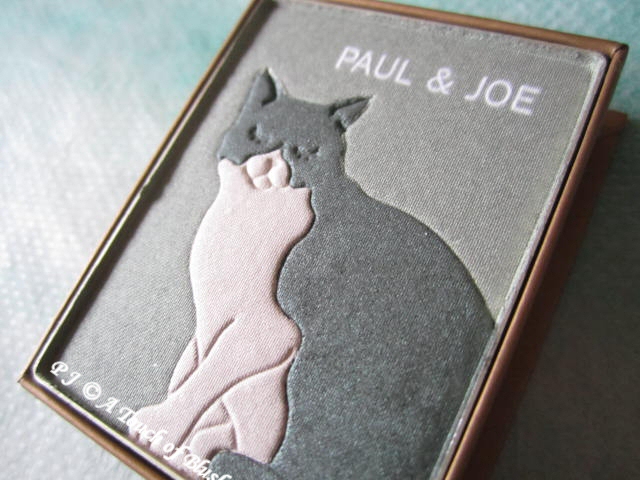 I like the fact that the cream white doesn't contain large shimmering particles. It works well as an effective (but not over-the-top) highlighter for the brow-bone areas. The light sage green goes on slightly warmer (with a hint of yellow tone), but I would still describe it as a sage green (and not a warm green or olive green). The medium sage green is just dark enough to work as an eyeliner.
It might be worth noting that the product contains 12g of powder, which is huge for a three-color eyeshadow palette.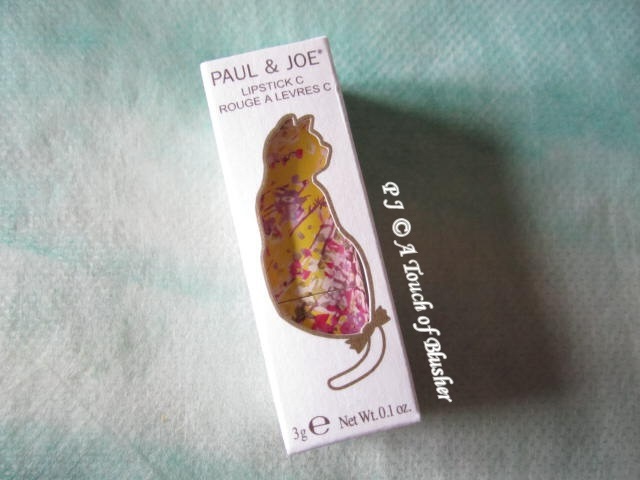 Lipstick C in 077 Catwalk features the same print. Again, it is housed in a box with a cat cut-out.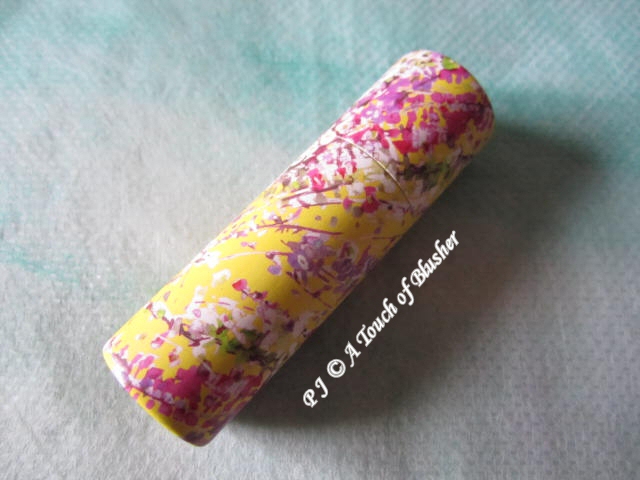 Like the other two Lipstick C shades in the spring 2012 collection, it has ten cat paw prints on the lipstick (another 10th-anniversary design feature). Even though I am not really a cat person, I think they look very cute!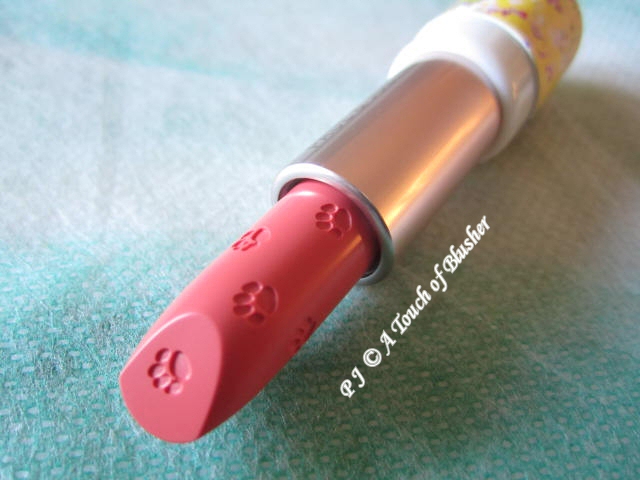 077 Catwalk is a lightly-to-moderately pigmented milky peachy pink with a finish between velvety and satiny. There is no visible shimmer. The lipstick goes on relatively smoothly and has a very good staying power.
Personally, I would usually go for lipsticks that are cooler and rosier, but this shade works better than I expected. The pigment merges with my natural lip color (which is rosier) very well and creates an even and lasting veil of color (it seems to have a blot-proof quality), which doesn't go patchy overtime and is surprisingly non-drying.
Overall I am impressed with both products, as the gorgeous packaging has the quality of the products to match. If you have a chance, do stop by the Paul & Joe counter to have a look at the collection in person.
Happy 10th anniversary, Paul & Joe Beauté!
(Paul & Joe's Collection Sparkles for spring 2012 is now available at www.asos.com. The official release dates of the entire Meow! spring 2012 makeup collection in the UK are January 14th for Harrods and January 23rd for Fenwick.)
(The products featured in this article are provided by Paul & Joe.)
Related posts:
Review: Paul & Joe Ornamental Self Select Eye Colors in 001 Fa-La-La-La-La & 004 Slight Night (Holiday 2011)
Review: Paul & Joe Face & Eye Color CS in 073 42nd Street & Lipstick C in 072 SoHo (Fall 2011)
Beautiful Lips with Blue Lip Glosses – Summer 2011 Edition!
(featuring Paul & Joe Lip Gloss B in 001 L'Horizon Bleu)