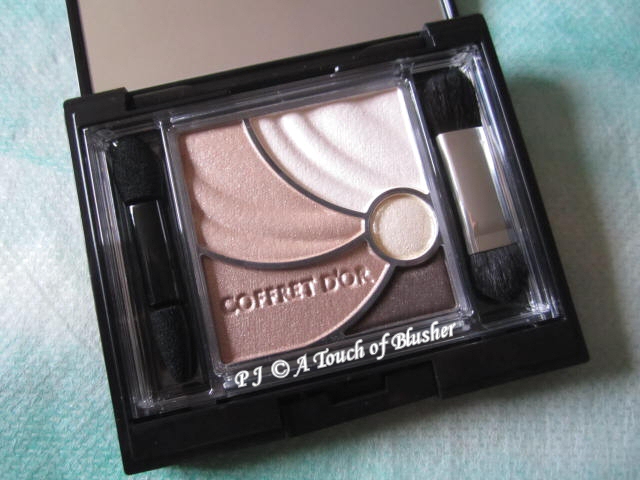 Kanebo Coffret d'Or's Wide Gradation Eyes is from the line's spring/summer 2012 makeup collection. As most of Coffret d'Or's eyeshadow palettes contain four shades, the new series, with five shades in each variation, certainly caught my attention. Four variations are available, and I decided to go for 04 Deep Brown.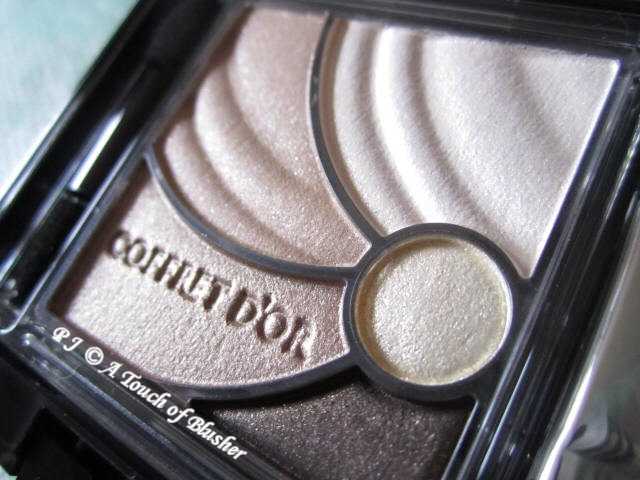 The five colors in this palette are (anti-clockwise from top right):
– (Wide Highlight) off-white, sheer, softly shimmery
– (Wide Shadow Base) light milky taupe beige, softly pigmented, very subtly shimmery
– (Medium Color) taupe brown, moderately pigmented, shimmery
– (Deep Color) dark brown, pigmented, with sparse shimmer
– (Shine Color) off-white, sheer, sparkly
(The names in parentheses are the names given by Coffret d'Or to the shades in the series.)
All the shades have multi-colored shimmer. They all have a pleasingly soft and creamy texture and a good staying power.
The main purpose of the Wide Gradation Eyes series is to create a dimensional wide-eyed effect. This is supposed to be achieved by the Wide Shadow Base (the upper-left shade in each variation), which is applied on the entire eyelids, the outer corners of the eyes, and along the outer halves of the lower lashlines.
The wide-eyed effect can indeed be achieved, but I think it is achieved largely by the layering of the five well-coordinated tone-on-tone neutral shades. The milky beige Wide Shadow Base does still create a very subtle and natural shadow, and I like the fact that the shade has the least amount of shimmer in this palette and can certainly create some depth without being overly reflective.
The main shadowing shade, the taupe brown on the lower-left, adds depth to the eyes very effectively. It is a little too cool for my personal liking, but at least it does not look grayish on my eyes. (I tend to like neutral shades with a warm-gold tone.)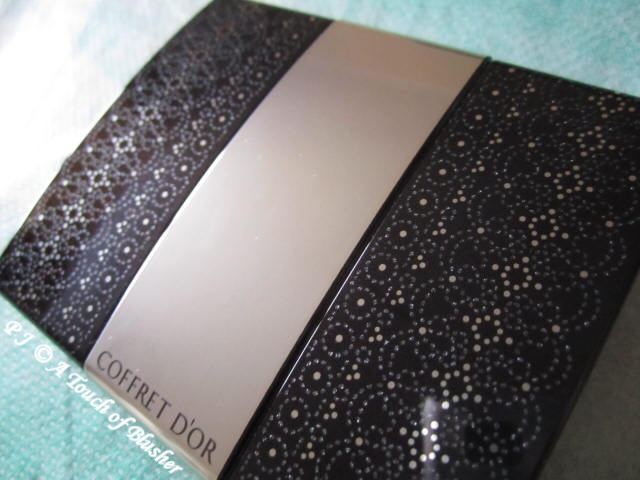 As with Eyes Appeal Shadow and 3D Glossy Eyes, the eyeshadow palette itself and the case (Eye Shadow/Powder Case (L)) are sold separately. For spring/summer 2012, Coffret d'Or released a limited-edition case (Eye Shadow/Powder Case (L) (2012SS)), which I have got for my Wide Gradation Eyes palette.
I have been particularly after true neutral palettes (gradation beige-brown palettes without pinks, peaches, or oranges), and this palette is certainly one of them. It can create a sophisticated work-appropriate look as well as a sensual smoky-eyed look. If you are putting together core basics for your eyeshadow wardrobe, this basic but versatile palette is certainly worth considering.
Related posts:
Lunasol Ocean Scene Eyes in EX01 Shelly Ocean