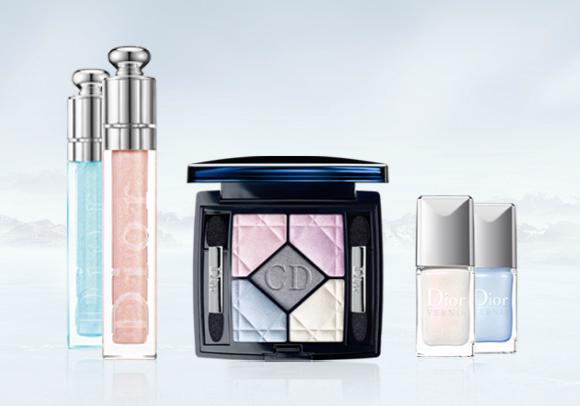 (image from www.dior.com)
I had a chance to see Dior's Diorsnow Icy Halos Collection in person. The shades are generally soft and airy. The darkest shade of the entire collection is the medium silvery gray in the 5 Couleurs Iridescent palette, which is far from overly intense. The finishes of the eyeshadow shades are (pleasantly) not too frosty.
Of course, my focus was on the blue Dior Addict Ultra-Gloss. It is a sheer blue-tinted lip gloss with sparse fine sparkles which are predominantly silver-toned. I have to say I am disappointed with it because it is far too sheer for my liking. Of course, the blue-tinted lip glosses that I love are sheer and certainly don't look blue on the lips, but I like those which look sufficiently blue in the tubes. Blue lip glosses which look almost completely clear in the tubes, like this one from Dior, appeal to me much less.
So I decided not to purchase the blue lip gloss. Compared with this one, I prefer the two from Dior I featured in 2007.
Related posts:
Stash Focus: Dior Garden Clutch in 002 Granville Garden (Spring 2012)
From My Treasure Chest (1): Dior Princess Ring