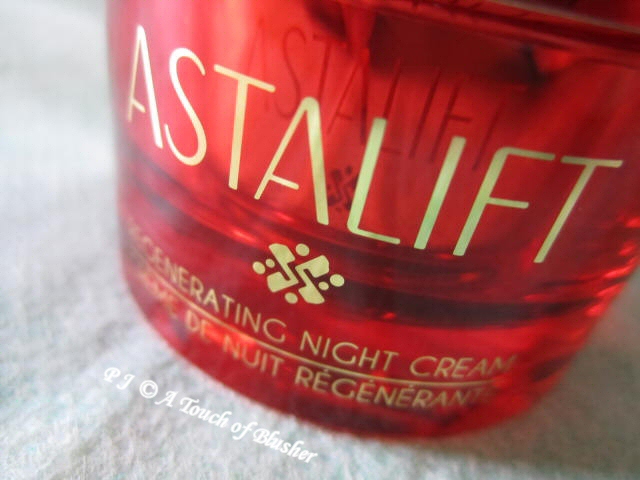 Those in the UK who are fans of Japanese cosmetics might have noticed that Astalift had (somewhat quietly) been launched in the UK earlier this year. Today I am reviewing Astalift's Regenerating Night Cream after an overview of the line.
Launched in Japan in 2007, Astalift (Japanese site here) is a premium beauty line developed and produced by the Beauty & Health Division of Fujifilm, which focuses on the research of antioxidation, collagen, and micronization technology. Currently, Astalift carries skincare and base makeup items, but, in the UK, only the skincare products are available. (Fujifilm also features two other skincare lines (Lunamer and Nanofilt) as well as a range of beauty supplements.)
Astalift's feature ingredient is astaxanthin, which is an antioxidant. (It is listed on the ingredient lists of Astalift's products as haematococcus pluvialis oil.) According to Fujifilm, astaxanthin as an antioxidant is more potent than vitamin E and coenzyme Q10.
One of Astalift's star skincare items is Jelly Aquarysta, a treatment product with a jelly consistency used after cleansing and before* toning and moisturizing. (*This is according to Astalift's Japanese website, which has a clear chart of the recommended skincare routine. The line's UK website does not indicate exactly when to use this product.) After each use, the surface of the jelly in the pot evens itself out and becomes completely flat within a minute or two, which showcases Fujifilm's micronization technology.
As for the base makeup products, the new Light Analyzing Melano-Retouch Concealer (SPF 30, PA++), launched in Japan on March 1st, has gathered tremendous popularity in a very short amount time and topped Cosme.Net's Best Cosmetics (Concealer Category) for the first half of 2012. (The product is only available in one shade, which appears to suit most skin tones.)
In Asia, Astalift is available in Japan, China, Hong Kong, Taiwan, Malaysia, and Singapore. In Europe, apart from the UK, Astalift is (or will soon be) available in France, Germany, Spain, Portugal, Italy, and Russia.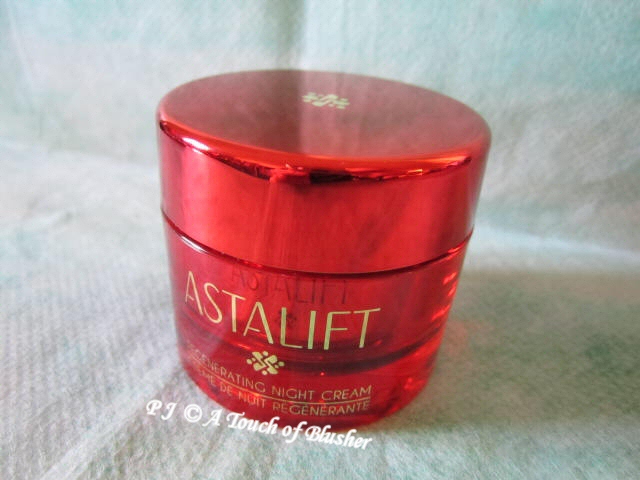 Astalift Regenerating Night Cream (30g, £48) has a creamy and almost buttery consistency and it feels very emollient on the skin. Some of the moisturizing ingredients in this product are glycerin, hydrogenated polydecene, petrolatum, butylene glycol, maltitol, limnanthes alba (meadowfoam) seed oil, stearyl alcohol, glyceryl stearate, and hydrolyzed collagen.
(Note that, in skincare products, collagen functions as a moisturizing ingredient by being a water-binding agent. It does not have any efficacy in building collagen in the skin.)
The product contains antioxidants such as tocopherol (vitamin E), haematococcus pluvialis oil, anthemis nobilis (chamomile) flower oil, and artemia (a type of algae) extract. It contains stearyl glycyrrhetinate as an anti-irritant.
The product is alcohol-free. It contains fragrance (parfum) and no other scenting agents.
Overall, this generally well-formulated nighttime moisturizer should suit those with dry or very dry skin. Those with oilier skin types are very likely to find it to be too rich. I think this product could be even more beneficial for the skin if the concentration of antioxidants were higher. (Three of the four antioxidants in this product are listed in the second half of the ingredient list (after preservatives and fragrance).)
(Some ingredient information is from Paula Begoun's Cosmetic Ingredient Dictionary.)
(The product featured in this article is provided by Astalift.)
Related posts:
Olay Regenerist 3-Point Treatment Cream Fragrance Free
SHISEIDO Benefiance WrinkleResist24 Day Cream SPF 15 & Night Emulsion