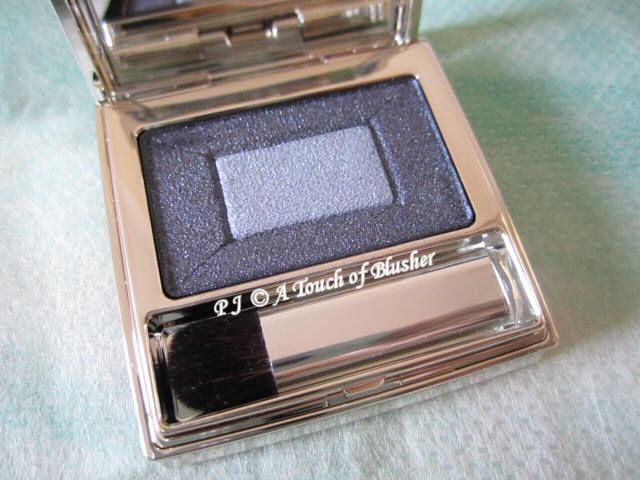 One of the two limited-edition items of RMK's fall 2012 Deep Iridescence makeup collection is Deep Iridescent Eyes. The eyeshadow duo is available in six variations, and most variations feature tone-on-tone colors. Today I am highlighting 03 Iridescent Navy.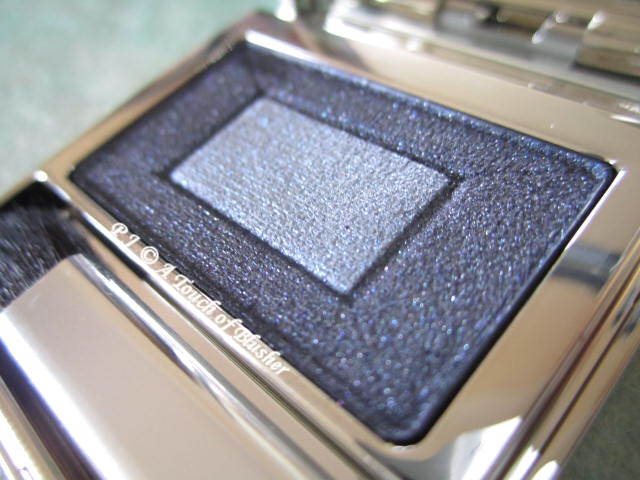 Deep Iridescent Eyes in 03 Iridescent Navy includes a softly pigmented light cool-toned blue (with soft shimmer and iridescence) and a pigmented dark navy (with subtle pearly shimmer). The iridescence comes mainly from the light blue. Both shades have a soft and silky texture and a good staying power.
According to RMK's website, the darker shade is applied first (as the main shadowing shade) and the lighter shade is layered on top of it. In the case of 03 Iridescent Navy, the light blue adds touches of shimmer and iridescence to the dark navy and it also adds dimension to the dark navy.
The two shades can of course be used separately. For me, the dark navy is too dark as a shadowing shade, and I prefer using the light blue on the eyelids and using the dark navy near the lashlines. The look is less dramatic but I still get the iridescent glow from the product.
In recent years, RMK quite often releases eyeshadow duos (including Jelly x Powder Eyes for fall 2008, Translucent Eyes for spring 2009, and Dusty Bright Eyes for fall 2011). In terms of layering a lighter and more shimmery shade on top of a darker shade, the Deep Iridescent Eyes duos are fairly similar to some of the variations of Dusty Bright Eyes. However, in terms of application, I prefer Deep Iridescent Eyes since the cream-based shades in Dusty Bright Eyes can be tricky to work with.
(The product featured in this article is provided by RMK.)
Related posts:
RMK 15th Anniversary Collection
RMK Sprinkling Eyes in 01 Brown, Ingenious Natural Eyes N in 07 Purple & Sprinkling Cheeks in 03 Brown (Spring 2012)